Milk distributed at Namal's 'Rogues'rasthiyaduwa not contaminated ! Analyst department report ..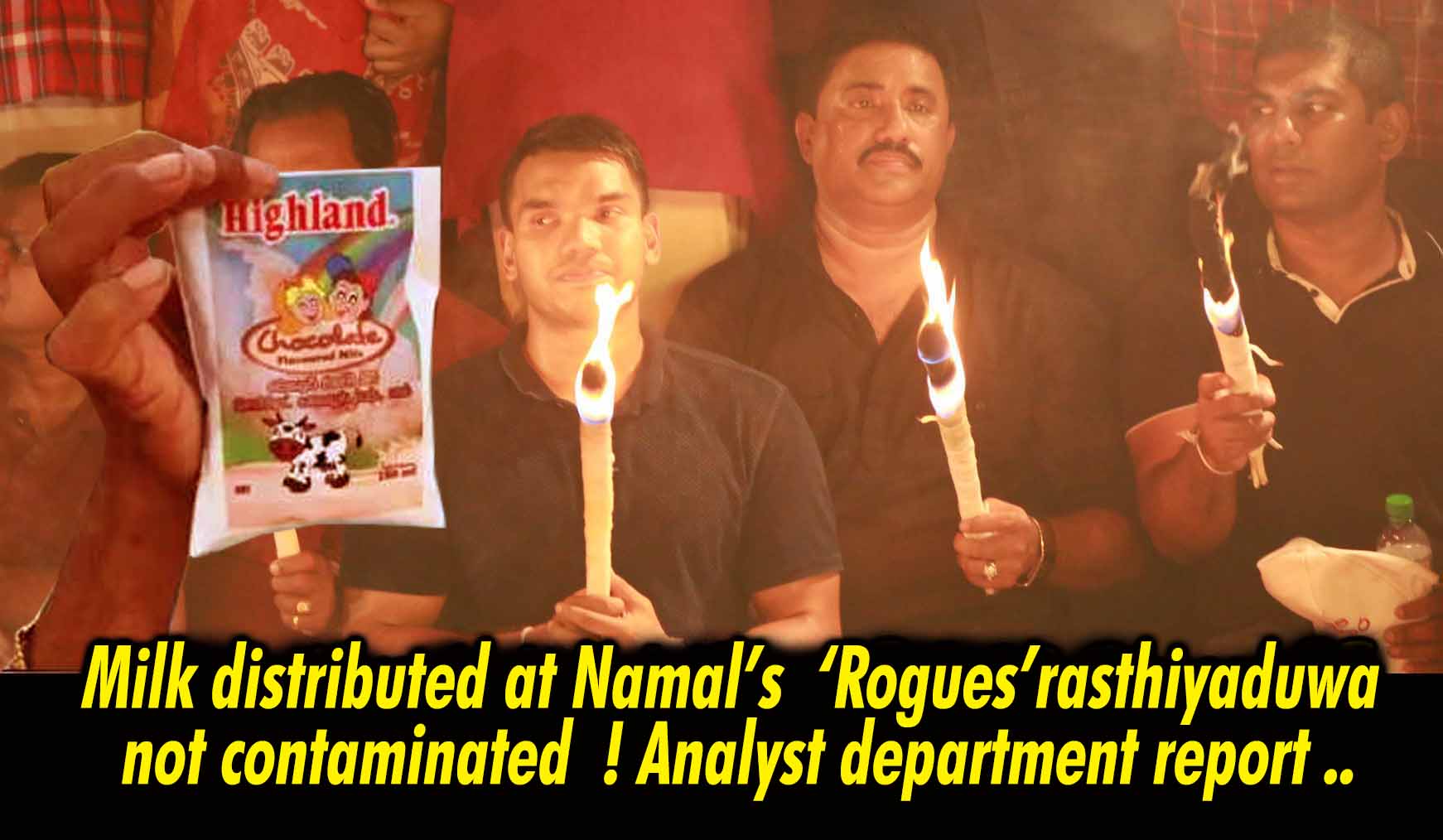 (Lanka e News – 10.Oct.2018, 8.00PM) The recent melodrama enacted by the synthetic lawyer cum racketeer Namal Rajapakse to boost his power craze by getting down hired crowds to Colombo under the banner, 'the People's force' which was in fact a 'rogues' rasthiyaduwa' (roaming rogues), and the subsequent loud allegations made by the 'rogues' rasthiyaduwa' that they began to defecate everywhere because of the polluted milk packets distributed to them by the government had been proved a damp squib.
The government analyst department which did an investigation into the 'contaminated' milk packets which were forwarded by the police had concluded and confirmed that there had been no contamination or infection of any kind in the milk , based on its report .
Police media spokesman made the above revelation to the media Monday (08).
Bud party Wennappuwa pradeshiya sabha member Alex Nishantha (lawyer) along with a milk packet lodged a complaint with the Fort Police, in which complaint he stated that a group from Pettah area distributed the milk packets , and 25 persons along with him became sick after drinking the milk.
The police media spokesman Ruwan Gunasekera revealed, following the complaint ,based on the police B report B/99339/3/18 a case was filed in Hultsdorf magistrate court , and on the orders of the court the milk packet was forwarded to the analyst department on 2018.09.13.
The Analyst department report following its investigation was received on 2018.09.28 , and that report had mentioned the milk contained no cyanide, metallic poisoning or pesticide adulteration, Gunasekera pointed out. The milk packet that was forwarded by the complainant had not even been opened , according to the analyst report ,he added.
It is therefore clearly proved now ,the uncontrollable diarrhea of the 'rogues rasthiyaduwa' participants leaving an uncontrollable stench which lasted several days at the venue of their demonstrations, was due to the stale food and contaminated milk provided by the organizers of Namal's 'rogues' rasthiyaduwa' and none else to the hired protestors. While these hired participants were excreting uncontrollably and creating a stench outside due to the stale food and contaminated beverages , the organizers including Machiavellian Rajapakses who were responsible for their sad plight were on the other hand enjoying luxurious meals and drinks provided by super luxury hotels . These sordid details were exposed by Lanka e news earlier on.
It is worthy of note , super luxury Shangri La Hotel , Colombo reserved 80 rooms free for the Alliance MPs and their 'supermen' .That was in addition to the other super luxury hotels like Hilton and Taj Samudra which too were reserved by them.
---------------------------
by (2018-10-10 14:33:27)
We are unable to continue LeN without your kind donation.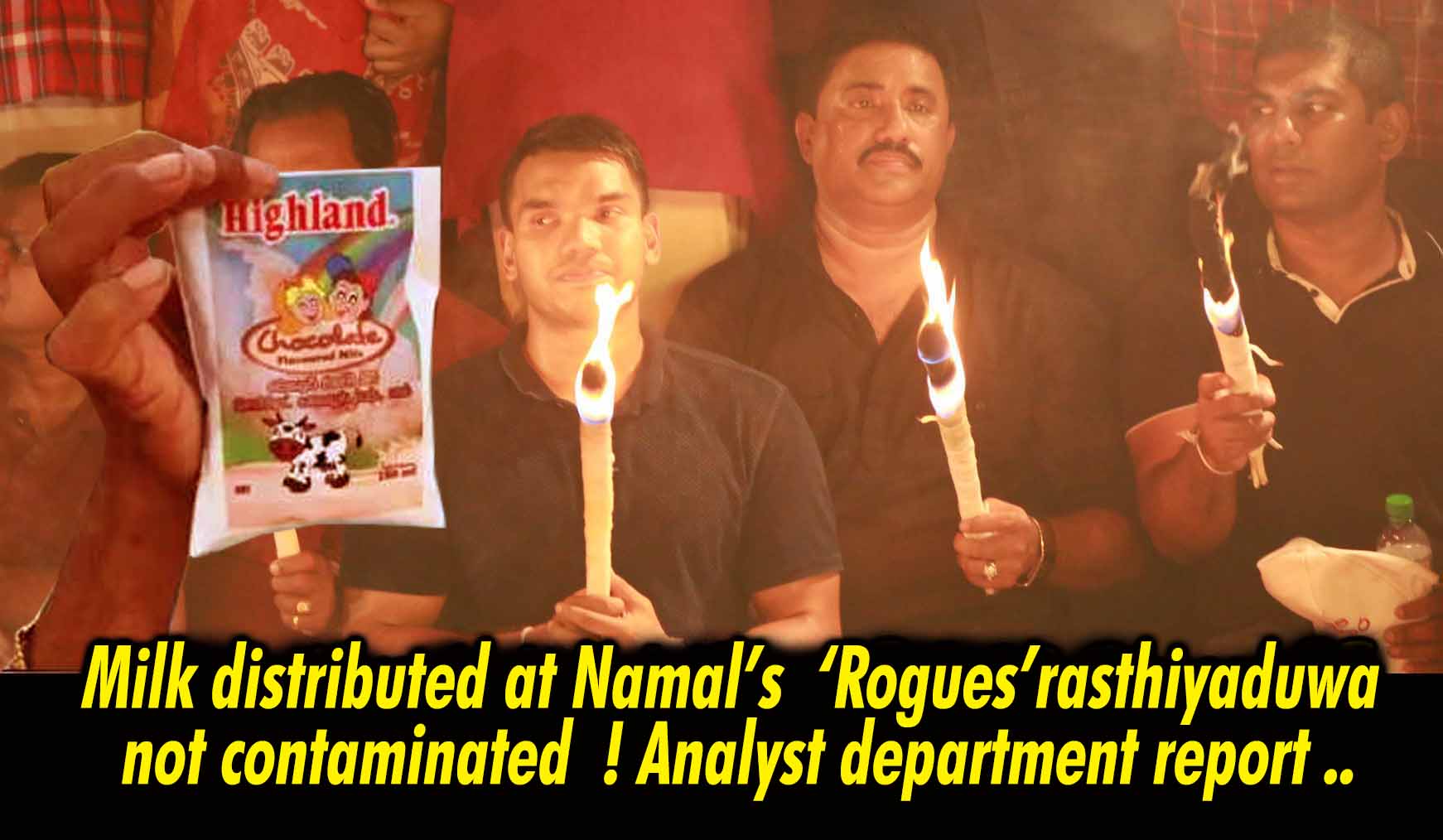 Leave a Reply