To my dearest Imran malli !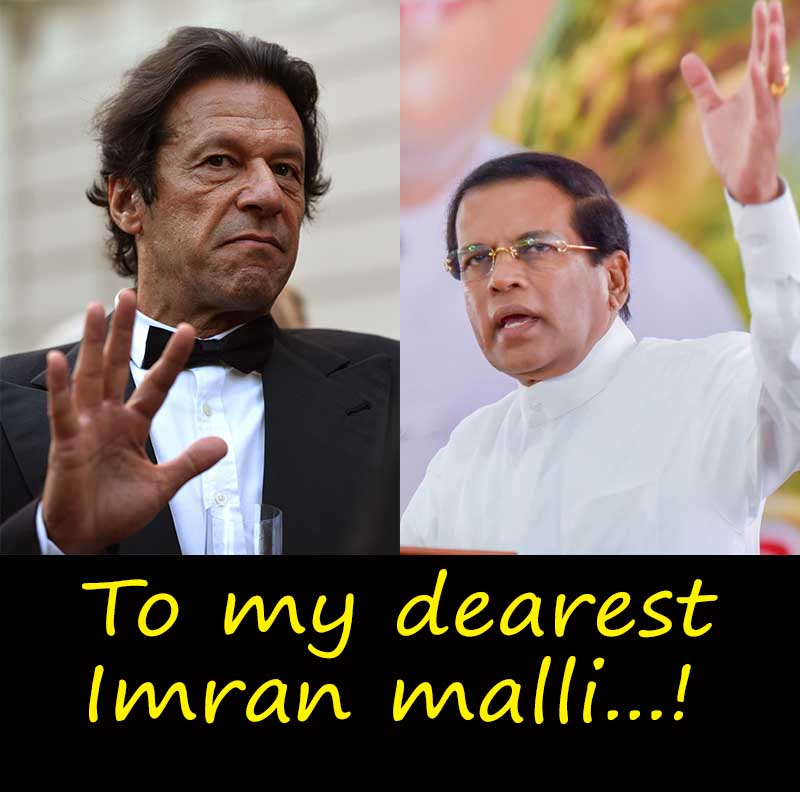 (Lanka e News – 18.Sep.2018, 11.30PM)
18th Sep.2018
To Imran Khan, Islamabad.
From Paget Road, Colombo
Dear Imran malli ,
From the time I learnt that you became the prime minister I have been itching to write a letter. My apologies for the delay .
Some time ago when you won the cricket world cup for Pakistan, you kneeled down on the pitch , kissed the ground , raised your hands to the sky and worshipped, I knew you will one day become the P.M. of your country. This is because many who kissed the ground for the cameras to capture their pictures became leaders of countries.Yet , you see without my kissing the ground and even after being told I will go six feet underground , I was made the president in my country , that is why it is said ours is the most wonderful country in the world.
Never mind all that. I am writing this letter because you are also following the simple path like me. My brother ,this simple path is not that simple. I thought I should proffer some advice to you.
If you have brothers , do not keep an axe close to them because there is a possibility for them to axe each other. If that happens your simplicity label can be torn asunder.
Imran malli (younger brother) , why didn't you say , for your swearing in ceremony only Pakistan Rs. 500.00 was spent ? How can you become simple without telling that ? There is another thing , I am waiting until you visit a Bata shop to buy a pair of shoes. You stopped your official vehicle and convoy at the yellow pedestrian crossing and waved your hand with all your might at those around to show you are following the highway code to the letter. Malli, what you are doing is not enough to show your simplicity. Irrespective of whatever you are going to do later , during the first month of your premiership do those few things I told you .
It doesn't matter . You are now with your third wife , aren't you? On that side you are a maara ( wonderful) fellow. Where is such luck for us ? We have only the illegal avenues open . I am a maara expert when it comes to seeking that avenue. Aren 't there hotels with the name 'Banana Leaf' there ? If there are , buy some chappathi , parota and curries wrapped in a banana leaf ,come out and eat during lunch .
While eating , invite a journalist and tell 'this is what was cooked by my third wife , which she gave wrapped in a banana leaf. It is only then people will think you are truly a simple, austere and innocent character. Listen to me malli , after all I am one who became president after eating hoppers. Interestingly ,now in Sri Lanka , serpents that gobbled eggs are preferring hoppers since that day .
As soon as possible get your party parliamentarians ,media personnel to the house of the former prime minister , and show the gold decorated latrines, Air conditioned toilets , swimming pool , gymnasium , expensive spoons and forks , swords etc. to the public through the media. Without people getting disillusioned with the former leaders you cannot become a simple leader.
The other trick of yours not to stay in the P.M.'s residence is splendid . Don't stay there because sorcerers from India could have been brought there and an evil spell cast that could destroy whoever coming there . Start doing your work confining yourself to your home. Thereafter , like what I did , do 'simple' renovations to the house spending many millions of rupees in such a way you can live in it until your death. If possible annex the next door house too . I can show you how to do all that when you visit my Paget road residence.
Of course I need not teach you how to conduct business , yet just listen to me ..Without you getting involved , tell your brothers to do all the businesses. Your big malli can take over the Pakistan basmathi mafia. You also look out for a good son in law . Of course carry on your other deals . But woe betide , if you are going for a warship deal with Russia , make cock sure Pakistan e news is banned first . Otherwise they will leak out the entire racket . That is absolutely sure.
There is one more thing , never place your signature even if it is most important . Just put a spot . Questioned documents specialists will be able to detect nothing. Whatever you want , request by bowing your head. Don't say a word because that can be recorded on the sly. You know well what good you do follows you .
Did you convene the cabinet ? Tell the media that you are not aware of the cabinet decisions. But because you understand English , I do not know whether what you say will be accepted. I have no issues since our media knows I do not understand anything on the days when the cabinet has sessions in English . It is on such days I have taken many important government decisions.
There is one more thing Imran malli , learn to tell you do not know anything and you saw it only in the newspapers. Learn to fasten the blame in any issue on somebody else , and save yourself . There is no law which says , when the ball is given , all six balls should be bowled. By bowling 'no balls' , 'wide balls' you can drag on. When speaking about the ball I am reminded of another thing. All these years you became famous by bowling the ball , but now if you want to become a simple leader practice 'ball scratching' and 'ball manipulating ' which we call 'bola bassanawa' in our country. If you want a good coach for that , come to SL.
Imran malli , I am telling most lovingly, at the next Pakistan freedom day celebration remember carefully , how many years it is after Pakistan received its independence ..
Malli , I was waiting to ask this from you. Truly was it you who conducted the campaign ? Or a leader of another party did it for you, and your sordid biddings ? In that event , soon after your victory get that rascal who pelted stones at that leader's head office , and make him your co ordinating secretary. Otherwise the leader of that party will try to rule you. Malli remember this well , ' enemy 's enemy is a friend' only during the time of war only. Thereafter, if you make 'friend's enemy a friend' , then and only then a grama sevakaya can become a president .
I came to know you have a daughter by your third wife. You are indeed lucky. Through that daughter get a book 'prime minister bappa' (prime minister uncle) written. If the daughter cannot , there are plenty of people with you who are engaged in advertising . Also create opportunities to your daughter to do business.
Though you may not know, the daughters of president and prime minister have entrepreneurship skills from birth. Those come to the open later.
If by any chance the girl is addicted to heroin even somewhat , make capital punishment mandatory to heroin dealers .Then everything will be alright. I am telling this because you told you have a daughter. Even if you have contracted the most serious disease don't get the doctors home. Doctor will definitely do what he wants at the expense of your daughter – plumb her depths and even go beyond .What you will have to do is scold him in filth , chase him off and take treatment from the Pakistan army hospital. Every morning take a walk near Pakistan independence square so that people will see you. Even if all the limbs are broken show to the country you are as fit as a fiddle.
Imran malli , in conclusion I have to tell one more thing. If you want any advice in regard to scientific allocation of cabinet portfolios , give me a call before 10.00 in the night. My gosh ! the time is 10.30 . I must go to bed. Good night !
Yours
Your own 'simple pal '
Paget Road Gamarala
P.S.
Imran malli , when you are associating with women , be cautious , never drive yourself into a spot - into a DNA examination. But I know you are innocent Malli – this I just wrote.
---------------------------
by (2018-09-18 21:56:26)
We are unable to continue LeN without your kind donation.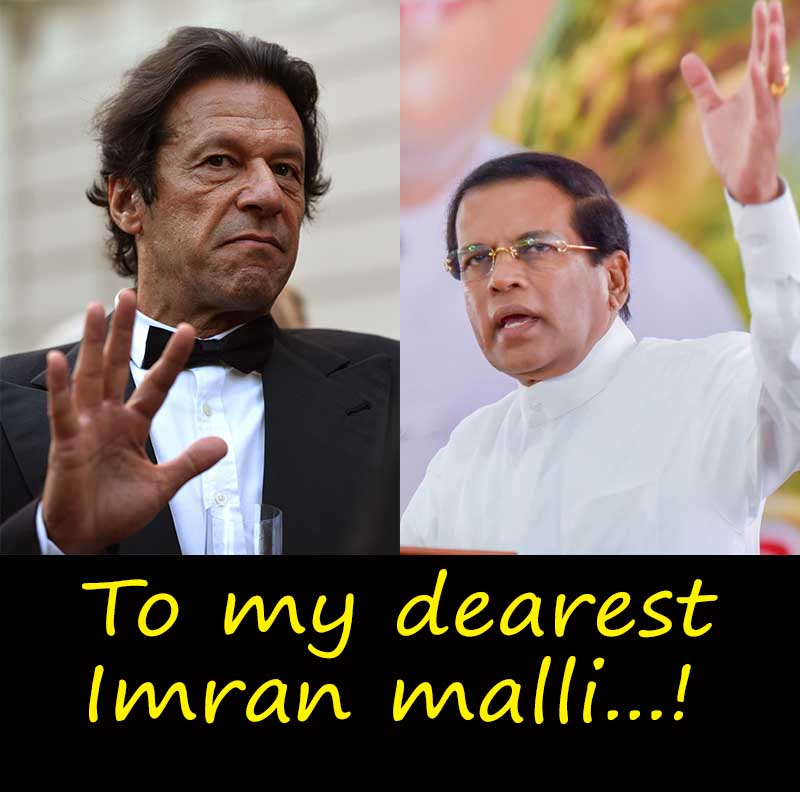 Leave a Reply