MR 's double tongued utterances plunges Alliance into chaos and confusion ! Says one thing in India another in SL !!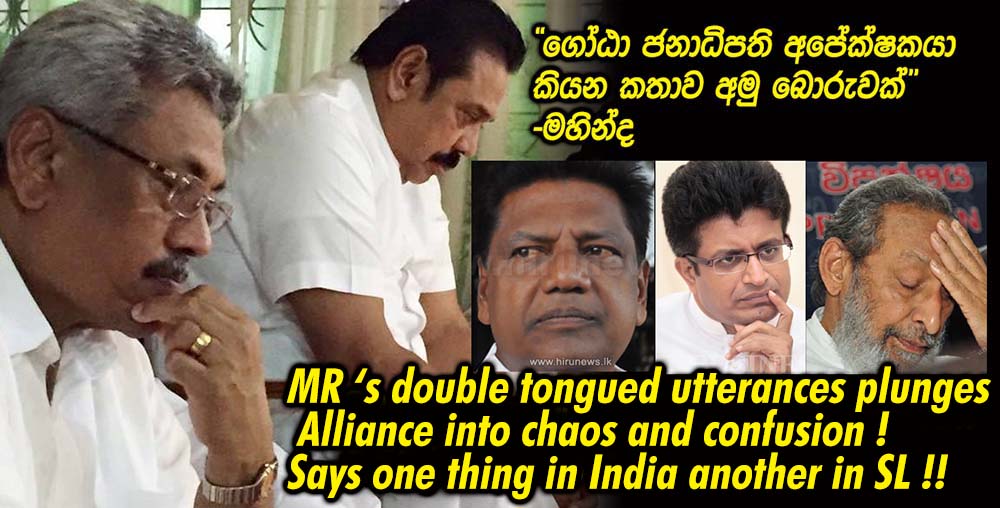 (Lanka e News - 17.Sep.2018, 7.20PM) Double tongued MahindaRajapakse who is most infamously famous for his mendacious habits and Machiavellian inborn traits, after his return from India told another blatant lie, that is , he denied having told that Gotabaya will be fielded as a presidential candidate .
Machiavellian mendacious Mahinda (M 3) once again let down the pro Gota lackeys and cronies wholesale when he addressed a media conference after attending a pinkama(religious offering) at Halmillaketiya Purana Rajamahavihara at Kebetigollawa.
Mahinda on this occasion told another lie shamelessly ' I never told like that. It is an absolute lie, it is another concoction 'Mahinda declared in panic when he was questioned by the media in regard to his comments made during his recent tour of India.
Consequent upon Mahinda's double tongued utterances , the Joint opposition is plunged into chaos and confusion when it came to who will be the future presidential candidate .
It is a universal truth , the punishment for an accomplished liar is, he cannot stop his lying even if he wants to. To cover up his first lie he has to tell a second lie , and to cover that another and so forth. This is the affliction MR is suffering too.
In any event Lanka e news in an earlier report confirmed ,based on a verdict of the supreme court of the US ( which Lanka e news published) that neither Basil nor Gota who are American citizens can field as a presidential candidate.
Mahinda after returning to the Island said , he never ever told Gotabaya is the presidential candidate . From this it is very clear he too is in a state of utter confusion , in two minds and cannot decide who should be the presidential candidate .
A 'night watchman' until time is ripe …
The announcement made by Mahinda in India that because Namal cannot , it will be a family member of his who would be the presidential candidate , only underscores the need for Mahinda to have the political power of the Alliance within his family until Namal reaches the requisite age.
It is very obvious because Namal cannot contest as presidential candidate at 2020 elections , Mahinda wants to field a candidate of his choice (night watchman)for the 2020 elections on behalf of Namal , and prepare the groundwork for Namal to take over at the 2025 elections.
This is analogous to the decision taken by the Bandaranaike family at the 1982 presidential elections.
Since the civic rights of late Sirimavo Bandaranaike were withdrawn precluding her for from contesting elections , and Chandrika and Anura had not reached the age , instead of granting the presidential candidature to Maithripala Senanayake the most suitable senior party member , Hector Kobbekaduwa an unpopular and losing 'horse' was fielded as the presidential candidate because he was a relative of the Bandaranaike family .
Today , the Rajapakses are also in a similar situation. They will not field a Rajapakse who could lose. Until Namal's time is ripe , undoubtedly they will field a losing 'horse' at the next presidential election .
In the circumstances , the leaders of the Alliance will have to bide their time until 2025 for a victory , if and when Namal becomes the president .But by that time they would be pensioners in politics.
---------------------------
by (2018-09-17 13:53:04)
We are unable to continue LeN without your kind donation.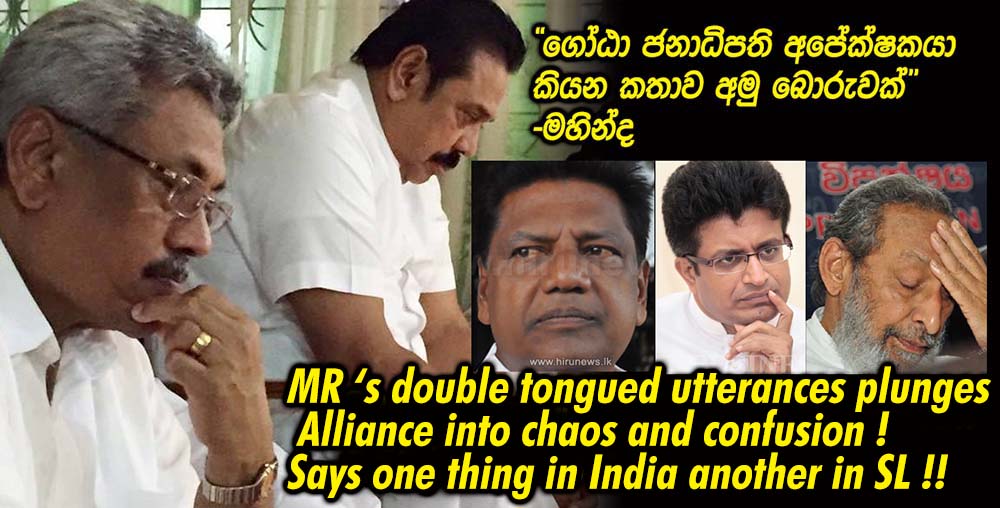 Leave a Reply