Sirisena family which blossomed with 'Pubudamu Polonnaruwa' !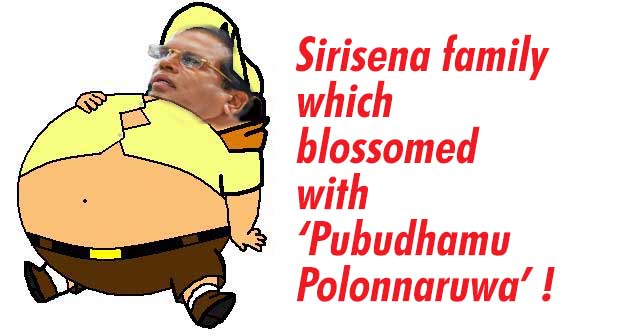 (Lanka e News -07.Aug.2018, 11.45PM) It is very clear to all of us Polonnaruwa Gamarala and his family are these days reveling and rejoicing to the hilt. They must be joyfully thinking never before did they have this gaiety and so much to 'gobble up', and so exploiting the opportunity to the full.
Gamarala has been able to successfully complete the 'Pubudamu Polonnaruwa ' project respecting traditions though it is better known as a huge national plunder pumping colossal sums of money in billions into the bank accounts of president Sirisena Gamarala's brothers and daughter Chathurika while pulling the wool over the eyes of the people . There is nothing that a cunning , crooked 'Tompachaya' (confirmed liar) cannot accomplish and so Gamarala did just that.
We have been hearing about the fanfare , huge publicity and the trumpet sounds for three days that accompanied the handing over of 180 projects which were inaugurated recently in Polonnaruwa district , to the people under the patronage of Gamarala .
Mministers , parliamentarians , officers, their families , even grandchildren and lackeys in their tens of thousands flocked to Polonnaruwa to gourmandize and fill their pot bellies to the point of bursting at state expense. All these sumptuous meals and beverages were served at Chaturika's 'Thidas Aruna' hotel
Bills of the daughter are footed by 'president father' . One can therefore imagine what amount of 'national service' this president father is doing on behalf of his daughter .Therefore , is it any wonder if father and daughter are reveling and rejoicing as never before in the mirth and merriment designed by and for them ?
Believe it or not , the sum spent on account of the 'Pubudamu Polonnaruwa' program is a whopping Rs. 60 billion!
It is noteworthy there are another 24 districts in the country . We are well aware in these districts there are no proper roads , schools , hospitals and even a drop of pure drinking water . We have seen several villages and we been met by people in the villages who have expressed their grouses and grievances to us. Sadly for Gamarala the frog in the well , the entire world is Polonnaruwa and vice versa. Of course there are also people who think , 'even if he is of no use to us , he developed at least Polonnaruwa.' But the true story abut this development is diametrically opposite.
Though the country may not be aware , those living in Polonnaruwa are well aware how the Sirisena brothers (president Gamarala's siblings) , namely Dudley , Kumara ,Lal and Chaminda 'gobbled up' about Rs. 40 billion of the huge Rs. 60 billion that was disbursed towards the much hyped Pubudama Polonnaruwa program. .
Can you beat that ! the Sirisena brothers aforementioned are the suppliers of all the raw materials including bricks , sand , earth , steel, cement and carpet mix for the 180 projects which were completed .
Not even a fly could get past them !
Gamarala said , the contracts for supplies were entrusted to the forces and not to contractors to avert fraudulent practices . He said that in order to ward off accusations that may be hurled at him . But he did not make any mention that it were his brothers who supplied the raw materials.
What is most perplexing and intriguing about these contracts is , a certain percentage of the wealth generated from these contracts being channeled to the Rajapakses.
These murky activities were on going even in the past. A good illustration was : When Basil Rajapakse was the minister of economic development , orders were given to all the contractors Island wide to buy the paving concrete stones for roads only from Dudley Sirisena's contract Co.
In 2013 /14, 800, 000 paving concrete stones were produced , and Namal Rajapakse's bank account was credited with Rs. 1.00 per stone. Even today the contractors identify these stones as 'Namalketa'
It is also no secret Chaturika along with her uncles ( father's brothers) went to meet Mahinda Rajapakse during the beginning of this year . Obviously when it comes to greed for wealth and power both the families are under the same roof . No wonder 'they scratch each other's backs' even when they are afflicted with incurable scabies elsewhere in the body.
It is a pity despite all these camouflages , subterfuges and 'subterranean' activities, Prime minister Ranil Wickremesinghe and his parliamentarians are still staying put under the spell of the curse of Gamarala while getting pummeled from Gamarala himself.
When this is the true sad situation , is it any wonder if the Sirisenas who were ploughing the fields in Laksha Uyana transform into billionaires, to have a whale of a time at the expense of the country which is in an economic abyss owing to them and none other ?
Polonnaruwa resident
---------------------------
by (2018-08-07 19:49:07)
We are unable to continue LeN without your kind donation.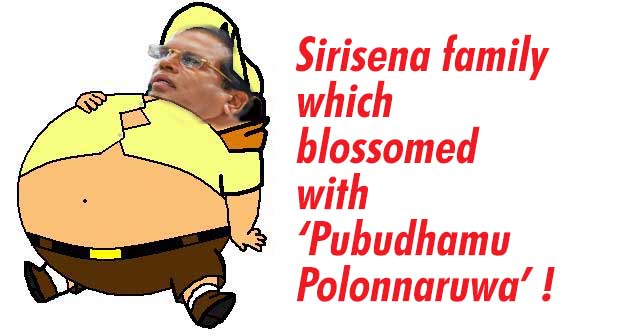 Leave a Reply