Namal, Yoshitha, Chichi the three masqueraders are in Russia seeking IT pirates to topple govt. in November..!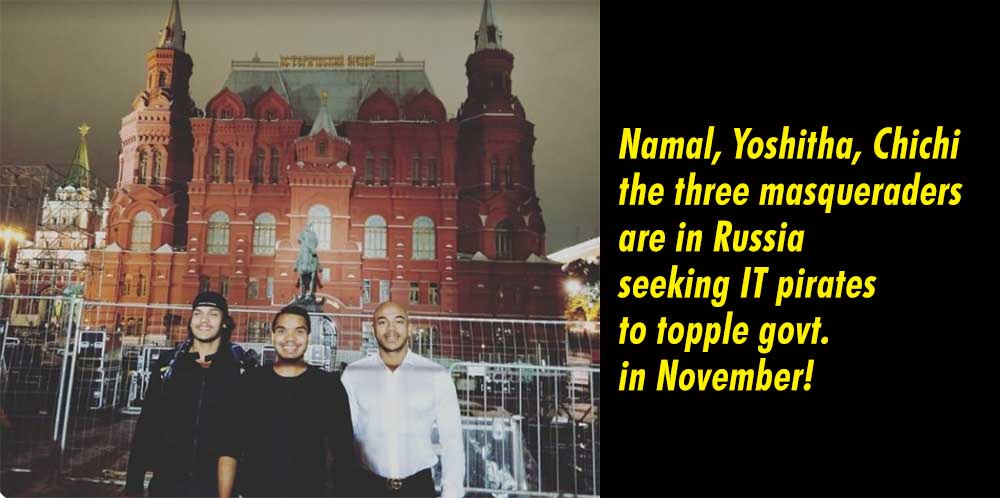 (Lanka e News – 26.July.2018, 10.45PM) Namal Rajapakse and his two brothers are in Russia with a view to hatch a conspiracy to topple the good governance government with the aid of Russian IT (Information technology) pirates (the IT underworld)
Namal during the last 3 months has travelled to Russia on three occasions , and this time his brothers have also accompanied him. The three of them are in the photograph herein when they were at Red square , Moscow on the 20 th.
It is learnt the Rajapakses are getting ready to stage protests, strikes and engage in sabotage activities targeting the present government which is completing three years of its rule on 2018-08-17 . And it is their plan to play a 'game' with 'head count' in parliament through dubious and devious methods in November, and topple the government .
Through social media network, bogus news are to be published in this connection , and the 'social media network operation' has been entrusted to Namal. With this in view he is already in the process of creating spurious cluster twitter accounts , cluster face book profiles, cluster Instagram accounts etc.
These are not what are done by individuals but are tasks of Robots. It is a well and widely known fact that Russian IT pirates (underworld) are most famous for these sly and stealthy activities. They would do anything if they are offered money. These evil minded expert Russian IT pirates have been able to even manipulate the US presidential election results. In Sri Lanka it is only the Rajapakses who have all the hidden wealth (country's robbed wealth) to pay colossal sums of money in dollars to accomplish their traitorous and venomous goals.
Given their putrid antecedence , it is obvious though Namal and his brothers are in Russia ostensibly on a pilgrimage ,in truth it is for a clandestine crooked purpose. Like father like sons.
The need to oust the government is most paramount to them in order to halt the special court now hearing cases daily .These courts are taking expeditious action to deliver verdicts . Hence , verdicts of their so many cases pending against them too will be delivered quickly. That is the fear haunting them.
Since Russian president Putin aids and abets the underworld members across the entire world , the IT pirates of Russia have become a dangerous and deadly threat to the entire world. One good example is the series of killings in Britain using radioactive toxins by Russia .The Crown court of Britain, 8 years ago heard the case relating to first such murder, and delivered a judgment recently that Putin is guilty.
Today ,these most dangerous scoundrels have become the rescuers of traitorous Rajapakses.
A detailed survey was conducted on the spurious cluster accounts and the rackets of Namal Rajapakse , and its report can be read by clicking on the headline below.
---------------------------
by (2018-07-26 17:30:02)
We are unable to continue LeN without your kind donation.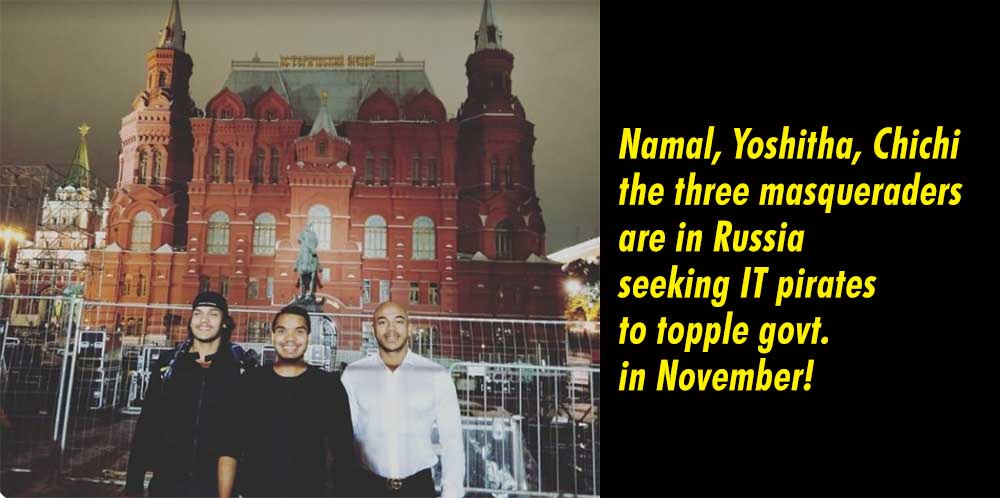 Leave a Reply