Daham Gamarala is a drug addict ! Gets caught to president father within bunker – No wonder Sirisena wants to execute heroin dealers !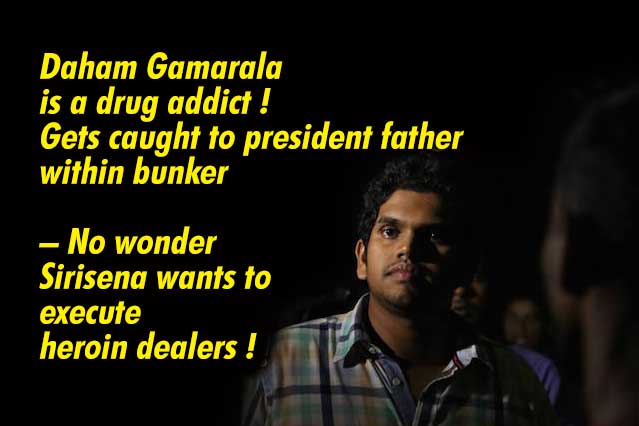 (Lanka e News -23.July.2018, 11.00PM) The reason why president Pallewatte Gamarala is stubbornly seeking to introduce capital punishment against drug dealers unheeding any advice to the contrary has by now come to light ! It is solely and wholly because his only son Daham Gamarala is addicted to drugs, based on reports reaching Lanka e news inside information division.
It is a well and widely known fact the bunker that was built at the underground of the president's palace during the nefarious corrupt decade of Rajapakses , was used by his son Namal Rajapakse and youths (Namal 's friends) secretly for their nefarious activities during the Rajapakse era . It is in this same bunker Daham Gamarala had now got caught red handed to his father Pallewatte Gamarala the president when he was reveling and rejoicing taking forbidden drugs (in the form of pills) with his friends after throwing a party .
Clash with Ravi Waidyalankara…
Some years ago when Daham was smoking ganja (cannabis) and enjoying with his friends in a hotel in the Eastern province , following his involvement in a fracas , his nefarious activities came to light for the first time through the media. The violence erupted when Daham and his friends tried to molest the wife of assistant DIG Waidyalankara when they were also in the same hotel on a holiday.
Pallewatte Gamarala who was a minister at that time convened a media briefing and concocted all the lies in his son's defense while blaming the media for tarnishing his name. Unbelievably , the same Gamarala however went to see injured Waidyalankara who was in hospital following the assault ,and tendered his apologies on behalf of his ganja smoking misbehaving son Daham.
Daham who was addicted to ganja from that time later changed his addiction to ecstasy drug. When Daham was taking this drug earlier too , an officer of the PSD detected it , and informed father president Gamarala . The latter did not believe it until Daham got caught to him red handed recently within the bunker of the presidential palace while taking drugs .
Warning issued by Chandrika…
Even previously Daham Gamarala after taking drugs had created violent scenes in several night clubs he regularly visited. The president of course has naturally done everything possible only to suppress those incidents.
According to reports reaching Lanka e News soon after Pallewatte Gamarala became the president , ex president Chandrika Bandaranaike had intimated to Gamarala that his son is wayward and a frequenter of night clubs , and to take immediate remedial action. Gamarala instead of heeding the advice had flown into a rage and turned bitter towards Chandrika . He therefore took no measures to rectify his son's wild ways and vices . Sadly ,now it has gone out of control , and Daham has become a drug addict.
The mental disorder (acute depression) of the president too has become threefold worse after learning of this latest incident . It is thereafter his closest lackey and NGO crook Shiral Lakthileke who is now notorious for leading the president on the inexorable road to perdition had given his two penny half penny advice. Following that advice the president has decided to execute the drug dealers. The president who did not care two hoots for the children addicted to drugs of other parents this long , has now got panicky only when his own son has fallen into the pit.
If Daham is caught sleeping with a whore , are all the whores going to be executed ?
9 countries including the European Union have addressed a joint letter to the president and pointed out that it has been proved the crimes in the world cannot be curbed via capital punishment which is to be re introduced in SL after 40 years , and therefore not to opt to implement the death penalty.
It is a pity after coming forward to establish good governance , death penalty is to be implemented which from the standpoint of civilized states is a retrograde move . In addition , the media reports also highlighted that the European Union had warned , the GSP plus concession which was granted to SL to rescue it from the economic abyss might be withdrawn .
When president Gamarala said loudly yesterday (21) that no matter who says what , the drug peddlers shall be executed casting aside all the counseling proffered to him against his recalcitrant attitude and short sightedness, it is now obvious this is because , his own only son is addicted to drugs.
If this myopic president is determined to execute the drug dealers because Daham his son was caught taking drugs , then surely his giving orders to execute every whore too he catches sleeping with Daham , will not be a matter for surprise.
In these circumstances, the time is now ripe for the UNP to seriously think as a civilized party to run a successful government building and strengthening its diplomatic relationships with the advanced countries , while ridding themselves of the consensual alliance and leaving the unhinged moronic president to court the disaster they are fast headed.
By a special correspondent of Lanka e News inside information division.
---------------------------
by (2018-07-23 17:58:42)
We are unable to continue LeN without your kind donation.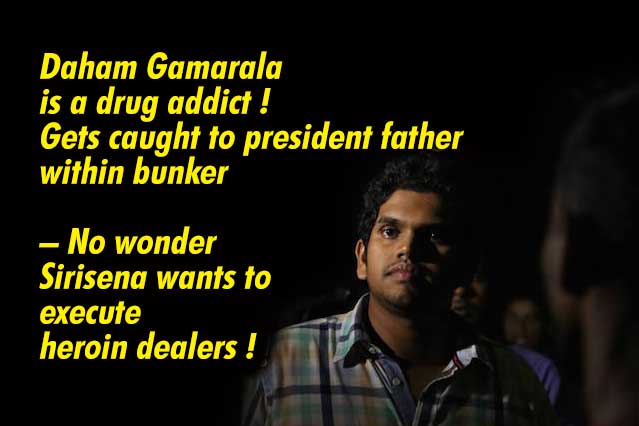 Leave a Reply