'Don't ever step into this house. Go and sleep with Lanka e News fellows,' president shouts and chases doctor for disclosing his mental disorder..!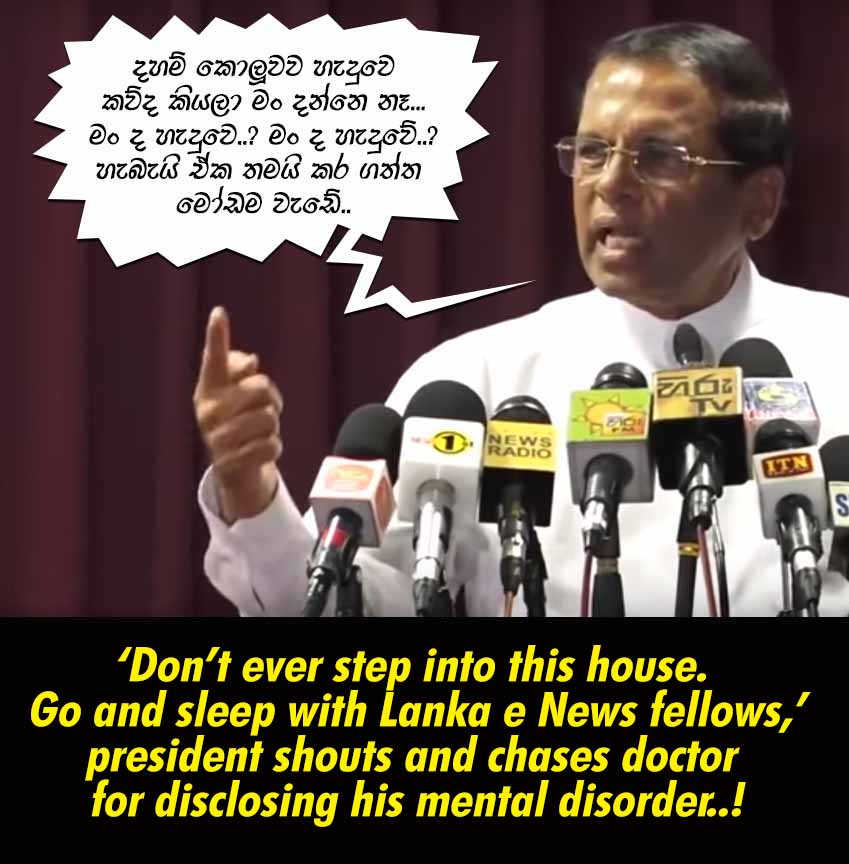 (Lanka e News – 08.June.2018, 11.30PM) After Lanka e News always first with the news and best with the views reported on the mental disorder of president Gamarala on the 2nd , the president has scolded his personal doctor Mangala in the most filthiest and foulest language, and chased him out , based on reports reaching Lanka e News.
"Never step into this house , not even come into the precincts. Now you can go and sleep with the Lanka e News fellows" Gamarala in a fit of rage had shouted at him. Dr.Mangala of course knowing very well Gamarala is a mental patient has understood Gamarala's conduct is a manifestation of symptoms of his mental illness, and has been unperturbed . Yet having no other option he had gone away without treating the patient.
Thereafter, a team of doctors of the army has been appointed as president's medical personnel. The doctors attached to the army hospital will be treating the president based on a roster during the week days.. They will also be travelling with him.
Chaturika fetches an extraordinary motivator…
However , as a solution is not being found for Gamarala's mental disorder by the doctors of the forces , Chathurika his daughter has found another motivation trainer to buoy up the patient's mood . He is one who was recruited to the presidential secretariat as a director.
Chaturika and family members have taken steps to make the president meet this motivator every once in two days , several hours in the night and one hour in the morning. This motivator though he is good at elevating the mood of sportsmen and sportswomen , has no capacity to treat Alzheimer's disease or depression. Dr. Mangala his former doctor had however confirmed the president is suffering from these two mental defects.
Media ethics or a Nation endangered ?
Meanwhile some have leveled accusations against Lanka e News that the president's mental illness should ought not to have been reported and that revelation is a breach of media ethics.
Of course we do acknowledge that reporting the illness of a patient is unethical , but when the patient is a president of a country , and by concealing his mental condition , if owing to his conduct the whole country is imperiled , should that single individual or an entire nation of 20.5 million people be given preference ?
Lives of 20.5 million people in jeopardy or safeguarding reputation of a mental patient on grounds of media ethics? It is for you to decide
Chandrapradeep
Translated by Jeff
Connected report
President ailing from mental disorder - Comes to light through his personal doctor and family !
---------------------------
by (2018-06-08 19:27:02)
We are unable to continue LeN without your kind donation.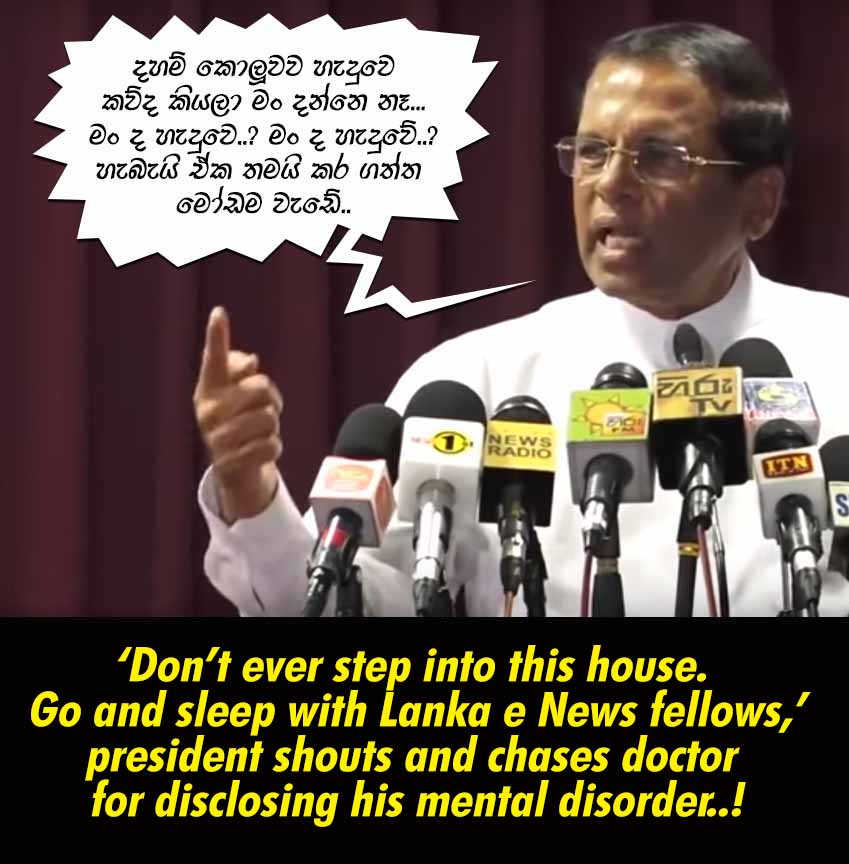 Leave a Reply