President ailing from mental disorder - Comes to light through his personal doctor and family !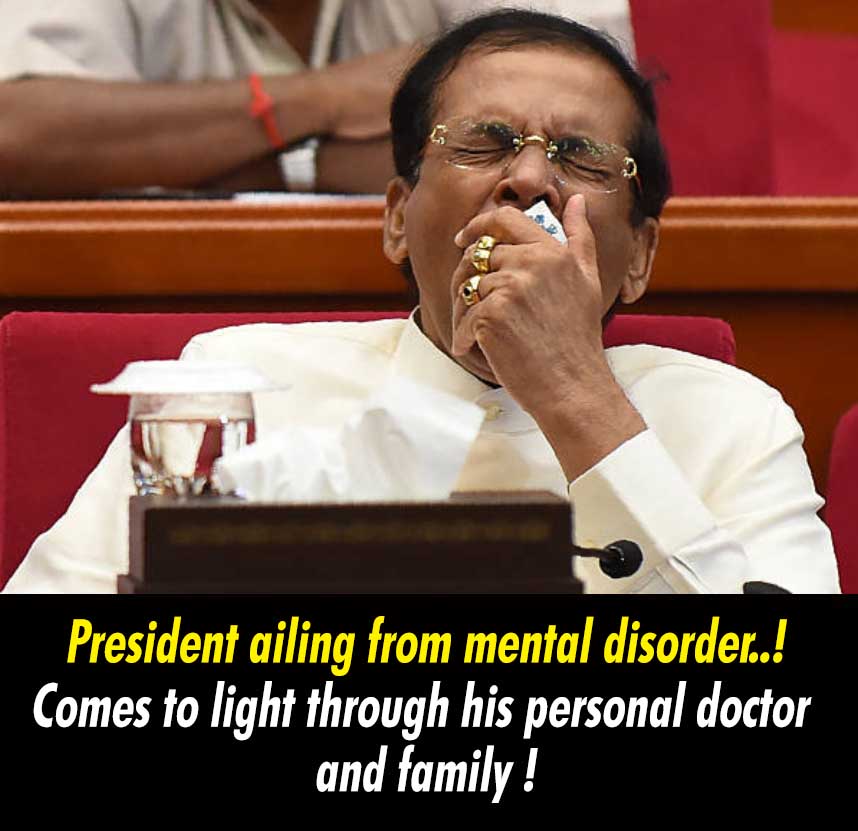 (Lanka e News – 04.June.2018, 10.30PM) It is a well known fact that Pallewatte Gamarala Maithripala Yapa Sirisena is a fiery speaker. But now he is better known as one who blabbers , suffering from acquired attention deficiency syndrome and forgetful so much so that he does not know what he said previously and therefore makes outrageous contradictions and broken promises.
Sadly, his personal doctor Mangala who examined him has diagnosed that he is currently suffering from a mental disorder , and conveyed that to his family .Though the doctor had tried to find a formal treatment regimen at the initial stage , that had been unsuccessful, based on reports reaching Lanka e News.
The president's obnoxious conduct and his cranky speech full of lies made at the death anniversary of Ven . Sobitha Thera outrageously desecrating the solemn occasion , triggered a lot of resentment and antagonism against the president .The SLFP leaders who were shocked and perturbed had therefore probed into this. It is then the above information about the doctor's diagnosis has surfaced.
At the meeting of the UPFA leaders following the speech made by president at the commemoration , the president has proudly said ' At the Foundation Institute I exploded a bomb before coming here.' It is only after watching the news telecast in the night , the party leaders have realized president has exploded not an ordinary bomb but one that is self destructive and suicidal. Having suspected something is wrong with his mental equilibrium they have then begun probing into the mental condition of the president .
President's mental disorder according to what was revealed is as follows …
President's personal doctor Mangala is not well conversant with mental health though he is a general physician. He had understood that the president is suffering from a mental disorder after listening to president's last independence day speech. He twice made mistakes regarding the independence day as though he knew very little about it. Since the president did not have the mental capacity to rectify his mistake despite being most serious , the doctor had suspected the president is afflicted with a mental defect.
Based on the diagnosis of Dr. Mangala, the president is in the incipient stage of Alzheimer's disease as well as acutely suffering from Tension and Depression
Alzheimer's disease is the initial phase of Vascular dementia . Failing to treat the mental depression associated with Alzheimer's disease for a long time , triggers Alzheimer's disease, and owing to the latter depression can result. In other words a vicious cycle is created. Alzheimer 's disease afflicts one out of every fourteen persons over the age of 65. If that disease is in the family it is still more dangerous. The symptoms of this disease are confusion, even what is clearly remembered is forgotten, inability to take decisions or to plan properly, muddling up the language and speech , behaving in an odd manner , aggressive conduct , excessive cringing and overly suspicious of others , mood swings or anxiety and sleeplessness.
Unfortunately , the president has manifested not one but most of these symptoms. The doctor has discussed with his family and explained in detail the more grave symptoms because this can lead to suicide attempts. The family members have of course tracked down a number of reasons for this mental defect.
Dr. Mangala identifies the causes of president's mental illness after discussing with latter's family.
Inability to shoulder the grave responsibilities of a president. ..
Gamarala is unable to shoulder the presidential responsibilities. He had even once confessed this to his close friend Wijedasa Rajapakse. 'Machan, the capitalist party the UNP choosing me to be the president is unbelievable' the president has been telling several times before elections , and after becoming the president he has expressed his surprise.
Gamarala who has never organized any gigantic programs in his life and being a village politician having not engaged in mainstream politics , is unable to bear the responsibilities of a president
Family members are of the view, because he does most things of his own accord without discussing with his family this would have resulted.
Illicit affair with Anuradha Jayawickrema ..
What has been the biggest contribution to his pitiful mental state has been his inability to enjoy and spend his time in peace with his paramour with whom he has a long standing love affair. Since the days when he was a minister he has had this illicit love affair with Anuradha Jayawickrema , the 67 years old 'antique paramour'.
Currently , Anuradha is working as a personal assistant at the presidential secretariat. Their love is so deep if her air condition goes out of condition , his own condition deflates losing all the air through all his orifices. Hence the president is the first to put aside all his urgent work to ensure that her air condition works best . One can therefore also imagine how much he must be toiling to put Anuradha's in trim condition despite her age though these are matters to laugh at for the public.
For his secret rendezvous with her he goes with his pal DIG Wickremesinghe cast in the same mold who is these days mostly in Kandy . Perhaps because the president hasn't enough opportunities to enjoy with Anuradha and sexploit her now like during the days when he was just a minister , president's wife Jayanthi Pushpakumari has had occasion to always scold him saying 'even after becoming president you are unable to stop your lecherous desires and control your sexual starvation' while constantly quarreling with him. This is also a reason that has aggravated his mental illness.
Lately , because president's new Russian friends are also pushing him into the den of Russian body peddlers , both Jayanthi and Anuradha have been harassing him.
Three lovers of Madhudaranee killed by Gamarala & Gota….
The conduct of Pallewatte Gamarala's other daughter has been a cause of despair and that too had led him into this mental state…
During her school going days , Madhudharanee had been involved with two boys who did not match her. Gamarala enlisting Gota who was the defense minister then , got those two youths abducted alleging they are LTTE cadres. They disappeared thereafter.
Another time Madhudharanee had eloped with another youth and was living together . Along with Gota and Dudley , somehow Gamarala traced the whereabouts and forcibly took Madhudaranee home. The youth was later killed by a lorry made to run over him.This was camouflaged as an accident , and the whole episode was suppressed. That youth was the third victim who sacrificed his life on account of Madhudharanee. Today Gamarala is having undying ties with Gota due to these cruel callous crimes.
Following this episode , Madhudharanee was a 'prisoner' in the house , which led her to an almost insane state. In order to get her over her mental state she was found a small job in People's bank amidst heavy security escort.She was given that job when the husband of a former chief justice (then) was the chairman of People's bank. Now Madhudaranee is not married and left alone in the house .Gamarala is also haunted by those criminal memories and the wrongs he committed . These memories have also affected his mental balance.
Because Daham is caught in the Rs. 20 million bribe..
On top of all these , the ravenous greed for filthy lucre which led Gamarala to enter into illicit deals , and because some backfired , Gamarala's tension had turned for the worse. Specially , when Gamarala's chief of staff Mahanama was caught red handed recently over a Rs. 20 million rupee bribe scandal , during investigations it has come to light it is Daham Sirisena who had given instructions to Mahanama even at the last moment in this racket based on Mahanama's phone calls. This doubled ,trebled and quadrupled president's tension .
Though Gamarala roared like a Lion , Gamarala is an individual who is mentally feeble . Because he neglected taking treatment while his mental condition was worsening he had contracted the Alzheimer's disease , Dr. Mangala had concluded.
Treatment neglected…
Unfortunately Dr. Mangala has come on the scene only at a fairly advanced stage of the disease. If his mental instability becomes known , obviously the president has to resign the post. Hence the need of the hour is to conceal the truth as far as possible but it is not possible to treat him enlisting the services of a single psychiatrist . However advising him on that has been unavailing. It is because that is the characteristic of every mentally deranged patient. He/ she never accepts his/ her mental condition.
Therefore Dr. Mangala after discussing with his family had taken steps to treat him by persuasion and through coaxing . Though the specialist Dr. Jagath Mendis of Angoda hospital has sought to meet the president with a view to diagnose his condition , but because his family members were averse to it fearing that would become known to the public , the doctor's effort was unsuccessful.
When attempts were made to get down a Singapore psychiatrist and treat him , the Singapore specialist had refused to treat a president of the country without a local specialist joining him . Therefore that too had not been successful so far. Moreover , each time the family members sought to discuss with Gamarala on this topic , he had flown into a devilish rage.
It is not the habit of Gamarala to lose his temper with his family members or his employees on trifling issues. But now, even if a file is kept in the right place , he screams 'why is this file here?' and scolds them in raw filthy language. Owing to this even the employees are startled by president's strange conduct these days . The family members in their desperation have resorted to blind faith including sorcery and other experiments to find a cure.
Wrath of deities
Meanwhile his old contemporaries of his village of Polonnaruwa relate another story ..
Sahajanananda Mahadas , who is presently compiling the series of Lanka e news articles which related to untruths written by Chathurika about 'President father' has made inquiries from the villagers.
The villagers had this to say : Gamarala who was born and bred in the village of Polonnaruwa , after becoming the ruler , that is 'King' , his brother Dudley and his daughter Chathurika constructed hotels in the vicinity of the Polonnaruwa tanks and destroyed the tanks which were built by the ancient Kings designed for protection and were entrusted to the care of deities . Because Gamarala permitted this he has incurred the wrath of the deities.
Why did the individual who made wonderful speeches during the presidential election and won over the consent of hundreds of thousands of people , suddenly go awry ? Mahathayo , it is god's curse and nothing but that curse. Even if you fool the people you cannot fool god. That was the steadfast opinion of the villagers.
Of course people becoming invalids when they grow old is a natural phenomenon but a leader of a country suffering from a mental disorder does not augur well for the people.
By now it is obvious the mental defect of country's leader needs no confirmation by a psychiatrist because symptoms of his mental instability are being clearly manifested day in and day out now. Therefore what ought to be done by those who are mentally stable is without dilly dallying get down to brass tacks , that is create the environment permitting him to take treatment duly and freely , while relieving him of the presidential burdens and duties immediately.
ChandraPradeep
Translated by Jeff
---------------------------
by (2018-06-04 17:38:38)
We are unable to continue LeN without your kind donation.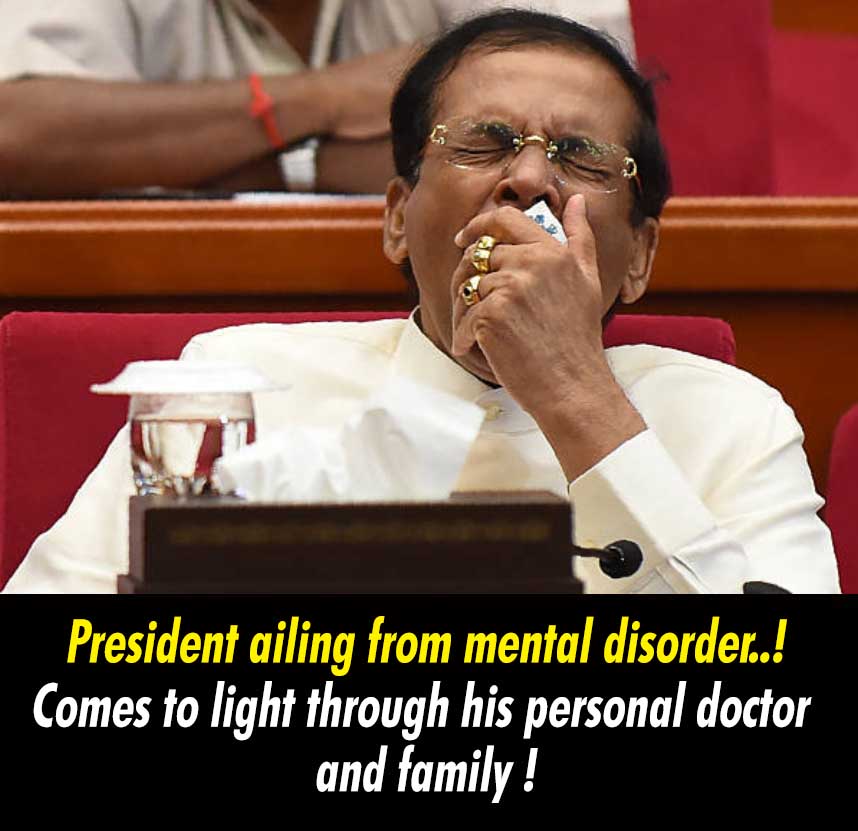 Leave a Reply