Another choice par excellence of president Gamarala remanded !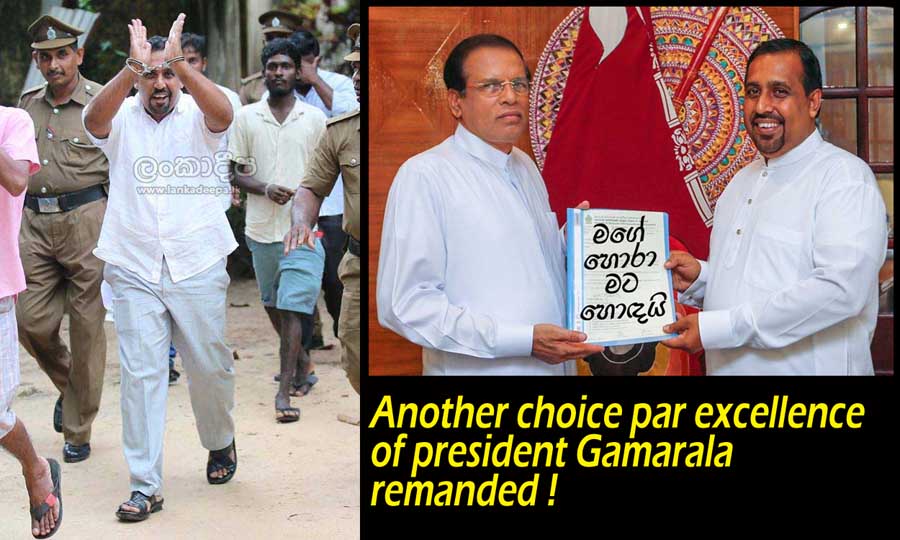 (Lanka-e-News - 17.May.2018, 11.45PM) Former M.P. Anurudha Polgampola who was appointed to the post of chairman , State Timber corporation replacing previous chairman P. Dissanayake who was arrested (now in remand custody) when collecting a bribe of Rs. 20 million to get a cabinet approval through president Gamarala , too was arrested on a warrant on the 16 th for evading courts in a case of cheating involving a colossal sum of Rs. 8.9 million. Believe it or not, this crook was caught just six days after he was appointed to the post of chairman State Timber Corporation by President Gamarala who is by now best noted for making most bizarre square peg in round hole appointments . Gamarala has yet again confirmed that he has nobody but crooks , bribe takers and rascals only to appoint to high responsible posts in the government.
Polgampola was earlier on arrested on charges of cheating in a sum of Rs. 8.9 million (approximately) ! by issuing a cheque (that was dishonored) to a businessman who supplied earth on a sub contract granted to him by Polgampola the contractor in the 'Northern Spring' project in the year 2014. However , because Polgampola was evading courts in this case , a warrant was issued against him by Kilinochchi magistrate . The CID based on that warrant arrested Polgampola on 16th morning.
The suspect was remanded until the 18 th after he was produced before the Fort magistrate Ms. Lanka Jayaratne who instructed the prison officials to make arrangements to produce Polgampola in Kilinochchi court on the 18 th.

This appointment of a criminal is another illustration of president Gamarala's series of disappointing appointments of misfits to important positions to the detriment of the country as a whole. This again demonstrates that Gamarala alias 'president moron' is so obtuse and mentally feeble that he hasn't even the simple but most important ability (as a president) to identify who is suitable and who is not to a high post in the government.
It is because of this lack of sense of discrimination that he is unable to decide who steered him to power or identify a friend from a foe .
His favorite pastime is biting the very hand that fed him , kicking the very ladder that enabled him to reach the top, and while being a parasite destroying the very one on whom he is parasitic. It is therefore no wonder he has dropped steeply down and now precariously clinging on a 4 % popularity base after earning the utter displeasure and disgust of the masses.
Any other state leader in this state of disgrace would have committed suicide unable to ease his conscience considering the amount of pain , despair and suffering he has inflicted on the people , yet this president Moron on the other hand is selfishly seeking to be in power even after the end of his term in 2020 to the detriment of the country . This is solely and wholly because of his inordinate power greed and corrupt proclivities due again to lack of sense of discrimination to understand his own mental feebleness , inefficiency and ineptitude.
It is a universally acknowledged truth that in the hierarchy of creation , an animal is higher than a human who has lost the sense of discrimination.
---------------------------
by (2018-05-17 22:23:05)
We are unable to continue LeN without your kind donation.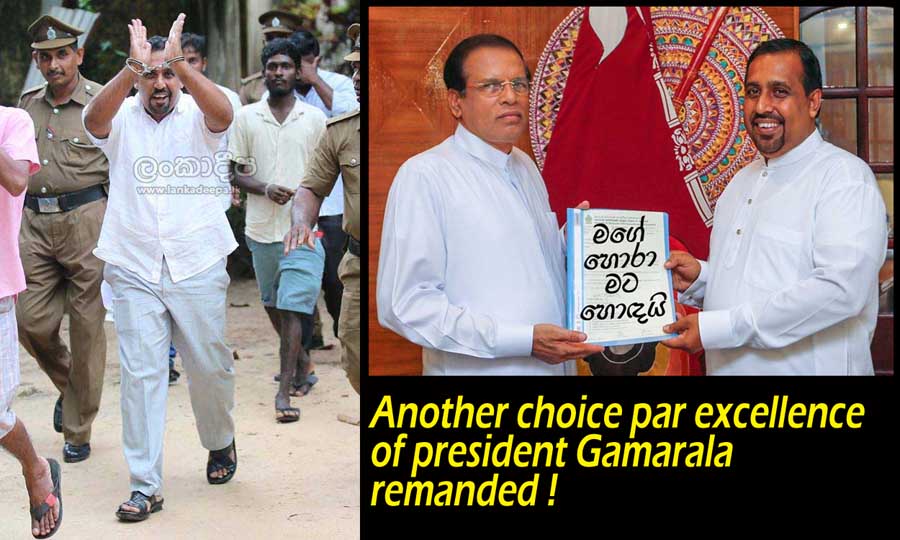 Leave a Reply