Gamarala's racism leaps out venomously during discussion with Muslim Diaspora; tries to walk out thrice !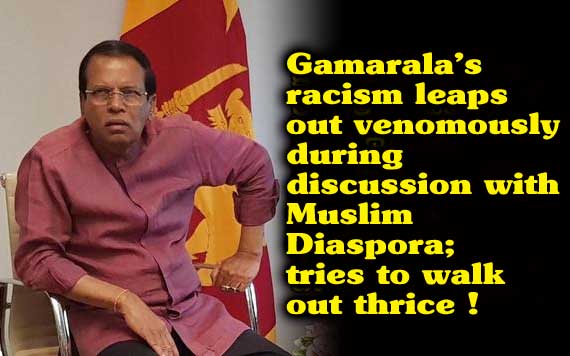 (Lanka-e-News - 20.April.2018, 6.55AM) The presently most embattled Pallewatte Gamarala who has by now earned the most inglorious distinction as the uneducated most failed president and state leader of Sri Lanka ever , and whose popularity in his own motherland stands at a meager 4 % , and his representation in parliament too dwindling to just 16 , held a meeting with the Muslim Diaspora on the 17 th.
However it is with deep regret we bring this sad report to you which reveals , the president at that meeting bungled the issues and made a fool of himself when answering questions posed by the Muslim Diaspora. On three occasions taking a racist stance he tried to flee from the venue when he was unable to answer questions thereby earning the displeasure and disappointment of the Muslim community , based on reports reaching Lanka e news.
President Pallewatte Gamarala is these days attending the Commonwealth summit of State leaders in Britain. On this junket he has taken along with him his family and a large group at state expense. On the 17 th afternoon at 2.00 a meeting was arranged with the Muslim community residing in Britain.
There are two main Muslim organizations in Britain. They are : COSMOS UK and SLMDI UK (Sri Lanka Muslim Diaspora in UK) . Instead of holding a meeting with the participation of both organizations at the same time , Gamarala driven by his overriding evil traits , had given two different times for his meetings with the two organizations in order to set one organization against the other.
The president has asked , 'why, is there no unity between the two organizations . Is it that others are not in favor of discussing along with your organization together ? ' The president has asked this same question from both organizations for obvious reasons. . Though the president was hoping there is such a disunity , in fact there was no such disagreement between the two organizations. It was later when the two organizations were having discussions together it had come to light , the Gamarala has told lies to the two groups in order to set one against the other.
Pallewatte Gamarala alias Sillysena who is a Polonnaruwa frog in the well did not know ,though people were of diverse groups in England they drank and ate together. His venomous aims and crafty agendas hence finally boomeranged on him.
Gamarala flies into a rage when asked about hooligan monk Gnanassara…
The discussion with the Muslim Diaspora turned bitter when Gamarala at the very outset itself started trampling the tail . Instead of answering the questions ,Gamarala had resorted to intimidatory tactics, and tried to flee from the scene.
As the discussion began , a leading lady attorney at law fired the first salvo at Gamarala . She asked , How come you toured Japan with Galagoda Athe Gnanassara the monk on whom a warrant has been issued by court , and who is most noted for his hate speeches against the Muslims each time he opens the mouth ?

Even before she could finish her question , Gamarala started behaving like a serpent soaked in kerosene , and screamed ' don't ask such questions from me. Immediately withdraw the question or else I am leaving' and rose from the chair. The crowd then said' No you cannot be allowed to go like that' , and requested the lawyer to withdraw the question.
The same question was rephrased and asked , ' how could an individual on whom a warrant has been issued by court travel overseas?
'Don't ask that question from me. Ask that from the minister of justice and the foreign minister ' Gamarala replied.
Thereafter , he behaved most shamefully and degradingly when answering the other questions. He either tried to dodge the questions or fastened the blame on others with a view to wash his hands of the matter.
Gamarala's favorite pastime – blaming Prime Minister …
When he was questioned how he as commander in chief of the forces idly watched and waited for three days when the Muslim establishments were set on fire ? Gamarala got provoked again . His reply was , that question should be posed to the minister of law and order , and at that time the minister in charge was the prime minister.
When it was pointed out , like in Singapore in Sri Lanka too irrespective of Sinhalese , Tamil or Muslim, justice should be meted out , the Gamarala's answer savored of his characteristic imbecility; he said , ' in my country I cannot work like in Singapore'
When Gamarala was told , there is video footage evidence of STF soldiers dragging a Muslim Moulavi and assaulting him ; hooligans along with the Police setting fire to Muslim shops , and an M.P. too arriving in a vehicle at that moment , and asked why laws are not being enforced against them , and those criminals in the video are not being arrested ? Gamarala's initial answer was , those were false social media campaigns , and that was why he banned the social media. Subsequently he said ,if everyone is to be arrested , he would lose his vote base.
The Muslim representatives then asked him whether he can put the Muslim community in jeopardy without any grounds just because he will lose votes , and be silent? Gamarala who turned angry again tried to go out citing the excuse he was hungry. The audience had to again somehow halt him. Gamarala then said , if arrests are to made that way , the country must have a military rule, and asked from the audience whether they would prefer a military rule ?
Gamarala continues to give irrelevant answers and goes off at a tangent …
Gamarala who was so panicky and guilty gave answers out of point and before the question could be finished.
Suspicions are being fueled without any evidence by a frontline minister in the cabinet, and provocative books too are written that Al Qaeda movement is in operation within Sri Lanka . Why then no complaints are being made to the police or the intelligence divisions giving details of the names and addresses if there is such a thing ? When this question was asked , Gamarala asked back 'who is that minister?'
When the Muslim representatives revealed it is 'Champika Ranawake' , Gamarala dismissed the subject saying 'he is not one of ours' . Because Gamarala was giving such outlandish answers and was unable to speak to the point , Gamarala made a request to the Muslim Diaspora to suggest solutions without questions alone. The Muslim Diaspora then told Gamarala to mandatorily recruit a certain percentage from the minority communities too to the security forces.
Gamarala's answer to that was , when an opportunity is offered Muslims do not accept that , and Muslims do not wish to be recruited. An individual in the crowd at that moment stood up and said , though he is a Muslim he has a distinction pass in Buddhism. He is an officer of the State intelligence division and was fighting against the LTTE for over 20 years . When engaged in the battle he suffered injuries , and even now shrapnel of bombs are embedded in his body. He therefore refuted the statement of Gamarala that Muslims do not come forward to be recruited to the forces. Gamarala who was dumbfounded by that revelation did not even say he would consider that proposal and find a solution.

As solutions , it was suggested large posters and notices regarding punishment of ten years or more in jail under the Penal code to those who stoke hatred and animosities among races shall be displayed in all government offices with 'ten years' given prominence. Gamarala's attention did not appear to be drawn to that however.
Saboor , saboor…..
In the overall picture , president Pallewatte Gamarala clearly demonstrated he is an inveterate racist .He never spoke anything that could appease the minority representatives , even based on reasons of hypocrisy for which he is most infamously famous. Instead of giving a hearing , he tried to leave the meeting on three occasions in a huff. Nimal Siripala De Silva a participant too was sleeping all the time. The other minister present was Moulana of Muslim Congress. He only said 'saboor' , 'saboor' (patience in Arabic) and remained silent ,but never retaliated against Gamarala's intolerable buffoonery and tomfoolery .
The SL Muslim community that was thoroughly disillusioned after realizing that it is a barbaric brute who is now SL's president concluded their discussions most dissatisfied and disappointed . Confirming further what a brute he is , Gamarala walked out like an uncouth uncultured unmannerly individual even before the discussions could be concluded .
Another most abominable action of Gamarala was , during the discussions , he did not permit anybody to record the proceedings via mobile phones or recorders . The participants had to leave their mobile phones and recorders outside, and whatever that were recorded by those who took the phone inside were deleted by the security personnel of the president.
It is only foolish despotic rulers whose conscience are not clear and are crooked have to hide from the people and inflict this type of harassment . Sane and sensible rulers who are open about their aims and agendas , and acting in the best interests of the country do not conduct themselves this barbarically and foolishly.
Incapable imbecile cruel cursed rulers sometimes spring up in a country when the country is under a spell of some ill luck. It is therefore the incumbent duty of every Democracy loving citizen to see to it they accelerate the death of the political career of such rascally cursed rulers. It should be now or never for that will be a blessing to the country .
By Chandra Pradeep from London
Translated by Jeff
---------------------------
by (2018-04-20 01:37:12)
We are unable to continue LeN without your kind donation.
Leave a Reply