The ministers (serpents) lose the battle – hand over resignation letters (video)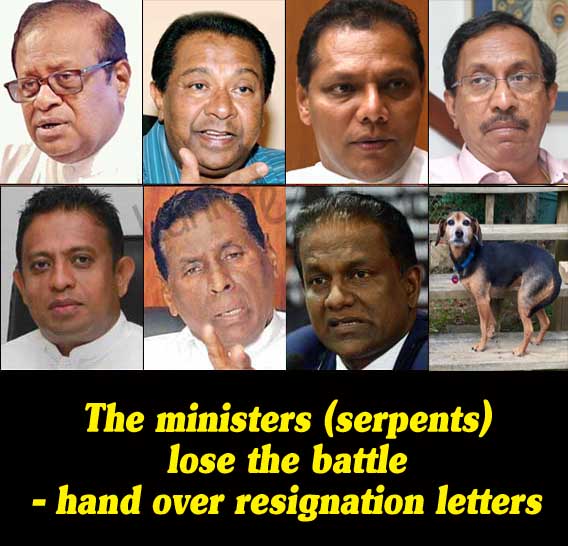 (Lanka-e-News - 08.April.2018, 8.20PM) The six cabinet serpents (ministers) who while being parasitic on the good governance government and were surely but slowly destroying the good governance by resorting to all the villainies and treasons had after realizing they cannot continue in their ministerial posts any longer in the midst of the monumental opposition mounting against them from across the entire country finally handed over a letter to president Gamarala to allow them room to resign their posts, based on reports.
The six ministers are S.B. ,Susil , Dayasiri, Anura Yapa, W.D.J and Chandima .The deputy speaker had earlier on handed over his letter of resignation.
If the president Gamarala accepts the resignations , then the UNF will have to bring forward a no confidence motion against the remaining 9 non cabinet ministers only.
Meanwhile the leaders of the civil organizations who were responsible to install the good governance government announced at a media briefing on the 6 th , stern decisions shall be taken against those who voted against the government but are still shamelessly clinging on to the ministerial posts like leeches under the same government .The statement made by trade union leader Saman Rathnapriya on the occasion is in the video footage hereunder
---------------------------
by (2018-04-08 14:56:01)
We are unable to continue LeN without your kind donation.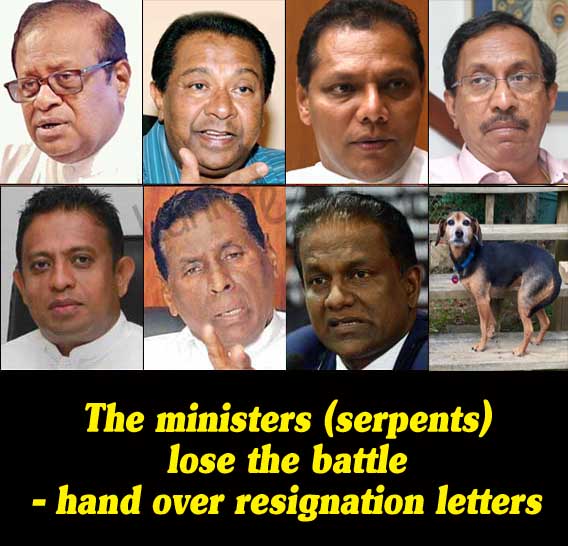 Leave a Reply