Lanka's communal contagion spreads to Canada ;Ottawa temple statue allegedly attacked !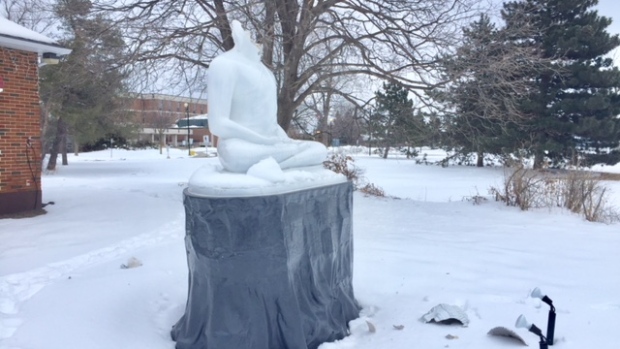 (Lanka-e-News - 21.March.2018, 6.35PM) The Buddha statue in the premises of Hilda Jayawardenaramaya , Ottawa, Canada has been attacked ,and its head broken into pieces. This is the largest religious place of worship for Buddhists and even during the time of the 30 years old LTTE war, such a thing had not happened , it is learnt. The Buddhists in Canada are of the view this attack is a counter move against what took place in Sri Lanka – recent conflicts.
The treasurer of the Temple dayaka committee Manoj Silva said , this statue was erected about some months ago , and about US dollars 8000.00 was spent to get it down from SL. For the last 20 years such a disaster had not occurred , and has been caused deliberately, he believed .
While there was a meditation session within the Aramaya , the statue which was in the yard had been attacked with an iron rod , which was later discovered in the vicinity of the incident. As there is no fence around the aramaya , anyone can enter easily. Hence an outsider may have entered and caused the damage , according to Manoj.

The SL High Commission in Ottawa had not made any inquiries into this , the Dayaka committee bemoaned. The present High Commissioner in SL for the last three years is Ahamed Jawad, and the Consul General of the Consular office , Toronto is Uduma Lebbe Jawhar. There are charges that these offices did not contribute much towards co existence among Sri Lankans.
Ottawa police are conducting investigations.
---------------------------
by (2018-03-21 13:34:56)
We are unable to continue LeN without your kind donation.
Leave a Reply