Believe it or not! BASL against justice; U(rban) R(owdy) aids and abets crooks, criminals and their clans !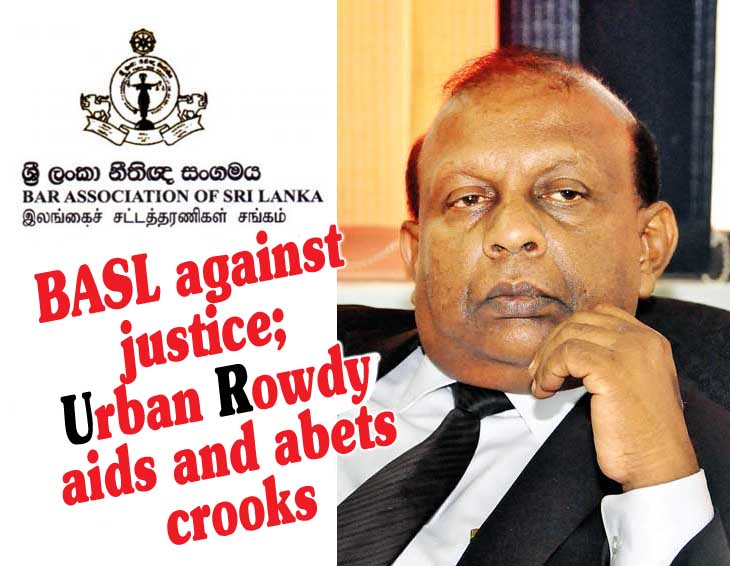 (Lanka-e-News - 18.March.2018, 9.00PM) The Bar Association (BASL) led by a group of scoundrels under U.R.De Silva which captured power as a result of a curse which descended because the pro good governance group did not contest , is fast headed to pervert justice , owing to their deliberate efforts aimed at overturning administration of justice in the country .
The deadly nature , aims and objectives of these rascally black coated sharks came to light publicly when 7 special petitions were filed in the supreme court on the 16 th against the remedial measures taken to eliminate inordinate delays when meting out punishment to the accused in trials heard in courts - in some cases over 17 years ! This salutary move was to appoint a high court comprising three judges to hear cases daily to avert delays. These obnoxious petitions were filed by these villains on the day (16) the SC was taking up the Judiciary organization bill designed to eliminate delayed justice - delayed justice is tantamount to denied justice.
Romesh De Silva PC who appeared on behalf of the BASL president told SC , because there is no high court of three judges panel category which is mentioned in the Judiciary Organization Bill ,the latter is absolutely invalid. De Silva by this only highlighted and underlined what is more important to the BASL is the black coated sharks making a fast buck through postponement of cases, rather than upholding justice for the greater good of the nation.
Joint Opposition leader Dinesh Gunawardena filed his petition on the grounds that some of the provisions of the Judiciary organization bill for the proposed appointment of the high court comprising a three judges panel are ultra vires the constitution , and also requested that this bill shall be passed by a special number of MPs as well as by a people's referendum.
While these petitions are pending hearing , another 14 interim petitions were filed .
The petitioners of these interim petitions are : Patalie Champika Ranawake minister of Municipal Councils and western development , Dr. Harsha De Silva state minister of national policies and economic affairs, Eran Wickremeratne state minister of finance , Ajith P.Perera deputy minister of power and renewable energy , Karunaratne Paranavitharne deputy minister of skills development , Professor Sarath Wijesuriya , Saman Rathnapriya, Jayadeva Uyangoda, K.W. Janaratne, Gamini Viyangoda and Jagath Hemachandra.
In these interim petitions it is averred the Judiciary Organization bill is a bill incorporating measures for the appointment of three special courts in accordance with the country's constitution.
It is to be noted this amendment bill was steered forward on the recommendations made in the report of a select committee represented by all parties of the parliament and was concerning delays in courts when hearing cases. It was through that report it came to light some cases take over 17 years to be concluded and to mete out punishment to the criminals.
Unbelievably Dinesh best noted for his senility and imbecility was also a representative of that select committee. Yet he is now taking this stance against the appointment of the new court for obvious reasons: The hidden fear that , when legal action and punishment are expedited before a change of government , all the rogues of his clan will be sentenced .
It is a pity individuals like U .R .De Silva who should respect the laws too are toeing the line of the Dinesh Gunawardena clan to do their sordid biddings . It is doubtless U .R. (Urban Rowdy) is thereby going to incur the wrath and curse of his own children, grandchildren, law abiding citizens of the country and generations to come for his dastardly and diabolic actions.
---------------------------
by (2018-03-18 15:55:03)
We are unable to continue LeN without your kind donation.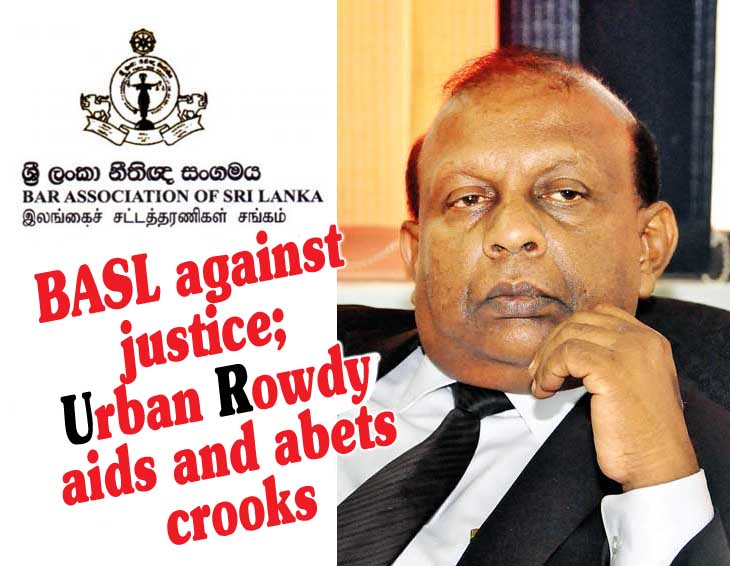 Leave a Reply