'You have not only jeopardized your country but even ours ' Modi slams Sirisena to the face !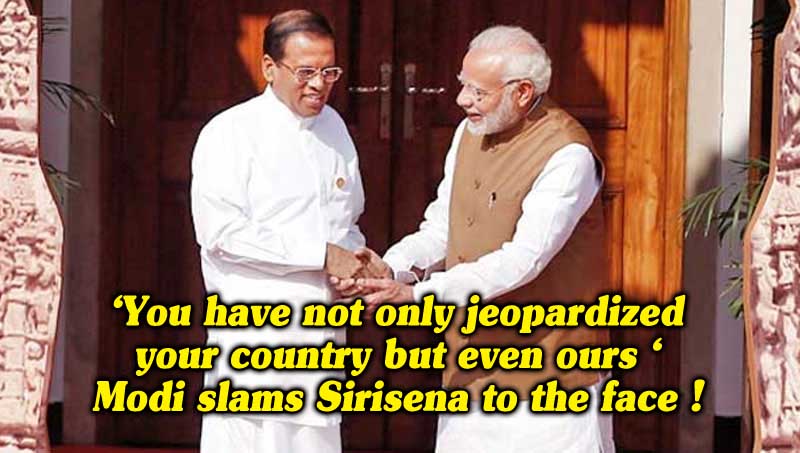 (Lanka-e-News - 16.March.2018, 4.30PM) 'Not only you plunged your own country into dire peril but even India' Indian prime minister Narendra Modi roundly blamed president Maithripala Sirisena. According to diplomatic sources , Modi had bitterly berated Sirisena the currently 4 % popularity president of Sri Lanka (SL) when the latter attended the solar power conference in India recently .
By SL opening too many doors much more than are necessary for China , it has driven the entire Indian zone into dire peril , Modi had pinpointed. Sirisena in his defense had said, there are stipulations in the contract entered into regarding the Hambantota Port and Colombo port city with China , that those cannot be used as war zones.

Modi disdainfully rejecting Sirisena's explanation had asked to his face ,who is the fool who fights a war according to requirements on paper?
When Sirisena was trying to blame it on the P.M. Ranil Wickremesinghe by saying those were done by him , to exculpate himself , Modi had replied , ' We have a better understanding of your P.M. We know him,' while saying ' 'I know who chased India from Sampur .' When listening to that , Sirisena was dumbfounded. (Sirisena was behind that).
It is the view of Diplomatic divisions, no matter what , Modi's attitude can be considered as a refusal to the face of president Sirisena, and that India does not accept him. This portends ill to the future of SL , the same sources added.
---------------------------
by (2018-03-16 11:12:05)
We are unable to continue LeN without your kind donation.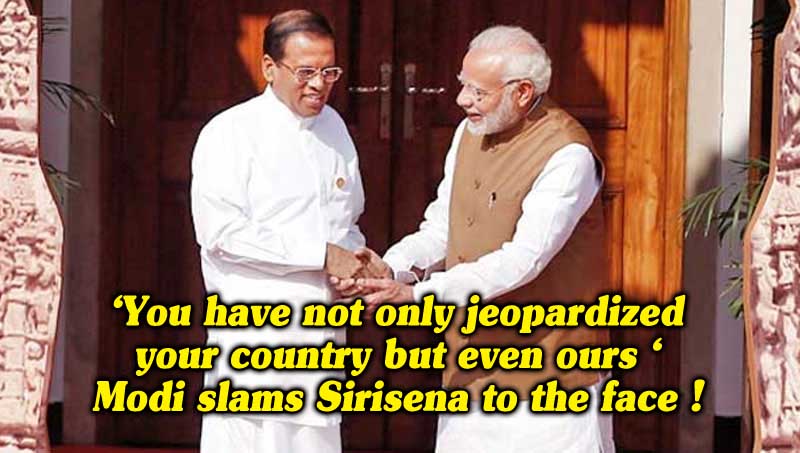 Leave a Reply