President Sirisena is third wealthiest politician in SL - only 3 years he needed to build his empire worth US $14 million !
Son in law sent ahead for the graphite deal to Japan before Sirsena !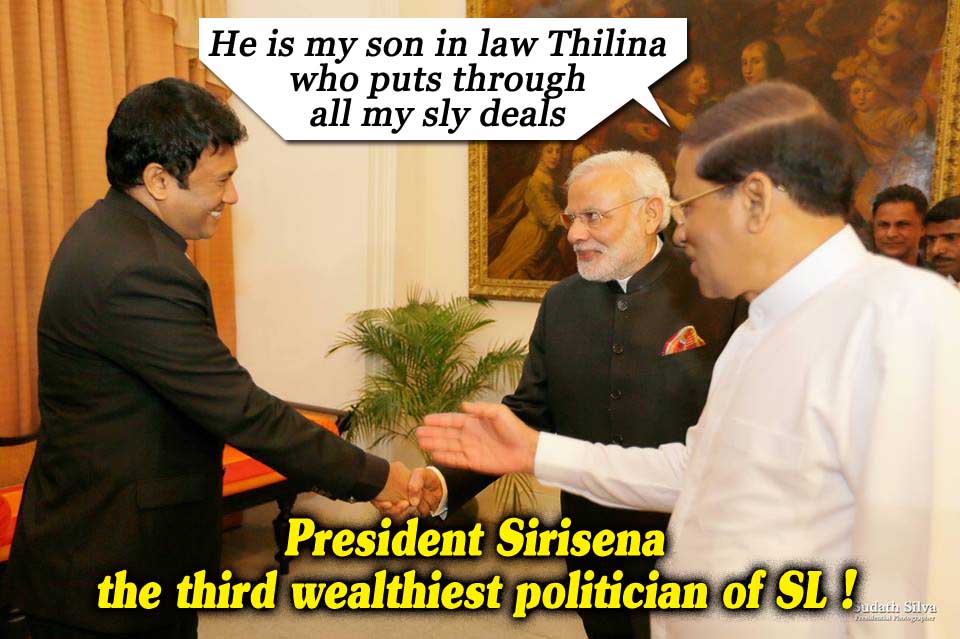 (Lanka-e-News - 13.March.2018, 12.30PM) Maithripala Sirisena who is now considered as a two penny half penny worth president because of his political misadventures and untrustworthiness to the detriment of the entire country and who is precariously hanging on a 4 % popularity in the country, had sent his wheeler dealer son in law Thilina Suranjith to Japan on the 10 th prior to his own departure to Japan today on an official visit. All these arrangements are to 'fix' a deal as usual.
The new chairman of Geological and mining Bureau Dissanayake has accompanied Thilina to Japan to put through the graphite deal of the wheeler dealer son in law of the president.
It is to be noted the Geological Survey and mining Bureau is under the president , and his son in law Thilina had taken over the monopoly of graphite sale business to himself and the company associated with him - Sirisena family never had it so good !
President is Sri Lanka's third richest politician !
Maithripala Sirisena who became the president on 2015-01-08 and created a unique record by dishonoring every promise he gave to the masses ,however has earned the crown – the third richest politician in Sri Lanka ! The Sunday Observer newspaper of the government based on the world famous Forbes report had made this disclosure.

At the moment president Sirisena 's wealth is worth US dollars 14 million. Mahinda Rajapakse the ex president who is at the top is worth US dollars 18 billion , according to Forbes report as revealed by Webster newspaper. Mahinda took ten years to amass 18 billion dollars , whereas Maithripala has taken just 3 years to amass 14 million dollars.
It means if any pauper wants to fulfill his dream of becoming a billionaire in Sri Lanka he must by fair or foul methods become the president of SL.
Meanwhile based on reports reaching Lanka e news inside information division, Sirisena's son in law has proposed to invest US dollars 6 million in the Laugfs Gas business belonging to Wegapitiya , when the latter has told , he hasn't that amount of business for such a colossal investment. Thereafter Thilina the wheeler dealer son in law of the president had managed to get around SL's billionaire Dhammika Perera the most wealthy Sri Lankan, to invest Thilina 's huge amount of money in Dhammika's business.

The 6.4 million people who voted to the Polonnaruwa farmer son and made him president to abolish the executive presidency and introduce good governance based on his solemn and loud promises must be cursing themselves for the historic blunder they committed !
---------------------------
by (2018-03-13 07:48:39)
We are unable to continue LeN without your kind donation.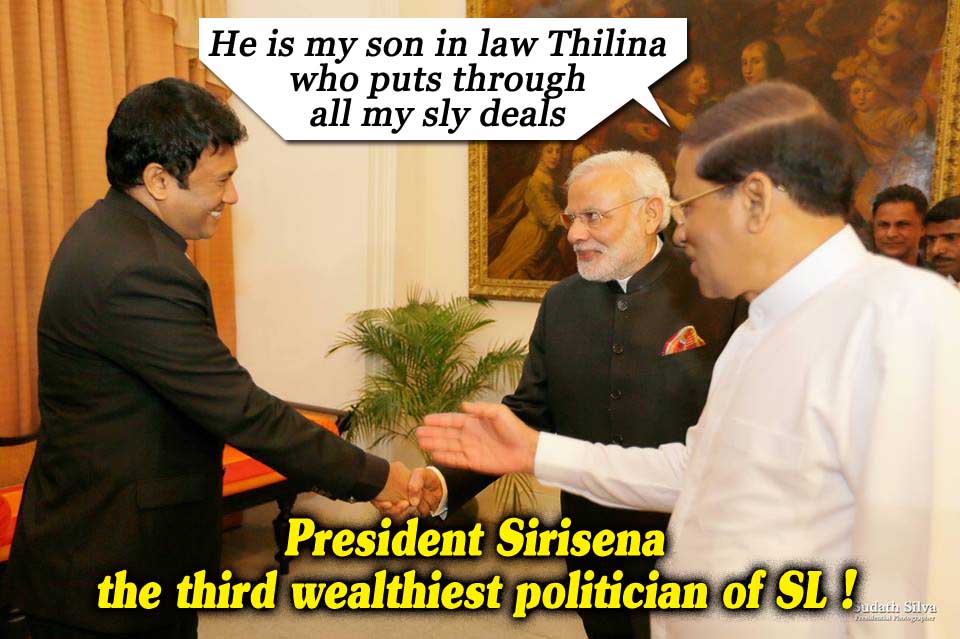 Leave a Reply