'You are a pest, rogue, murderer, snake gourd to country . Do your job properly or get out'- Sangha 'King' orders president..! (Video)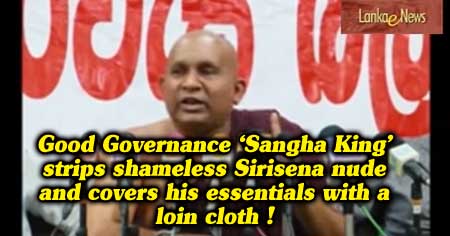 (Lanka-e-News - 10.March.2018, 12.45PM) Most Ven.. Dr. Dambara Amila Thera the good governance Sangha 'King' who made a huge contribution towards making Maithripala Sirisena the president , at a recent press briefing tore Sirisena (whose pet name now is Sillysena) into shreds. If Sirisena alias Sillysena the hopper gobbling serpent has any sense of shame he would at least now try to wear a decent attire and become a human without standing naked with the naked serpents , his blood relatives that gobble eggs.
The most Ven. Thera had this to say ….
The president should be held responsible for all the violent incidents and mayhem. The present president is a 'patholaya' (snake gourd) of two rupee value . It is a pity the country is in a most sorry state because of him . We have never seen such a low bred president anywhere in the world.
Truly speaking , he is a Two rupee worth patholaya having no backbone. It is his primary and paramount responsibility to maintain law and order in the country. If he cannot even maintain that , we have only to say , 'please get out' . 'Do your job properly or get out ' . He is destroying the entire country , the Ven .Thera told in plain language with grave concern.
He has become a pest to the entire country . He has ruined this country, and driven it into a holocaust by destroying national amity . He is swaying and straying in all directions ,but when it comes to empty bombasts he is most skilled even though he has no backbone to perform deeds . He is a backboneless lubber . He did everything except what we entrusted him to do.
Even when the UNP is making requests , he is not granting the law and order ministry to Field Marshal Fonseka . This is because he is in league with the thieves and murderers. Therefore we are forced to accuse this president as 'a rogue'.
The president is a murderer. The President who is safeguarding and shielding the rogues and murderers is in the presidential post today. Therefore we tell the country and the world ' Do not trust this president even for a five cent'
He is spending his whole life in association with a total deal . His white dress is today not worth a cent. It must be revealed fearlessly , 'we have a president who is a total fraud .'
We did a number of probes . In every one of those it was proved finally he is in league with the rogues, and all along has been totally preoccupied with safeguarding and supporting the rogues.'
Full historic speech of Most Ven. Dr. Dambara Amila Thera is hereunder
---------------------------
by (2018-03-10 07:28:06)
We are unable to continue LeN without your kind donation.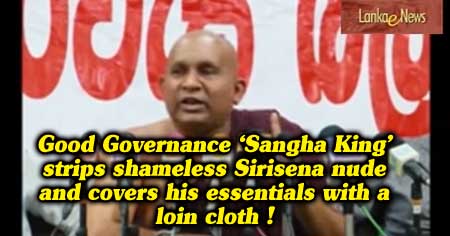 Leave a Reply