President - Dep. Speaker joint human smuggling - outsiders as journalists on foreign tours !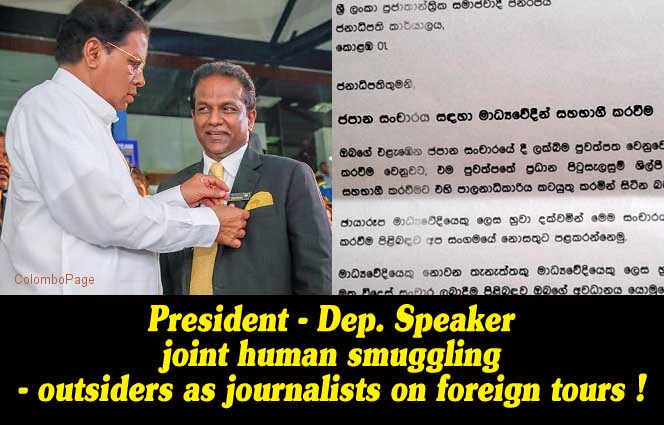 (Lanka-e-News - 06.March.2018, 5.05PM) President Maithripala Sirisena who is now begging on a 4% has during his foreign tours taken masqueraders as journalists and left them in those countries he visited . This human smuggling operation unfortunately has come to light with evidence a trifle too late . No leader of any country had resorted to this kind of despicable , detestable, disgraceful activity in the whole wide world..!

Maithripala who from the day he became the president has only succeeded in proving he is not deserving of the exalted position he is holding , has now once again indulged in a most stinking operation which even an individual from the garbage bin or loony bin would feel ashamed to engage in.
Unbelievably the other collaborator in this sordid activity is none other than the deputy speaker Thilanga Sumathipala.
In the impending tour of Japan (next few days) of president Sirisena , Thilanga has arranged another individual instead of a journalist of his Lakbima newspaper for the president to take along on the Japanese tour. He is a layout designer and his name is Manjula Perera. Believe it or not , it is no less a person than our deputy speaker of parliament and Lakbima newspaper owner Thilanga Sumathipala who has changed his media identity into a photo journalist of the newspaper to facilitate this racket.

The professional journalists association has sent a letter protesting against this to the president exposing this racket ( letter is appended ) .
May we reveal , the professional journalists of the association who accompanied the president during the previous foreign tours of the president have complained many times to Lanka e news unidentified individuals were seen coming on the tours as journalists . However as there weren't palpable evidence , we did not expose that. But now one racketeer (of the many ? ) supported with evidence had fallen into the snare .
This racket will go down in history as a most abominable human smuggling operation because it is the president of the country and the deputy speaker of parliament who are behind this . Nowhere in the world such rackets are organized by a president and a deputy speaker . Certainly this is creating a huge dent in the country's image . May be the president is unaware of this rascally operation , but being the highest in the hierarchy of the country he cannot disclaim responsibility.

The letter of the Professional Journalists Association is hereunder.
---------------------------
by (2018-03-06 11:40:03)
We are unable to continue LeN without your kind donation.
Leave a Reply