''I ll sue Sirisena and Harsha'' - Dr Neville Fernando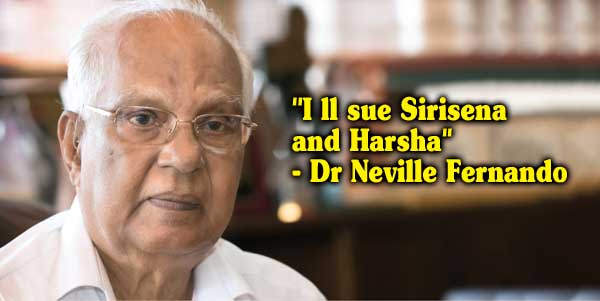 (Lanka-e-News - 22.Feb.2018, 11.30PM ) On the 16th I met Sirisena and told him no uncertain words that he has no power to tell me to handover SAITM to SLIIT
He has no power to say that the profit making entity owned and managed by Dr Neville Fernando and family will cease to exist and allow his brother Dudley to make billions and put up a palace in Nuwara Eliya.
Under the 19 the amendment I will sue Sirisena and Harsha for RS 8 billion for infringing my right to gainful occupation.
From 2008 when I established SAITM the gmoa and the then registrar Nonis tried their level best close down SAITM as it was a threat to their business of sending students abroad and charging between RS 500,000 to 1millon each
They also mislead students. Last year Nonis owned agency advertise d that their foundation course was accepted by Russian Universities for admission to their MD course.
This was promptly denied by a Rector.
Last year he also advertise d that with a BA in Psychology students would be admitted to a university in Batangas and get a MBBS in four and a half years and eligible for SLMC registration.To my knowledge only five years degree is registrable.
Members of the gmoa also send students to Russia. At the end of the course they send Russian qualified doctors to coach them to sit the Act 16 exam on their return to SL.
They charge extra for this .
On their return they are given tuition in Wellawatte where they are charged RS 25,000.
But only 6 percent pass the Act 16 and then repeat the exam paying RS 20,000 to the SLMC
which has become the trade union office of the gmoa.This money in the SLMC is used for unknown activities.The funds have not been audited by the Auditor General for the last several years
Who is the President of the gmoa.? This is the man who got only 30 marks at the MD part 1 while the pass mark was 50 and got the PGIM to lower the pass mark so that he was able to go abroad for PG training.
On his return he continued to draw the foreign country allowance for 6 months without reporting to the government
To admit his son to Royal College he gave the house owners name as the father of his son virtually accepting that his son is a bastard and wife having an extra marital relationship.
This is the moral standard of the gmoa
Now they control the SLMC.
What can you expect from them?
Rajitha showed that he was not scared of the gmoa but like miss Muffet who was eating curd and whey ran away he saw the gmoa spider and gave them duty free cars and other perks.

I want SAITM which I established in 2008 with my money.
In 2008 I had RS 1.8 billion in my bank today I am in debt to BOC to the tune of RS 2.5 billion.
Is this the profit that Harsha de Sllva with his PhD and Sirisena who has not been inside a university as a student are talking about.
My wife and I get nightmares considering the plight of 900 innocent students who had faith in me enrolled at SAITM.
We do not have a full night's sleep.
I will get the two idiots to pay for making my students, my children and my wife and myself suffer like this at a time when I should be relaxing with my feet on the table.
I have no money to pay RS 50 million as salaries for this month thanks to the two idiots who remind me of Don Quixote and Sancho Panza fighting windmills
(https://en.m.wikipedia.org/wiki/Don_Quixote
Don Quixote - Wikipedia
https://goo.gl/search/Don+Quixote
Don Quixote, Novel by Miguel de Cervantes)
Dr Neville Fernando
Chairman SAITM
---------------------------
by (2018-02-23 00:05:09)
We are unable to continue LeN without your kind donation.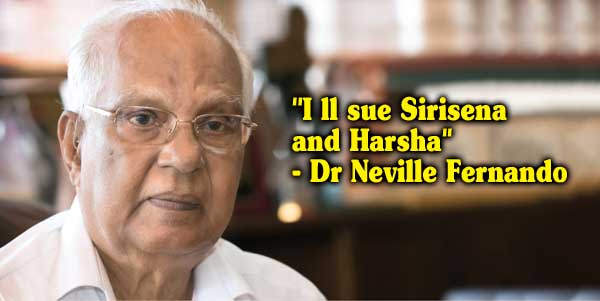 Leave a Reply