Ex DIG Prasanna Nanayakkara who suppressed evidence remanded over Lasantha murder..! -Documents retrieved after 9 years !!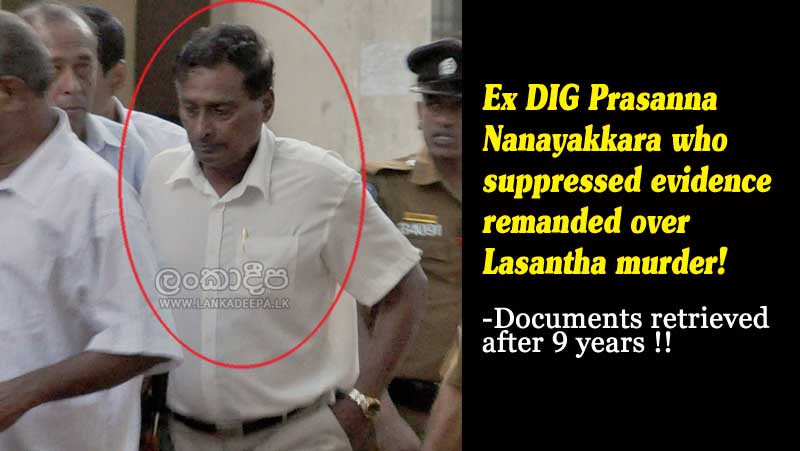 (Lanka-e-News - 15.Feb.2018, 11.30PM) Former senior DIG Prasanna Nanayakkara who was arrested for suppression of evidence in connection with the brutal murder of Lasantha Wickremetunge , former editor of Sunday Leader was remanded on the 14 th until the 16 th by Mt. Lavinia magistrate Mohomed Mihal.
The CID informed court , during investigations it has come to light that the note book used by Lasantha was collected through the Mt.Lavinia police crime division OIC at that time , and it was the suspect who was the DIG in charge of a number of police stations including Mt.Lavinia during that period.
The court yesterday (14) severely reprimanded the suspect for suppressing evidence despite being a high ranking police officer.
The suspect Vitharne Arachige Sirimevan Prasanna Nanyakkara was serving in DIG's office , Mirihana at that time. The deceased had recorded the number of the motor bike which trailed him , and after the murder the Mt. Lavinia police had retrieved that note book.
The Mt. Lavinia police crime division OIC Hettiarachige Don Tissasiri Sugathapala SI after finding the book had recorded that as well as the note book number in the police crime information book. The CID revealed to court, SSP Hemantha Adhikari who was in charge of Mt. Lavinia had immediately arrived , and after summoning the SI , had gone with him to the Mirihana police saying Sirimevan Nanayakkara had asked them to meet him.
The suspect - senior DIG had given all the information that was in the page of crime information book as well as Lasantha's notebook to the then IGP , and after the phone conversation , Nanayakkara had requested the SI to give him Lasantha's notebook and the relevant page of the crime information book . However when the SI was reluctant to comply , the suspect Sirimevan Nanayakkara had asked ' do you also want to suffer the same fate Lasantha faced ? You have children, don't you ? Without getting killed hand over the notebook and your record' the senior DIG had threatened , the CID told court .
The SI has then taken photocopies of the documents of the original copies which he had kept hidden under the staircase of his house and handed over those to Nanayakkara in front of the SSP.
After Tissasiri Sugathapala was taken into custody, the CID which visited his house following the clues given by him , searched and obtained the photocopies of the documents after 9 long years .
Investigations are under way to track down the high ranking officers who gave instructions to the senior DIG to suppress evidence.
SL Young Journalists Association
---------------------------
by (2018-02-16 01:39:01)
We are unable to continue LeN without your kind donation.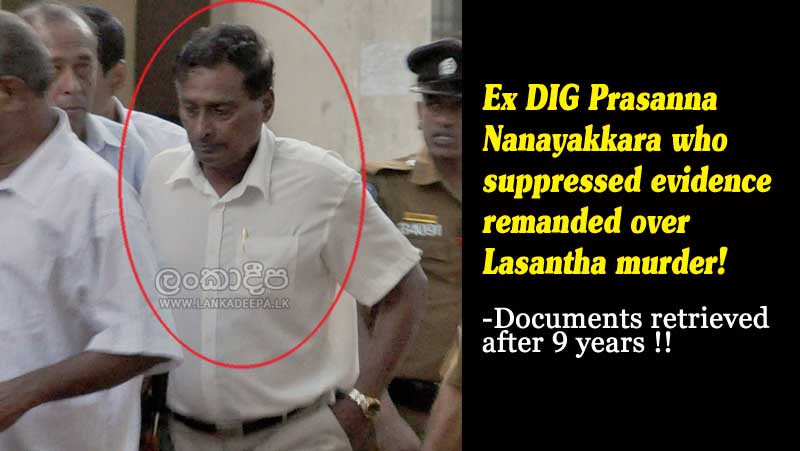 Leave a Reply