Neanderthal Sirisena repeals the law relaxing liquor sales !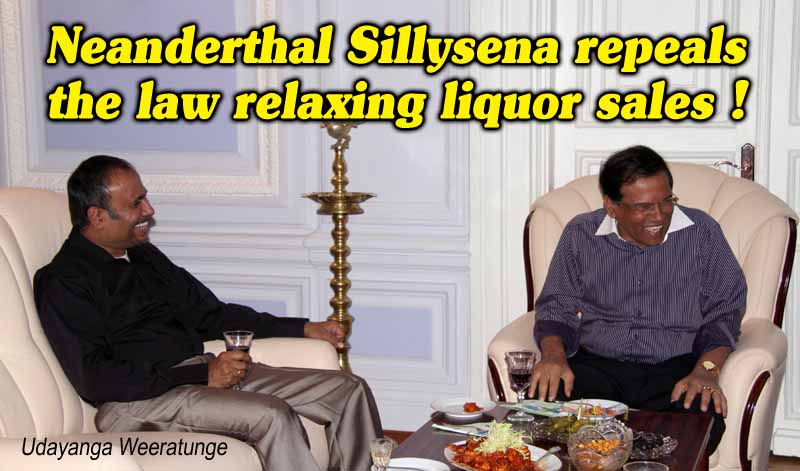 (Lanka-e-News - 16.Jan.2018, 11.45 AM) The gazette notification which prohibited women from purchasing liquor ,abolished the liquor laws that existed during the rule of the British , and extended the hours of business of wine stores selling liquor, following the recent budget proposals made by Finance Minister Mangala Samaraweera ,was rescinded by president Maithripala Sirisena last Sunday (14) .
It is yet unknown whether double faced Mangala Samaraweera the notorious double dealer , while the elections are around the corner introduced this amendment to the laws that would spark a controversy , in order to build an 'image' of Maithripala Sirisena among the staunch Buddhists while putting the UNP in jeopardy. No matter what , the need to modernize the archaic laws is of course an absolute necessity .
However for scoundrels like Sillysena living in the age of the Neanderthals ,legal reforms mean nothing. To him what matters is only the clapping of hands and cheers of the Neanderthals. President Pallewatte Gamaralalage Maithripala Yapa Sirisena who transformed into a greatest betrayer of the very people who elected him into power within 48 hours of his appointment ,using his executive powers which he acquired by accident and not by design cancelled the gazette notification of Samaraweera.
It is a well and widely known fact Sirisena alias Sillysena who is currently opposing every move of the UNP has metamorphosed into an opposition party president – when UNP government raised the price of lottery ticket by Rs. 5.00 , he objected. When fines in respect of reckless drivers who are killing people on the roads were raised to Rs. 25,000.00 , he vetoed that too. Even when a downward revision of price for beer was introduced , this Sillysena from the Polonnaruwa backwoods , a matured moron who had never known modernization or civilization , and is human because he has a pair of legs and no tail ,opposed that too.
Mangala Samaraweera introduced the following amendments to the laws :
Abrogated the law that prohibited the purchase of liquor by women.
Hotels selling foreign liquor , Restaurants selling Beer , and clubs can be kept open from 11.00 a.m. until 10.00 p.m.
Arrack taverns can be kept open from 11.00 a.m. to 9.00 p.m., Liquor sales points in Hotels from 11.00 a.m. to 12.00 midnight , liquor sales points in Cinemas from 11.00 a.m. to 10.00 p.m.
Sirisena now repealed these amendments…….
In the picture is Maithripala Sirisena who is now pretending to be a temperance hero, with a corrupt 'Rajapakse' . While having fun and frolic with the corrupt clan , Sirisena himself is inebriated taking liquor in the company of the then Russian ambassador Udayanga Weeratunge ( a relative of Mahinda Rajapakse ) in his house. (This photograph was published by Udayanga himself some time ago.)
---------------------------
by (2018-01-16 06:38:55)
We are unable to continue LeN without your kind donation.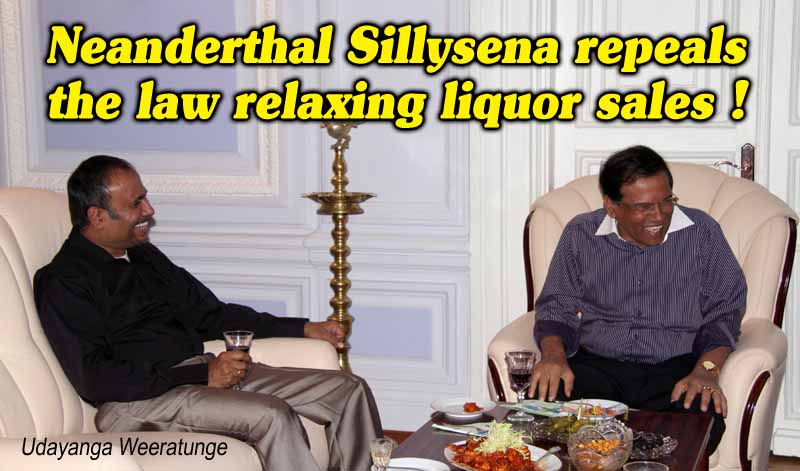 Leave a Reply