Obscene ostentation of Chichee sons surpassed..! Wristlet of Sirisena's son in law is worth Rs. 8.8 million, waist belt is Rs. 6 million, and pair of shoes is Rs. 3 lakhs; whither SL?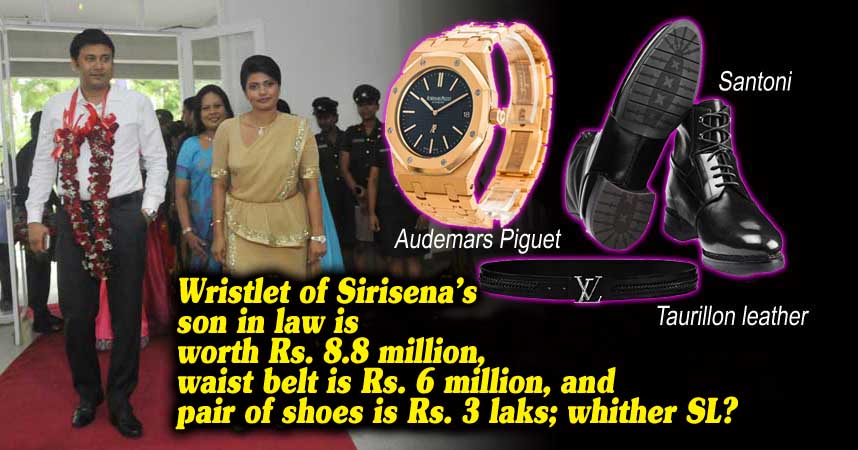 (Lanka-e-News -10.Jan.2018, 6.45AM) It is most unfortunate after publishing the report then about the 'ChiChee putha' (a son of corrupt Mahinda Rajapakse) who wore Louis Vuittton wristlet worth Rs.150,000.00 and a pair of shoes worth over Rs. 300,000.00, we are now shockingly compelled to publish a worse obscene ostentation and profligate lifestyles of the son in law and son of president Sirisena, who won the presidential election making solemn promises of forming and maintaining a good governance government . The son and son in law of president Sirisena have obviously broken the ignominious records of 'Chichee' son.
It is a well and widely known fact president Sirisena and his family are currently at the point of 'death' by strangulation internationally , owing to their inordinate greed to collect over US dollars 4 million on the Russian warship deal which prompted them to smuggle out an international criminal Russian hacker wanted by America a to Russia . It is this same president's son in law (husband of Chaturika Sirisena )Thilina Sampath who is wearing a wristlet worth Rs. 8.8 million ! a waist belt worth Rs. 6 million and a pair of shoes worth Rs. 300,000/- !!
White gold -! 'Even I am not that worth !'
The Rs. 8.8 million worth wristlet of Thilina is Audemar's Piguet, a most expensive wrist watch in the world. Not enough ( according to reports reaching Lanka e news ) , Thilina also has three more super luxury wristlets , namely Rolex, Pathe Philip and Cartier worth Rs. 3-4 million. Those who do not know about wristlets will think these are not so expensive going by appearance.
The super luxury belt of Thilina is worth over Rs. 6 million and is made out of Taurillon leather obtained from a rare kind of cow in Switzerland , and sewn out of white gold from Dubai. As the fastener has the Alphabets L and V which symbolize Louis Vuitton , and can be identified by anyone , Thilina has replaced the fastener with one made out of white gold from Dubai. Consequently the value of the waist belt is Rs. 6 million!
Daham Sirisena's pair of shoes ' Santoni' is worth Rs. 300,000/- , and the waist belt (about Rs. 200,000/-) of Maithri's son Daham Sirisena too belong to the Loius Vuitton class.
It is a pity Maithripala Sirisena who immediately after becoming president , went into an ordinary shoe shop in Colombo on 2015-06-01 to make an exhibition via photographs that he is a most ordinary citizen and a most ordinary leader who buys most ordinary pair of shoes , has now metamorphosed into a most extraordinary citizen now wearing extraordinary sandals worth over Rs. 100,000/- !
Though all these expensive adornments look ordinary , those are actually of colossal worth. Only world's celebrities wear high priced items of that quality . If anybody identifies those and reveals the immense worth of those to the super duper son in law and son, they do a play acting and question 'is that true ?' 'Is that so much worth?' or say 'I really do not know ….' 'Even I am not that worth' and ' this was given to me as a gift by someone.' The cunning Sirisenas resort to such histrionics while sporting a bogus smile to fool the gullible masses.
President's son in law who could not repay the loan given by Sarath Amunugama….
This Thilina Sampath who is today wearing Rs 8.8 million worth wristlet ,and a belt worth Rs. 6 million before his FL (father in law) became president was a pauper who ran a photo studio in Polonnaruwa and went bankrupt.
Even to start the studio Thilina he had to borrow money using the influence of his FL who was at that time minister of health. During that period Sarath Amungama was the minister ,projects. Under his project, loans were granted to individuals under whom ten or more people worked, to purchase equipments . The maximum loan granted was Rs. 15 million.
Using the influence of Maithri , Thilina obtained this loan. After buying a camera or two and opening a studio he did not give employment to ten people though that was mandatory for the borrower.

Thilina who is by birth a loafer after receiving the loan amounting to over Rs. 10 million went wild on a merry making mission. He wasted his money on women in Colombo . Sleeping in Hotel rooms, and flirting with girls. Owing to Thilina's sexual starvation and lust , disputes erupted at home with Chaturika almost divorcing him.
By then he had run into arrears with his loan re payment . It were Maithripala Sirisena and Dudley Sirisena who intervened to resolve the dispute. His loan arrears were settled by Dudley Sirisena, while Maithripala boosted Thilina's business by making it compulsory that photographs for identity cards , passports and driving licenses are obtained from Thilina's studio. It is about that time the last presidential election was held.

Based on what president's son in law Thilina wears and the ornaments he flaunts , one can imagine to what unbelievable extent the 6.2 Million people have been fleeced , robbed and plundered by the unconscionable , unscrupulous and unashamed Sirisena family after the presidential election .
What is perplexing and intriguing about all this obscene ostentation and wasteful expenditure spending millions on what he wears is , Thilina is able to indulge in such monumental profligacy without any official business of his own and the two advertising Firms are run in the name of Chaturika. We shall reveal how Thilina earns such colossal sums of monies in our next article.
After Thilina Sampath's involvement in the smuggling out of most wanted Russian criminal hacker leaked out , Thilina who got alarmed closed his face book account, obliterated all details about him in the internet . All these stark facts are kept hidden while Thilina through his masquerades conducts himself as a popular figure.
Year 2018 is going to end the mirth and merriment (Nandana Vindana) of Gamarala
It is noteworthy Maithripala Sirisena who came to power making loud solemn promises an umpteen number of times that he is going to abolish the executive presidency within 100 days of his becoming president , as well as halt all the monumental corrupt practices and criminal activities of Rajapakse nefarious decade, sadly at the end of his three years reign has only duped the entire country in the manner mentioned in the above paragraphs. How did Sirisena family amass so much wealth? Who gave massive gifts worth Rs. 8.8 million , 6 million or 7 million ? are crucial questions . Surely nobody gives gifts of this huge value for nothing or without ulterior motive.

Certainly these are 'Deal payments' and 'extortion collections'. While claiming he has a sword ,and it cannot be said , whether it will be relatives or friends who will be slashed, he is deceiving the country.
6.2 million people threw out Rajapakse's lock, stock and barrel not for a Gamarala to build a selfish empire for his family at country's expense. These deceptive practices , self seeking abendas and profligacy of Gamaralas shall be stopped once and for all.
Surely people cannot go on day in and day out falling victims to Gamarala's diabolic deceits. 2018 should therefore be the year that ends Gamarala's mirth and merriment at public expense .
-Chandrapradeep-
Translated by Jeff.
News report to refresh the memory….
Rocket Rohitha's Rs.300,000.00 worth pair of shoes vis a vis president Maithri's austere footwear
---------------------------
by (2018-01-10 08:06:43)
We are unable to continue LeN without your kind donation.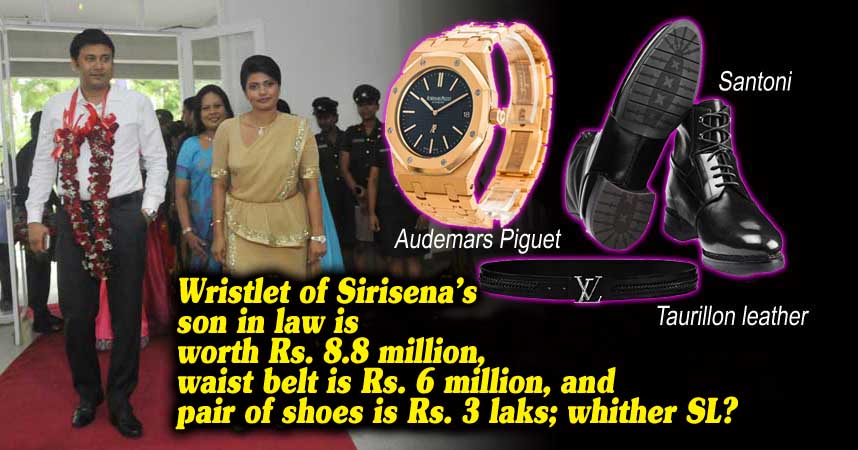 Leave a Reply