President and P.M. to make special announcements separately today after holding private discussions yesterday !
Chandra Pradeep reveals background to president's announcement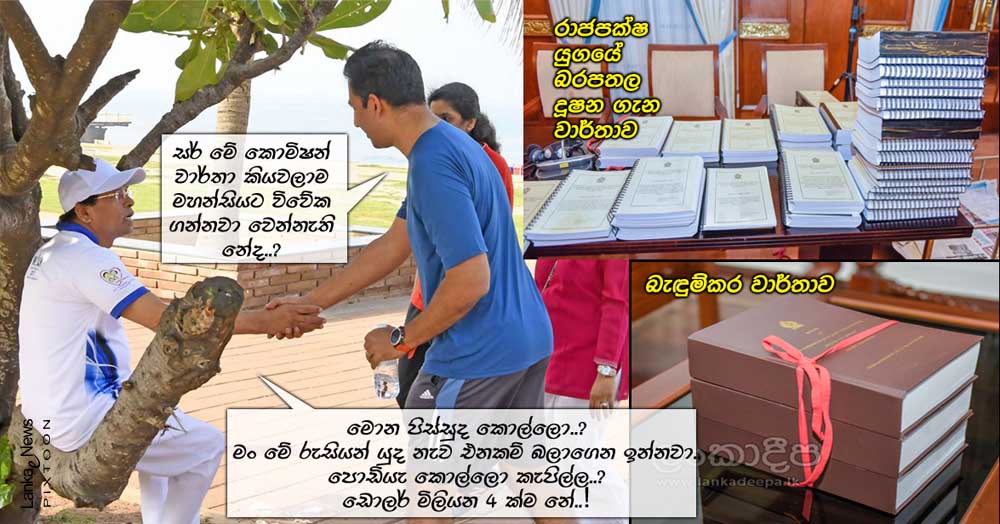 (Lanka-e-News- 03.Jan.2018, 11.AM) While the president is getting ready to make a special announcement, the prime minister too is due to make a special announcement today .The P.M. is making a special announcement at the general convention when he meets with the prospective UNP candidates of the forthcoming local body elections and the UNP organizers at the Sri Kotha this noon .
Prior to this ,yesterday night (02) the president and P.M. have had a private discussion , according to reports reaching Lanka e news.
It is an incontrovertible fact , clowny clown Maithripala Sirisena by now best known as a most mendacious, ungrateful , callous and unsuccessful president is moving heaven and earth to avert a sure defeat at the forthcoming local body elections after having failed to somehow grab votes of those who voted to the UNP including the UNF at the election in August 2015 exploiting the so called treasury bond scam . This is the most undependable president who is now getting ready to demonstrate his purity to the nation by words after miserably failing to prove that by deeds.

President Maithripala who even went so far as to courts to get the local body elections postponed , and could not succeed because of the Elections Commissioner's rectitude and courage, most shamelessly went crawling on all fours to form an alliance with Rajapakses ( notorious den of thieves) who were defeated not once but twice at elections in 2015 by the pro good governance masses . It was a sad spectacle to see Maithripala returning crawling when Rajapakses disdainfully rejected him . The Rajapakses point blank told him to leave the consensual government before making any such move .
Thereafter , Maithripala demonstrated his lowliest unscrupulous traits when he went to the temple of Medagoda Abayatissa Thera , a rascally racist, and spoke to Basil Rajapakse on the phone to somehow help him form an alliance with the Rajapakse den of thieves.
Sirisena who cringed and crawled before Basil Rajapakse while addressing that notorious fraudster as "Sir' during the Rajapakse era cannot forget or abandon his habit.. 'Why cannot we work together minister Basil ?' Sirisena had questioned almost in tears. Basil treating Sirisena like a Sillysena had plainly told him , 'You carry on with yours and we shall carry on with ours.' When P.M. Ranil Wickremesinghe heard of this , he had phoned Sirisena alias Sillysena to take a decisive stand.
Are you going along with the Rajapakses or are you going to be with the consensual government ? the P.M had questioned and told him to arrive at a definite decision . Subsequently ,Sirisena well noted for broken promises met with all the UNP cabinet ministers in Parliament and assured he would be with the consensual government , while offering explanations to justify his treacherous moves in keeping with his overriding trait - indulging in all the villainies and hypocrisies and then giving lame excuses.

Maithripala Sirisena who shamelessly as president fell at the feet of Basil is now facing the forthcoming elections like a dog with excreta all over its body being led for a bath.
It is now Sillysena's silly desire to portray to the people his slate is clean by fair or foul means , and justify his actions . It is president's aim to offer lame excuses and flimsy explanations to the people , and make them forget his traitorous past including the exposure made by Malith Jayatileke , a member of Sirisena 's own national list that two days after Maithripala became president he held secret discussions at his Paget Road residence with Gotabaya Rajapakse after extinguishing the lights. What 's more , even now Sirisena is safeguarding and rescuing Gotabaya, and acting as his guardian .
Maithripala is now left with only the treasury bond issue to level criticisms. However having realized if he allows mud to be slung citing the alleged bond scam alone , his own callousness and craftiness will be known , what he did was , called for the report immediately on the 17 corruptions during the Rajapakse era of the other Commission investigating grave corruption .
That report comprises 1135 pages. There is also another earlier report on 17 other corruptions already with the president. Though he has in hand 34 cases of corruption of the Rajapakse era during which period he himself held a cabinet ministerial post , he prefers to talk and blabber about the so called treasury bond scam for obvious reasons.
In any case, nothing can be filed in courts directly based on the Commission reports . All these have to be again investigated by the CID , and cases have to be filed by the Police.
The cruel irony is , despite this scenario , the Maithripala group still goes on chanting without an iota of shame that after the local body elections they are undoubtedly going to run a local government administration joining with the infamous Rajapakse brigand.
Believe it or not , it is this, unscrupulous , rudderless , faceless ,policy- less Sirisena who is shamelessly going to display to the people today his so called threadbare purity !
By Chandra Pradeep
Translated by Jeff
Post scriptum
The report of the Commission inquiring into the 17 corruptions handed over to president yesterday (02) pertains to the following :
1. Water Filtration of North Central province
2.Deyata Kirula of Amparai Municipal Council
3.Mahapola ship of Ports Authority
4.Research Institute of Hector Kobbekaduwa farming affairs
5.State pharmaceutical Corporation
6.Disaster management center
7.Polgolla Mahinda Rajapakse hall
8.Kidney diseases pertaining to Health Ministry
9.Kandy District hospital Director's 0ffice
10.Kankesanturai Cement factory
11.Rupavahini Corporation
12.National housing development Authority
13. National Transport Commission
14.Sathosa
15.Youth service Council
16.Health service supplies division
Along with these 17 reports , the number of reports handed over to the president pertaining to government Institutions is 34.
The President of this Commission is appeal court judge Preethi Padman Surasena , and its members are high court judge Vikum Kaluarachi , High court judge Piyasena Ranasinghe , High court judge Gihan Kulatunge and former Auditor general P. Pemathileke .
---------------------------
by (2018-01-04 01:43:18)
We are unable to continue LeN without your kind donation.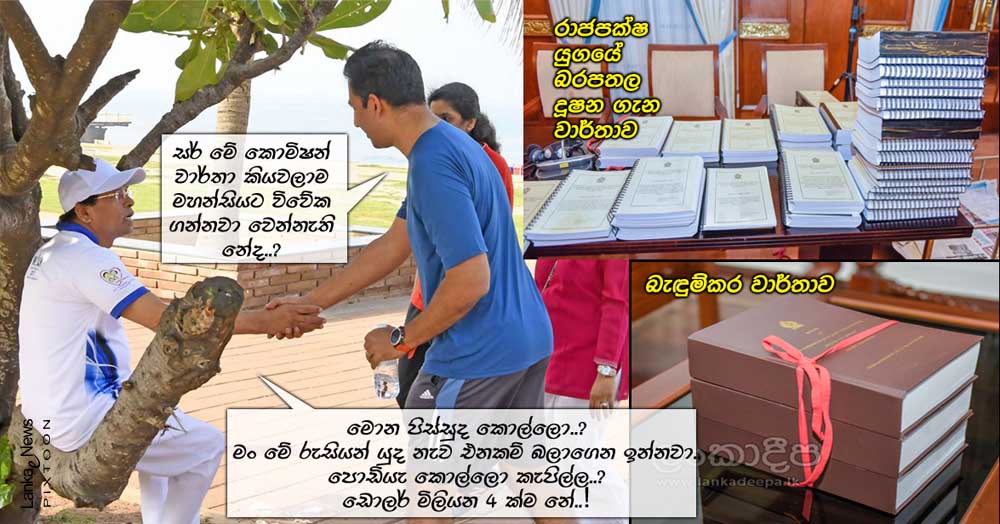 Leave a Reply