SL vs. India ODI matches were 'fixed' by bookmakers..! Palpable evidence - results known ahead..!!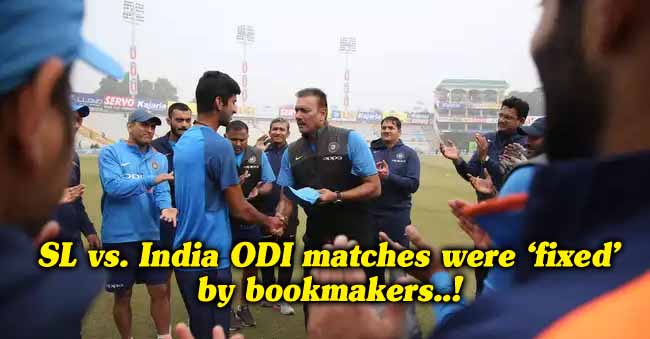 (Lanka-e-News - 15.Dec.2017, 6.00PM) The cricket tournament between Sri Lanka and India that is now being held in India is being marred in totality by bookmakers and has become a betting event , based on reports beyond doubts reaching Lanka e news.
The reasons are as follows:
On the 13 th when the second one day game was being played in Mohali , and after four or five overs were completed , an individual phoned Lanka e news.

The caller who did not wish to disclose his name said , the first ODI played on the 10 th in Himachal district in which SL won was 'fixed' by bookmakers , and the on going match too is rigged. When it was inquired from the caller, what would be result in the current game (second ODI) , he replied , India would notch up a score of over 350 runs , and SL will reach a maximum score of 250 runs or less . He also requested 'if you like' to reveal this result before the game was over so that the world will know to what sordid level the tournament has been dragged down to . In Colombo bets are being openly collected , and the venue where that is being done too was revealed by him while also disclosing the name of an individual in SL who is masterminding this match fixing.

However we did not report this news because , the caller identification was not known ; he had never before contacted us ; and there were no other evidence.

Lo and behold ! when the game was over , and when the actual result was compared with what the caller predicted , they were so close that we were shocked beyond anything we have been accustomed to before! India amassed a total of 392 runs while SL secured a total score of 251 for 8 wickets within the 50 overs.

SL just scored one more run than what the caller prophesied. Hence it is very clear this match result was 'fixed' by the bookmakers.
If this is going to be the situation and the trend as regards cricket - a game of kings and king of games , it is definitely spelling doom for SL and Indian cricket, and gloom looms over the cricketers most ominously.
We are waiting to see whether the same informant will contact us (LeN) on the 17 th too when the third ODI is being played.

The results of the previous matches are as follows:

Dec 10
IND 112 (38.2 Overs) SL 114/3 (20.4 Overs)
Dec 13
IND 392/4 (50.0 Overs) SL 251/8 (50.0 Overs)
---------------------------
by (2017-12-15 13:30:06)
We are unable to continue LeN without your kind donation.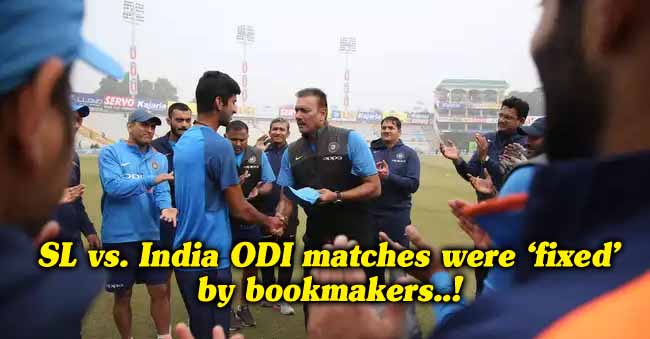 Leave a Reply