'Crimes were committed'- Basil with bare body wearing a bunch of talismans admits in Jaffna ! Makes unbelievable promises ! (Video)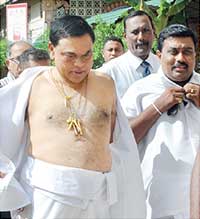 (Lanka-e-News - 08.Oct.2017, 4.20PM) For the first time , Basil Rajapakse perhaps with the notion to win back the opinions of the Tamil people and curry favor with them admitted that during their reign crimes were committed by individuals , when answering questions.
Basil made these comments at a media briefing in Jaffna after his conclusion of the tour of the peninsula last week to launch the organizing activities of their new political party in the North.
When a journalist questioned Basil regarding the recent statement made by Sarath Fonseka that he is prepared if necessary to give evidence testifying to the war crimes committed by the army chiefs of the Rajapakses including those after the war , Basil became jittery. However he gave the following evasive answer most nervously ….
' I don't want to comment on it. However I do not think our forces committed war crimes though some individuals may have committed , but those are not 'war crimes', those are 'crimes' . The judiciary decided on such crimes in Jaffna recently . The individual who led the security forces at that time should not make such statements. I think those are irresponsible utterances. I cannot comment on this because I haven't the capacity to criticize or endorse '

Basil also made another enunciation countering the announcements other racists are loudly making, that is, he said, all the private lands that have been acquired by the forces in Jaffna shall be returned to the true owners. Basil even went further (typical of all hypocritical , opportunistic and crooked politicians) and declared , all the properties and lands which are now under the forces shall be returned , and even state lands shall be granted to the people without lands.

Basil best known as a crook going by the indictments against him already , suddenly posed as a 'hero' (less known) before the people of Jaffna . With an air of pride (hollow though ) he boasted humanitarian solutions shall be found swiftly at the first opportunity for the victims of 'disappearances' during the war and thereafter
.
However , Dallas Alahaperuma today in Colombo when addressing a joint opposition media briefing rejected the announcements made about 'crimes' by Basil in the North. By these contradictions and double speaks it is very evident the double tongued , double dealing, double faced Rajapakses cannot abandon their old Machiavellian ways and mendacious traits – saying one thing and doing another diametrically opposite . Basil however re echoed what Sarath Fonseka said . It is surprising why there was nobody to make Basil too a victim of a suicide bomber in the same way how an attempt was made on Sarath Fonseka's life.
At all events , it must be acknowledged Basil whether it is based on his cunning or hypocrisy is trying to make the first positive move to steer clear of racism .

Part of the speech of Basil is in the video footage hereunder.
The photo herein depicts Basil with bare body in Nallur Temple with a bunch of talismans around his neck
---------------------------
by (2017-10-08 10:56:10)
We are unable to continue LeN without your kind donation.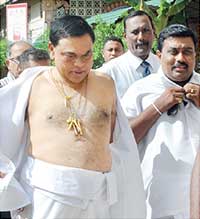 Leave a Reply