Myanmar: A Good Example for Politics of Polarisation
By Dr. Lionel Bopage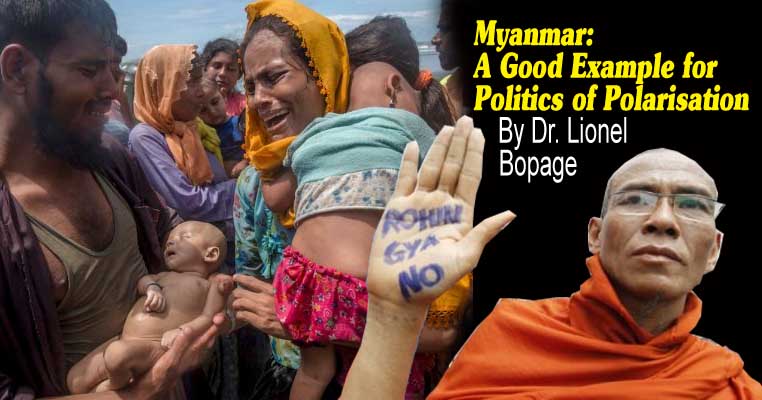 (Lanka-e-News - 06.Oct.2017, 2.30PM)

Introduction
The Rohingya are the world's largest stateless community. Most of them live in the western coastal state of Rakhine, one the poorest states in Myanmar. The majority of the Rohingya are Muslims and have for centuries lived in the majority Buddhist Myanmar. The Rohingya speak Rohingya or Ruaingga, a dialect that is distinct from other dialects spoken in Rakhine State and Myanmar. They are not considered one of the country's 135 official ethnic groups and have been denied citizenship in Myanmar since 1982, which has effectively rendered them stateless. Since August 2017, more than half a million Rohingya have fled from Myanmar to Bangladesh alone.
Recently several Buddhist monks in Sri Lanka protested outside a shelter housing 31 refugees, mostly women and children. The Sri Lankan Navy had rescued these refugees from a boat in Sri Lankan waters in April this year. Myanmar's situation can be compared to, but is much worse than the situation that existed in Sri Lanka for almost five decades. The well-known Black July riots was a well-planned "response" to the killing of 13 Sri Lanka Army soldiers in July 1983 by the Liberation Tigers of Tamil Eelam (LTTE). The violence unleashed not only helped the LTTE to swell its ranks, but also internationalised the conflict with mass exodus of Tamils to their homeland in the north and east and then overseas.
Historical circumstances that led Myanmar to the current quagmire have many parallels in Sri Lanka. Like Sri Lanka, Myanmar was under the British colonial rule. The strategy of domination in both was "Divide and Rule". Since their respective independence from colonial rule, both Sri Lanka and Myanmar have traversed along similar paths. Uniting diverse communities for building a harmonious nation was never attempted. Measures were taken that some ethnicities like Tamils and Muslims regarded as discriminatory such as disenfranchising estate workers, colonising land, making Sinhala the official language while disregarding Tamil, standardising education and discriminating in recruitment and promotions. Disunity, polarisation and exclusion of the other were its bitter fruits.
British Colonial rule
During more than 100 years of British rule, Myanmar was administered as a province of India. No international boundary existed between Bengal and Arakan, and there were no restrictions on migration between the regions. Muslims appear to have lived in Myanmar since as early as the 12th century. Rohingya have been living in Arakan (now known as Rakhine) for a very long time.
the British colonial policy encouraged Bengali inhabitants from adjacent regions to migrate into Arakan as farm labourers. The waves of migration were primarily due to the requirement of cheap labour for superimposing capitalist economics on the feudal set up that prevailed in Myanmar. In the 17th century, many Rohingya may have entered Myanmar because of these policies. Most of the 'natives' saw migration of labourers negatively.
The Rohingya contend that they are indigenous Arakans of western Myanmar influenced by the Arab, Mughal and Portuguese cultures. The Rohingya language is considered part of the Indo-Aryan sub-branch of the greater Indo-European language family. It is related to the Chittagonian language spoken in the southernmost part of Bangladesh bordering Myanmar. Both Rohingya and Chittagonian are related to Bengali.
Muslim settlements
Arakan was a key centre of maritime trade and cultural exchange. From the eighth century onwards due to Arab missionary activities many locals appear to have converted to Islam. The Rohingya practice Sunni Islam. As in Sri Lanka, there are different versions of history playing out in Myanmar. In one version, other than the conversions, Arab merchants married local women and settled down in Arakan, which made the Muslim population grow. The Rohingya believe they descended from these early communities.
In another version, the Rakhines are said to be one of the tribes of the Tibeto-Burman-speaking Pyu people, who began migrating to Arakan through the Arakan Mountains in the ninth century and established several cities in the region. Burmese forces invaded the Rakhine cities in 1406. This forced Rakhine rulers to seek refuge in Bengal. After remaining in exile, they regained Arakan in 1430 with Bengali military assistance. The Bengalis who came with Rakhine formed their own settlements in the region.
In the early 19th century, thousands of Bengalis settled in Arakan seeking work. It is not clear whether the new Bengali migrants were the same as those that were forcefully deported to Bengal during Burmese conquests and then came back later due to the British policy, or they were a new migrant population with no ancestral roots to Arakan. Although Rohingya trace their ancestry to Muslims who lived in Arakan in the 15th and 16h centuries, most of the Rohingya may have arrived under the British colonial rule in the 19th and 20th centuries. According to the International Crisis Group, these immigrants were Rohingya who were displaced by the World War II. They began returning to Arakan after the independence of Burma but were rendered as illegal immigrants. Many were not allowed to return.
The impact of immigration was particularly acute in Arakan. It boosted the colonial economy, but the local Arakanese bitterly resented it. The Burmese, who lived under the British rule felt helpless. They reacted with a racism that brought together feelings of both superiority and fear. This gave rise to a grass-roots based Burmese nationalism. As Burmese nationalism increasingly asserted itself before the Second World War, the Indian presence and the Muslim religion that was 'imported' with them came under attack. In the early 1930s there were serious anti-Indian disturbances and in 1938, there were riots specifically directed against the Indian Muslim community. The Muslims of northern Arakan were caught up in this crossfire.
"Divide and Rule" strategy
The Burmese nationalists supported the Japanese during World War II. The Muslims fled from Japanese-controlled Buddhist-majority areas towards British-controlled Muslim-dominated northern Arakan. The Arakan massacres in 1942 involved communal violence between British-armed Rohingya recruits and pro-Japanese Rakhines. This situation polarised the whole region including other parts of Burma along ethnic lines. With the retreat of the British, the Japanese approached Arakan and the Buddhists instigated violence against the Muslims. The Japanese Army committed rape, murder and torture against Muslims in Arakan. Many were killed or died of starvation, and thousands appear to have fled.
In response, the Muslims conducted retaliatory raids from British-controlled areas causing Buddhists to flee to southern Arakan. The British formed Volunteer Forces called "V-Force" with Rohingya. Some reports state that this "V-Force" instead of fighting the Japanese destroyed Buddhist places of worship and committed atrocities in northern Arakan. The Rohingya recruits engaged in a campaign against Arakanese communities. The British had promised Rohingya a "Muslim Autonomous Area" if they fought alongside the British against the Japanese. However, in 1948, when the British left Myanmar, Rohingya did not get an autonomous area.
Not being granted what the British had pledged, Rohingya Muslims were apprehensive of a future Buddhist-dominated government. In 1946, Muslim leaders from Arakan asked Ali Jinnah's assistance to incorporate the Rakhine zone into Pakistan due to the religious affinity and geographic proximity. They also founded the North Arakan Muslim League. Jinnah did not wish to interfere in Burmese internal matters. After his refusal, some Rohingya elders founded the Mujahid party in northern Arakan with the aim of creating an autonomous Muslim state.
Since Independence
In 1947, two Arakanese Indians were elected to the Constituent Assembly of Burma. U Nu came to power just before independence, after Burma's great resistance hero, independence leader and the founder of the Communist Party of Burma, Aung San (late father of the current de facto leader Aung San Suu Kyi) and his ministers were assassinated in a coup attempt by a former Prime Minister U Saw. Under U Nu's leadership, Burma remained a democracy from 1948 to 1962. His regime recognised "Rohingya" as an indigenous ethnic nationality, but was not widely used until the 1990s.
The Myanmar Parliament enacted the Union Citizenship Act that defined which ethnicities could gain citizenship. The Rohingya were left out. However, the act allowed those whose families had lived in Myanmar for at least two generations to apply for identity cards. Rohingya were initially given such identification or even citizenship under generational provision. In 1950, some Rohingyas staged a rebellion against government policies demanding citizenship and asking for the state the British had promised.
The Parliament continued to have Rohingya legislators: five Rohingyas were elected in 1951 and six in 1956. Some of them served as ministers, parliamentary secretaries and high-ranking government officers in Prime Minister U Nu's cabinet. During the election campaign in 1960, Prime Minister U Nu pledged to include all Arakan into one province. Following the general election, U Nu set up a separate administrative zone for the Rohingya-majority northern areas of Arakan, which was called the Mayu Frontier District. The zone was administered directly by the national government of Burma.
"Socialist" coup d'état
In March 1962, General U Ne Win, who began his military career fighting for the Japanese in World War II, captured power, which ended the Westminster-style political system of governance. The authoritarian rule of the army spanning 26 years created a police state with midnight arrests, imprisonment without trial, a controlled press and a brutal Military Intelligence Service. All citizens had to obtain national registration cards. The Rohingya were only given foreign identity cards. Thus, they could pursue only limited job and educational opportunities. The military had confiscated the arable land of Rohingya and had given this expropriated land to Buddhist settlers who came from outside the region.
The military regime relied heavily on using Burmese nationalism and Theravada Buddhism to bolster its rule. To remain in power, the military regime not only discriminated against minorities, but also helped to provoke riots led by Buddhists. The Ne Win regime carried out military operations against the Rohingya for over two decades. In 1978, a large-scale military operation named "King Dragon" was launched to expel what they called Rohingya insurgents. This operation forced hundreds of thousands to flee to neighbouring Bangladesh, Pakistan, Malaysia and Thailand.
In 1978, Bangladesh protested to the Burmese government for expelling thousands of Burmese Muslims. Despite the Burmese argument that those expelled were Bangladeshis illegally residing in Burma, they provided no evidence to substantiate these claims, the Burmese regime agreed to take back 200,000 refugees, who were settled in Arakan. A joint statement by Myanmar and Bangladesh at the time and then repeated in 1992 acknowledged that the Rohingya were lawful Burmese residents. Despite the use of the term in the past, the military regime continues to reject using the term Rohingya to identify them now.
Myanmar Nationality Act 1982
The Myanmar Nationality Act enacted in 1982, stripped Rohingya of their citizenship retrospectively and made them stateless. The Act required proof that one's family lived in Myanmar prior to 1948 and fluency in a national language. Many Rohingya lacked paperwork, which was either unavailable or denied to them. To be a citizen, a person's ancestors should have belonged to a national race or group prior to the British rule in 1823. Rohingya were declared Bengali foreigners, despite their presence dating back to the 12th century.
So, their rights to study, work, travel, marry, practice their religion and access to health care were restricted, denying them future possibility of gaining nationality. They cannot buy property, or run for office. Rohingya politicians have been jailed to disbar them from contesting elections. As of 2017, Burma does not have a single Rohingya MP. The Rohingya have no voting rights and are subjected to various forms of extortion, arbitrary taxation; land confiscation; forced eviction, house destruction, marriage restrictions and blacklisting children. Even if they somehow become "naturalised", they are prevented from entering professions such as medicine and law. Their illiteracy rate is about 80 percent.
Pro-Democracy Movements
Rohingya community leaders supported the "8888 Uprising". This was organised and largely led by university students. Also known as the People Power Uprising and the People's Democracy Movement, it led to a series of nationwide protests, marches and civil disturbances that peaked on 8 August 1988 (hence the name "8888 Uprising"). In the general election held in 1990, the Rohingya-led National Democratic Party for Human Rights won four seats. Aung San Suu Kyi's National League for Democracy won the election, but she was placed under house arrest preventing her from becoming Prime Minister. The Burmese military junta banned the National Democratic Party for Human Rights in 1992. Its leaders were arrested, jailed and tortured.
The first constitution of the Union of Burma was enacted in 1947. After the 1962 coup d'état, a second constitution was enacted in 1974. The 2008 Constitution is the third and current constitution, under which the Myanmar military still control much of the country's government, including the home, defence and border affairs ministries. One Vice-President and 25 percent of the seats in Parliament are from the military. Hence, the country's civilian leaders like Aung San Suu Kyi have little influence over the security establishment.
During the 60 years of military rule, things worsened for the Rohingya. They faced military crackdowns in 1978, 1991-92, 2012, 2015, 2016 and now in 2017. Since the 1990s, a new 'Rohingya' movement appears to have emerged. The new movement provides publicity to the term "Rohingya", reject being depicted as originating from Bengal; and with their diaspora, lobbies internationally.
Widespread fears among the Buddhist Rakhines that they would soon become a minority contributed to the 2012 riots between Rohingya Muslims and ethnic Rakhines The Rakhine were said to have been abetted and armed from the capital of Rakhine state. Calling on the Rakhine to defend their "race and religion", the regime appears to have incited this pogrom, though the regime has denied this.
The regime imposed curfew, deployed troops and in June 2012 imposed a state of emergency in Rakhine. Yet, the regime has never prosecuted anyone for the attacks against the Rohingya. The Rohingya were considered a threat to the national identity. About 140,000 Rohingya remained confined in IDP camps and were subjected to arbitrary detention, assault, rape, torture, arson and murder. The security forces have shut down their social and political organizations. The government's taking over of their private business debilitated them financially.
The most persecuted minority
In 2013, the UN identified the Rohingya as the most persecuted minority in the world. The 2014 Myanmar census did not include the Rohingya in it as they were categorized as stateless Muslims from Bangladesh. Many Rohingya see this as a denial of their basic rights. The U.N. Special Rapporteur on human rights in Myanmar also agreed. In 2015, many thousands of Rohingya fled by boat via the waters of the Strait of Malacca and the Andaman Sea. The UN estimates from January to March 2015 alone, about 25,000 people fled by boats. An estimated 3,000 refugees have been rescued or made it to shore, while several thousands were believed to remain trapped on boats at sea. Around 100 are said to have died in Indonesia, 200 in Malaysia, and 10 in Thailand.
The UN adopted a resolution to set up an independent, international mission to investigate the alleged crimes. However, Myanmar was reluctant to allow the UN to investigate or to accept UN investigators. They denied visas to members of a UN probe investigating the violence and alleged abuses in Rakhine. The UN has called on Aung San Suu Kyi and Myanmar's security forces to end the violence and labelled security operations as a "textbook example of ethnic cleansing". The UN also warned of a looming "humanitarian catastrophe".
Under a plan originally introduced in 2015, Bangladesh wanted to move undocumented Myanmar nationals to a remote island that is prone to flooding during monsoon and identified as uninhabitable. The UN is also concerned with this controversial forced relocation. Bangladesh's Prime Minister called on the UN and the international community to pressure Myanmar to allow the return of Rohingya refugees. Even Bangladesh's foreign minister called the violence against the Rohingya "a genocide". Its National Commission for Human Rights was considering pressing for an international tribunal against the Myanmar army on charges of genocide.
The Rakhine Commission
In September 2016, Aung San Suu Kyi entrusted an advisory commission (Rakhine Commission) led by Kofi Annan to find ways to heal the long-standing divisions, and said the government would abide by its findings. However, there was no mandate to investigate specific cases of human rights abuses. In October 2016, three Burmese border posts along Myanmar's border with Bangladesh were attacked. The insurgents looted several dozen firearms and boxes of ammunition. This also resulted in several security officers being killed. Troops poured into villages in Rakhine State leading to a security crackdown on villages where Rohingya lived.
In August 2017, the Commission released its recommendations. The report called for measures that would improve security in Myanmar for the Rohingya, but did not accommodate all measures various Rohingya factions were asking for. According to the Myanmar military, Arakan Rohingya Salvation Army (ARSA) launched multiple coordinated attacks on police outposts and border guards soon afterwards. This led to the current humanitarian catastrophe. Following the attacks, the military and some extremist Buddhists started a major crackdown on the Rohingya Muslims in the western region of Rakhine State.
The regime in Rakhine State originally blamed an Islamist insurgent group. However, a group called the Arakan Rohingya Salvation Army (ARSA) and six other groups claimed responsibility. The attack resulted in wide-scale human rights violations including extrajudicial killings, gang rapes, arsons, and other brutalities. The UN, Amnesty International, the US Department of State, and the government of Malaysia criticized the military crackdown. The regime said that it had the "the right to defend the country by lawful means" against "increasing terrorist activities", and added that a domestic investigation was enough. The regime has often restricted journalists and aid groups from accessing northern Rakhine States.
The Commission findings urged the regime to end the highly militarised crackdown on neighbourhoods where Rohingya live, and to scrap restrictions on movement and citizenship. UN says that the military has very likely committed grave human rights abuses that may amount to war crimes, which the government has denied. The UN supported the findings and urged the government to fulfil its recommendations. The Myanmar government also welcomed the recommendations and pledged to give "full consideration with the view to carrying out the recommendations ... in line with the situation on the ground". Yet, nothing has been done so far.
The UN believes over 1,000 people have been killed since October 2016, contradicting the death toll provided by the regime. In September 2017, ARSA declared a temporary unilateral ceasefire, but the Myanmar government dismissed the gesture saying "we don't negotiate with terrorists". Myanmar's presidential spokesman announced that Myanmar would establish a new commission to implement some recommendations of the Rakhine Commission. Aung San Suu Kyi was particularly criticized for her inaction and silence and not doing much to prevent military excesses. Later in the month, Aung San Suu Kyi condemned all human rights violations in Rakhine, but never mentioned the Rohingya who have fled to Bangladesh by name.
She largely defended her prior position supporting the Myanmar military and its actions. She deflected international criticism by saying most Rohingya villages remained intact, and conflict had not broken out everywhere. With no criticism of the military and denial of any armed clashes or clearance operations since September 5, she added that Myanmar was committed to the restoration of peace and stability and rule of law throughout the state, but did not clarify how that will be achieved. Saying that her government was protecting everyone in Rakhine state, she criticised media reports as misinformation that benefitted the terrorists.
The government was ready "at any time" to verify the status of those who have fled, Aung San Suu Kyi said, but did not specify what the verification process would be and who would be qualified to return. In some quarters, her speech is believed to be an attempt to pacify global public opinion on this humanitarian issue. The UN Secretary General urged Myanmar authorities to suspend military action and stop the violence insisting that Myanmar's government should uphold the rule of law and recognize the refugees' right to return home. The Security Council also expressed "concern" over reported excessive violence used in Myanmar's security operations and called for de-escalating the situation, re-establishing law and order, protecting civilians and resolving the refugee problem.
The Arakan Rohingya Salvation Army (ARSA) released a statement in March 2017 sating that it does not associate with any terrorist group and does not commit terror against any civilian regardless of their religious and ethnic origin, but it was obligated to defend, salvage and protect the Rohingya community. The group considers it has the legitimate right under international law to defend themselves in line with the principle of self-defence.
Conclusion
The seeds of a narrow and discriminatory nationalism have blown up into a humanitarian catastrophe of epic proportions. Political solutions need to work towards building an inclusive Myanmar society embracing its ethnic and religious diversity. Though difficult it will be the only response available for addressing the decades-long armed conflict. Reconciling the demands and expectations of the Rakhine Buddhist and Muslim communities will be a major challenge. In such an environment, combating extremism and hate speech as well as ensuring the fundamental rights and freedoms of all are essential.
It is critical for the Myanmar government to address this escalating disaster in a productive and constructive manner. This requires implementing long-term solutions to bring the hundred odd communities together to work for an inclusive, harmonious and reconciled future. Addressing the problems rooted in decades of armed violence and authoritarian rule requires a sustainable humanitarian and developmental response. Cessation of the prevailing climate of impunity will contribute towards political stability and enhance prospects of building a harmonious society.
The grievances of the Rakhine are similar to those of other ethnic minorities around the globe including Sri Lanka: discrimination, deprived citizenship and political expression, economic marginalisation, human rights abuses and linguistic and cultural restrictions. In addition, the Rakhine communities fear they could soon become a minority in their own state, if their region is engulfed with an unstoppable wave of Rohingya. Their concern/paranoia is aggravated by the overpopulation and population density in Bangladesh.
The situation is a complex one and has entangling issues of historical centre-periphery relations with extreme poverty, under-development and an ethnic and religious conflict with Muslims. Though citizenship is necessary, it does not necessarily lead to improving the rights of the Muslim population. Many of Islamic faith are confined to displacement camps with no free movement and they are not allowed to return to their ancestral lands.
To address this situation, discriminatory policies and movement restrictions need to end, and the security and rule of law situation need to be drastically improved. However, there is a pattern visible, of riots breaking up in the Rakhine State hampering repatriation, when Bangladesh arranges to repatriate those living in its refugee camps back to Myanmar. The ongoing violence, and the fear of persecution on return appear to have prevented the vast majority of the Rohingya refugees from returning to their home in Myanmar.
The Myanmar regime's initiative for addressing the situation depends on verifying the citizenship of undocumented Muslims is deeply problematic. Granting naturalised citizenship that does not confer the rights of full citizenship will make people more insecure. The government's and Rakhine community's refusal to use the term "Rohingya" and the Rohingya's rejection of the term "Bengali" have led to an impasse. Without resolving this, a majority of Rohingya will reject such a verification process. However, moderate Rohingya appear to wish to gain citizenship status, even on a compromised use of the term Rohingya. If citizenship is granted, they appear to be willing to take an identity that is neither "Bengali" nor "Rohingya.
Muslim communities, particularly the Rohingya, have over the years been progressively marginalised from social and political life. Keeping them stateless and disenfranchised will destroy their hopes of achieving a fair and reasonable solution to their justifiable grievances. Some of them have already lost all hope. By not allowing a democratic and inclusive solution to their dire situation will force them to seek violence as the only viable option to address their humanitarian issues.
Political solutions are critical for the future of Rakhine State and Myanmar. Addressing violence with violence has never resolved and will not resolve political issues. A credible process out of this situation will need to embody creating a new sense of Myanmar national identity that will holistically embrace its huge cultural, ethnic and religious diversity. Lasting generational poverty and underdevelopment of all communities needs to be addressed through fair and equitable development schemes. Otherwise peace and stability of Myanmar will continue to be elusive for a long time into the future.
By Dr. Lionel Bopage
---------------------------
by (2017-10-06 09:31:04)
We are unable to continue LeN without your kind donation.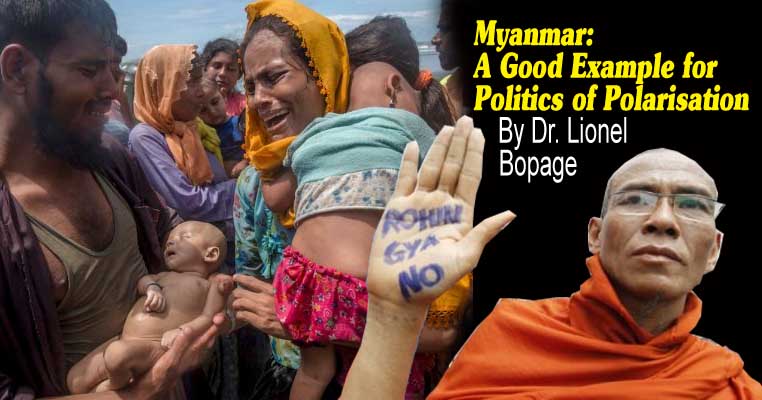 Leave a Reply