Robed rowdy monk who attacked police , refugees and disgraced Buddhism and country remanded ! Another evading arrest !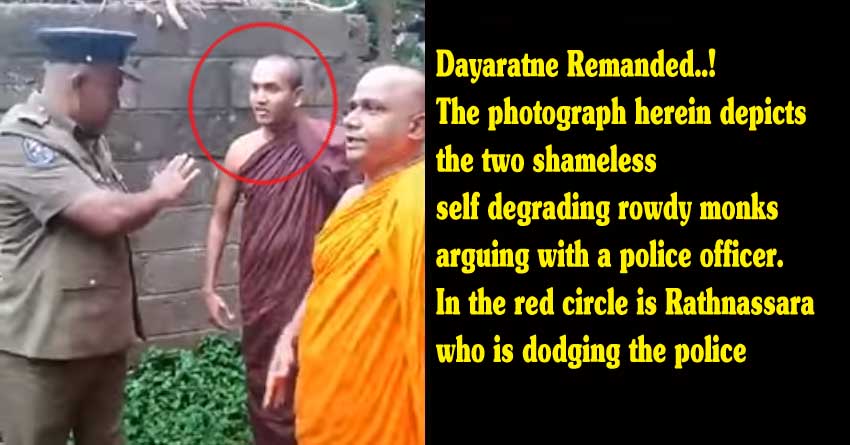 (Lanka-e-News - 03.Oct.2017, 9.00PM) Akmeemana Dayaratne the murderous monk who despite wearing the sacred saffron robe incited the public and led the attack on innocent refugees at Mt. Lavinia , as well as on the police thereby creating a breach of the peace, was summoned to the Colombo Crime division yesterday(02) , and remanded until the 9 th when he was produced before court after recording a statement. Akmeemana a so called sentinel of the Buddhist faith disgraced his own religion and sacred saffron robe he wore , before the entire world by his hooliganism and rowdy behavior ! Instead of committing sacrilege wearing the robe , it would have been better if he stripped nude and committed the crimes . At least by that he could have shown to the world what he wanted to show of his shamelessly , but saved Buddhism and his saffron robe from insult.

The other rascally robed monk Arambepola Rathnassara who appeared with Akmeemana and misbehaved in the same way as the latter too was summoned to the police today , but he has not responded.
Six others were earlier arrested and remanded in connection with the same incident.
The photograph herein depicts the two shameless self degrading rowdy monks arguing with a police officer. In the red circle is Rathnassara who is dodging the police.
If anybody knows the whereabouts of this rowdy robed rascal who belongs to the group which is wantonly disgracing the lofty Buddhist tenets , please inform the CCD. Without duly punishing these robed rowdies and baldies they can never be reformed.
---------------------------
by (2017-10-03 18:00:03)
We are unable to continue LeN without your kind donation.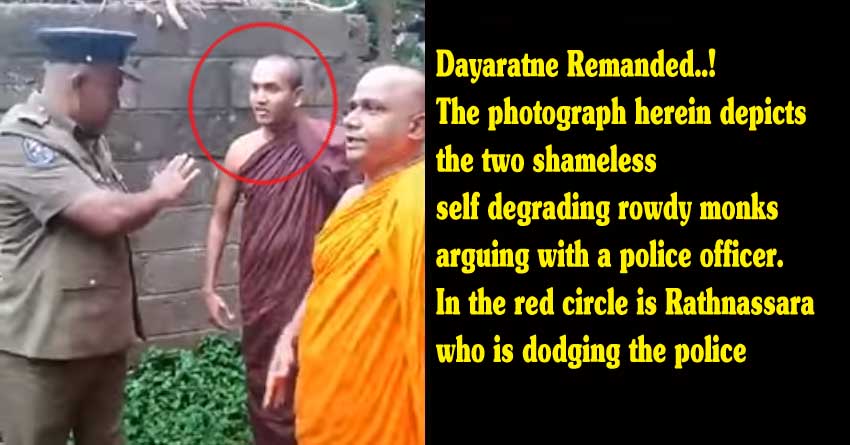 Leave a Reply