Notorious Dr. Nirmali prescribes 'Deck Shoes' and Chinese food to pampered prisoners : Ministry duly transfers her but GMOA halts it !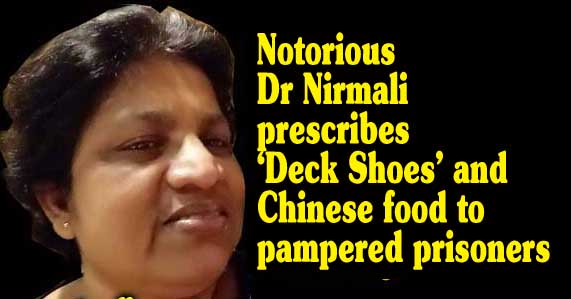 (Lanka-e-News - 17.Sep.2017, 11.45PM) The infamously famous doctor Nirmali Thenuwara who facilitated the enjoyment to the hilt within prison to the two notorious convicts namely , LalithWeeratunge and Anusha Pelpita who misappropriated colossal public funds , was the same rascally doctor who showed extraordinary concern for the testicles of another ace rogue Gammanpila when he was incarcerated. That is , she advised that his testicles (moth eaten ?) should be rested on a pillow, based on revelations made by Hirunika.
Though she was transferred to the Colombo General hospital in January 2017 ,because her paramour is a secretary of the GMOA and Health Ministry , with his influence and pressures she is still continuing at the prison hospital in an acting capacity , it has come to light.
By now a number of mischievous and illicit activities of hers have surfaced. ..
Deck Shoes treatment !
It was this same Nirmali who ought to be in a massage clinic and not in a hospital as a doctor , who showed inordinate concern for testicles of prisoners and prescribed massages /exercises to them . She had given most bizarre instructions: She prescribed 'Deck Shoes' to be used during the massages and exercises of Ravindu Gunawardena (prisoner No. T 22005 ) , the son of ex DIG Vaas Gunawardena when both of them were in the prison Chapel ward . Ravindu and Vaas are in the death row over the ruthless murder of a wealthy businessman Mohomed Shyam from Bambalapitiya who was abducted and killed in May 2013.

Nirmali the frustrated doctor without a permanent husband is best noted for her perverted lifestyle and issuing most queer medical prescriptions. Except the doctor in charge of the Chapel ward who examines those prisoners sentenced to death , none else examines them medically. Yet frustrated Nirmali on 2017-03-15 went and met Ravindu in the Chapel ward . Thereafter she had admitted the two 'super prisoners' to a 'super ward ' and later she had entered in the medical journal on 2017-05-15 that Ravindu shall use 'Deck shoes' when he is performing physical exercises. Currently the only prisoner who runs after wearing deck shoes in Welikade prison is Ravindu Gunawardena.
Evidence of a witness in prison to attempted murder suppressed by her…
Even now investigation is under way against Nirmali for seeking to suppress the evidence of a witness to the attempted murder of a prisoner Srimali Kasthuri Arachchi (P17733) , as well as refraining from providing medical treatment to the patient. The true bestial and brutal nature of this scoundrel of a doctor became most manifest thus :
The murder of Srimali when he was being transferred from Bogambara prison to Welikade prison on 2017-08-07 was part of a plan. He was attacked within the prison vehicle and he sustained serious injuries. Because the victim was screaming in pain within the Welikade prison , a duty officer who saw the grave injuries admitted him to prison hospital .
The diagnosis of Dr. Nirmali who examined this victim was : Owing to the ailments Diabetes and high blood pressure , he had received treatment at Dumbara prison. The same medicines shall be continued .Near the wrist there is a swelling but no external injuries are noticeable . An X ray examination shall be preformed.
Cruelly , a prisoner who was assaulted brutally before the eyes of the jailors has been treated in the prison hospital only for diabetes.

Prisons reform minister Swaminathan who heard about this made inquiries. The probe revealed that this attack was complained to Borella police on 9 th August ( CIB 11 99/90 by J.W. V.P Botejue . That complaint was recorded by P.C. 69083 as ' regarding attack on prison inmate.' (The images of the complaints lodged with HRC-Human Rights Commission and Police are herein ) .
On the instructions of minister Swaminathan , an investigation into this is on going while another investigation by the HRC is also under way. It has now come to light that Nirmali Thenuwara who shows greater concern for special testicles of special prisoners and prescribes bizarre 'Deck Shoes' exercises like a masseuse in a massage clinic to her favorite prisoners , however ,in the case of prisoner Srimali had prescribed medicines only for Diabetes , despite the prisoner having six fractures following the assault. The medical report on these fractures on his body have already been forwarded
Far superior than Hippocrates the father of medicine
Meanwhile , following a protest staged by the Organization for protection of rights of prisoners on September 12 th , minister Swaminathan summoned Dr. Nirmali and held a special discussion when she uttered a profusion of lies.She told the minister she had been serving as doctor in the prison hospital only for just six months , whereas she had been there for 4 years 6 months.
The Masseuse cum doctor Nirmali who was provoked by the questions posed by the minister had rushed to the hospital and berated deputy minister Ranjan Ramanayake and lawyer Senaka Perera . She had yelled out they do not yet know about her ways while threatening , she will do the same thing what she did to 'Srimal', to Senaka too.( Senaka the lawyer is the president of the organization for the protection of rights of prisoners)
It is the terrorizing GMOA including doctor joker Padeniya who have forcibly seen to it that this Doctor masseuse Nirmali is not transferred , against the ministry's wishes. It is such a criminal doctor who parades as greater than Hippocrates, whose baser instincts and interests are being pandered to by the GMOA and Padeniya the medical hypocrites who are supposed to have taken the sacred oath of Hippocrates.
It is worthy of note , the prison hospital is on par with a district hospital. Nirmali however is not eligible to hold a chief post in a district hospital . Then why such an incompetent, ineligible and unsuitable doctor is still being allowed to be in charge of the prison hospital ? She is one who therefore merits interdiction , and an investigation shall be immediately initiated against her rackets , treacheries and villainies while performing duties as a doctor.
It is the consensus such a scoundrel of a doctor who is best suited for a massage clinic and least for a hospital should not be permitted to disgrace the noble medical profession any longer.

---------------------------
by (2017-09-18 21:43:51)
We are unable to continue LeN without your kind donation.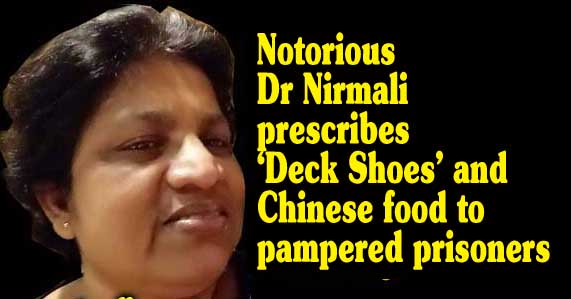 Leave a Reply