Chathurika's robbed 'President father'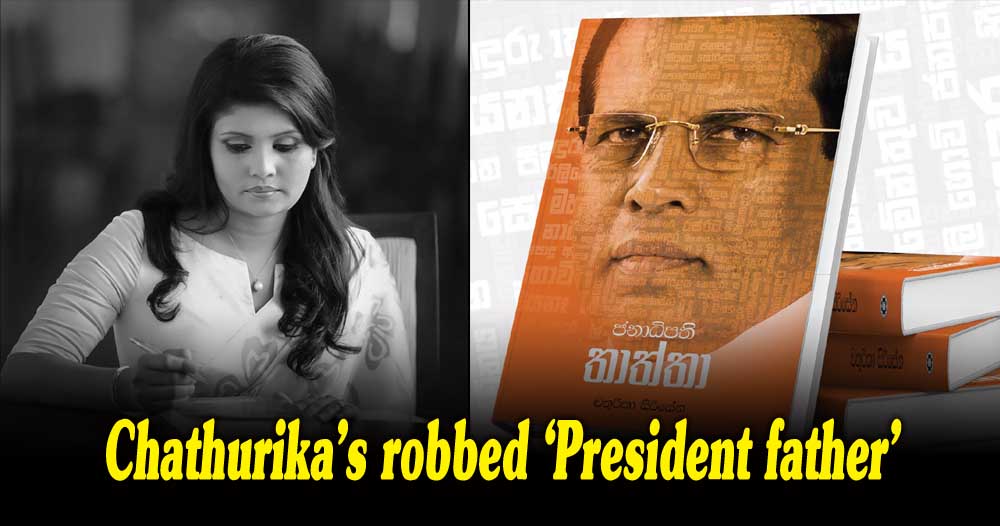 (Lanka-e-News - 16.Sep.2017, 2.15AM) The book entitled 'President father' supposedly written by Darshani Chathurika the eldest daughter of Maithripala Sirisena was launched on the 15 th at the BMICH , Colombo.
For this book launch , there were six video advertisements by the companies owned by her . However the publicity given were contradictory . One of those revealed this is Chathurika's own biography. Another revealed it is the biography of the president. No matter what following Chaturika's interview over the Maharaja TV channel on the 14 th night , it became very evident that she is ignorant of the correct meaning of most of the Sinhala words. There are many examples in support of this view. She used the word 'Dholanaya' though it was clear she used that word improperly. She did not know even the meaning of the word 'Charithapadanaya' (biography) . Instead of Charithapadanaya she said , Charithapradanaya . It was apparent she had not even read the books and other materials at home which her Father who speaks Sinhalese correctly had read . Based on these glaring lapses of hers even in respect of simple Sinhala language usage, doubts cropped up whether Chathurika herself wrote this book . Lanka e news therefore decided to delve into this. Following were the discoveries…..
The name of the book has been robbed...
What we preliminarily discovered was , even the title ' President father', has been robbed by her. This title is that of a popular drama which won the presidential award in 2001 which was produced by Dr. Indika Ferdinando , and Chathurika has hence robbed even its title. We say this definitely and undoubtedly, because Chathurika did not have the courtesy to contact Indika Ferdinando nor get his permission to use that award winning title for her book. Such a practice is nothing but ethical among decent society . Owing to this 'robbery' , there is no chance for Indika Ferdinando to publish now a text book of his award winning drama under that name.
Next we probed into whether this book was actually written by her…
Lo and behold ! it has been written by someone else !
According to reports reaching us , that book has not been written by her ,and she hasn't the ability to accomplish such a feat .
The first part of this book has been written by a chief of the business section of Sri Lanka Telecom (SLT). Thereafter he had given it up . Then another individual associated with business publicity was enlisted to complete the balance. He too after writing some parts of the book , had lost interest. Finally , it is the third writer who had completed the book. Though we have the names and addresses of all these writers, because we had to heed their requests , we have refrained from revealing those.
Strange skills of president's children …
In backward South Asian countries like Sri Lanka, the children of leaders of such countries acquiring queer 'extraordinary' skills has become a fad. During the corrupt nefarious decade the children of Rajapakses too acquired bizarre talents . Namal Rajapakse passed the law final examination with 'f- lying colors' getting an average of 98 marks . Yoshitha Rajapakse was supposedly so talented he was chosen for Dartmouth Royal Naval Academy , England for training . But he was specially 'talented' so much so that the Royal academy decided after he was there for training , in future not to offer opportunities to Sri Lankans for training in that academy.
Rohitha Rajapakse acquired so called 'specialized' knowledge on rockets that he was supposed to have sent a satellite even beyond the sky , though until today there is nobody who had seen or searched and found it. Interestingly they are all siblings of the notorious Machiavellian ex president.
In fact Rajapakses were defeated because the masses rejected these dubious and devious accomplishments. Now , it is Chathurika Sirisena who is shamelessly and despicably toeing the same line. May be Chathurika is indulging in this type of activity not realizing she is only making her father the butt of a joke of the 6.2 million people who elected him as president, and came to power on the solemn promise to abolish the executive presidency within 100 days of his appointment as president.
It is also most unfortunate , Namal and his clan could not understand , it was his father who became a laughing stock before the country's intelligentsia when Mahinda Rajapakse was extolled to the sky describing him as 'Maharaja' , and as a relative of Lord Buddha by the hangers on around him .

Sadly , Chathurika who suddenly became a multi millionaire after her father became the president too seemingly cannot understand her indiscretions right now. .
'Father who did not abolish executive presidency' ….
If Chathurika who subsisted on people's funds since the time she became known , if she is true towards the people of the country , what she should have written is not a book about 'President father' with pride, rather a book entitled, "Father who did not abolish the executive presidency''. That would have been most appropriate. That is , about a father who after making solemn pledges to the people to abolish the executive presidency within 100 days of his appointment, but failed to honor the pledges even during the last nearly 3 years as president.
She should have instead got a book written titled "Father who did not abolish the executive presidency'', expressing her regret over her father's failure to honor his pledge, and exposing what are militating against that fulfillment. If she does make such a revelation it will undoubtedly help to boost the image of her 'president father'.
It is a matter for deep regret ,Chathurika who did not then take the trouble to write a word to put Maithripala on the presidential throne or to chase out the Rajapakses ,the deadliest enemies of the people is now trying to stage a 'greatest show on earth ' attracting all the cheap publicity. Sadly by that 'circus' she is only making her father a clown of clowns which can only court disaster to him and the country.
In any event it is following Chathurika's request on the 14th , Lanka e news decided to post this report. Chathurika at the conclusion of her interview on the 14 th , told with Peacock pride, anybody can level criticisms against her book , and she will 'proudly' accept those criticisms. ( What she should have told was she will humbly accept those criticisms. But the word she wrongly used instead was 'proudly'). In the circumstances , it is our conviction based on her enunciation, through friends and sponsors pressure will not be brought to bear via phone or other means on Lanka e news for these criticisms, to withdraw the news report after it is published.
By a staff writer of Lanka e News.
---------------------------
by (2017-09-16 21:09:46)
We are unable to continue LeN without your kind donation.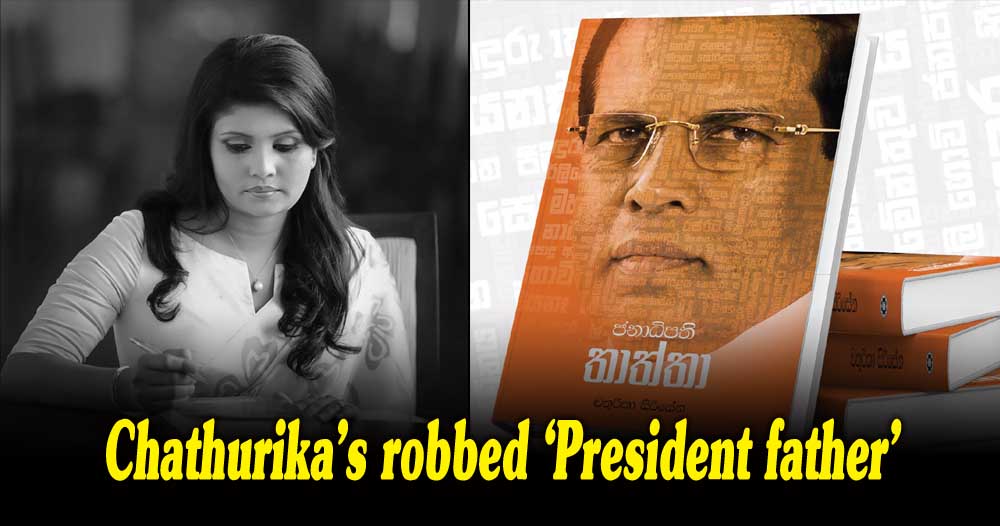 Leave a Reply