Staggering Rs. 1,080,860,238 loss to country after duping Cabinet ! -Who else can cause that except the notorious Ranatunge Bros. ?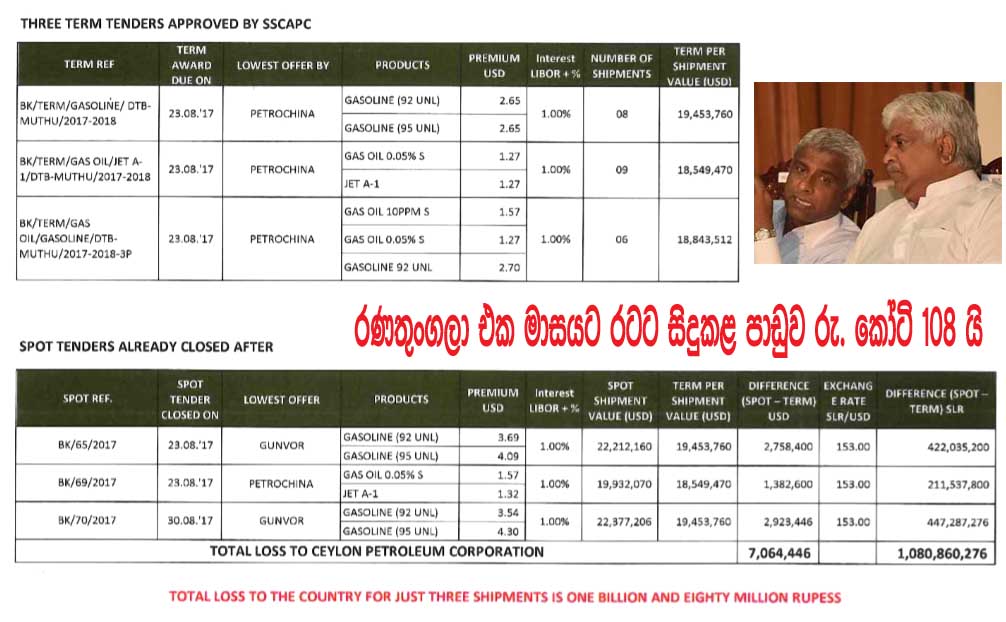 (Lanka-e-News - 15.Sep.2017, 11.45PM) Minister Arjuna Ranatunge and his brother Dhammika Ranatunge by delaying the Term tenders for supplies which were approved by the Special Standing procurement committee appointed by the Cabinet (SSCAPC) ,the country incurred staggering loss of Rs. 1080 million (Rs. 1.08 billion ! ) , based on reports supported by evidence reaching Lanka e news
The SSCAPC on the recommendations of the Technical evaluation Committee(TEC) of the Ceylon Petroleum Corporation (CPC) approved three term tenders for supplies via 23 shipments .

To the dismay of all concerned , in spite of the fact that the SSCAP has granted the approval , and about a month had elapsed , the cabinet memoranda that should be tabled before the cabinet had not been done by Arjuna Ranatunge, the minister of petroleum resources.

The three term tenders should be awarded by 2017-08-03 , yet the Ceylon Petroleum Corporation had avoided that , and awarded 3 spot tenders hastily despite the fact it is possible to purchase the products at much lower prices under the term tenders approved by the SSCAP . Another spot tender Ref. BK /71/ 2017 was to be closed on 2017-09-07 .
The spot tenders under CPC Ref. Nos. BK/65/2017, BK/69/2017 and BK/70/2017 which were approved in August have engendered a staggering loss of US dollars 7,064,446.00 to the country ! and the rupee equivalent of this amount is Rs. 1,080,860, 238 ! (at Rs. 153.00 per dollar) , that is, over Rs. 1080 million !!
It is obvious the notorious inseparable Ranatunge brothers (in rackets) who have a putrid antecedence of breaking world records when it relates to defrauding and wasting public funds , are once again engaging in these traitorous tactics to make a fast buck and line their pockets with colossal commissions, and for no other reason, at the expense of national interests.
The details of the three tenders authorized by the SSCAP , and the 3 spot tenders which were closed engendering staggering losses to the country can be viewed by clicking on the image hereunder.
---------------------------
by (2017-09-16 20:38:25)
We are unable to continue LeN without your kind donation.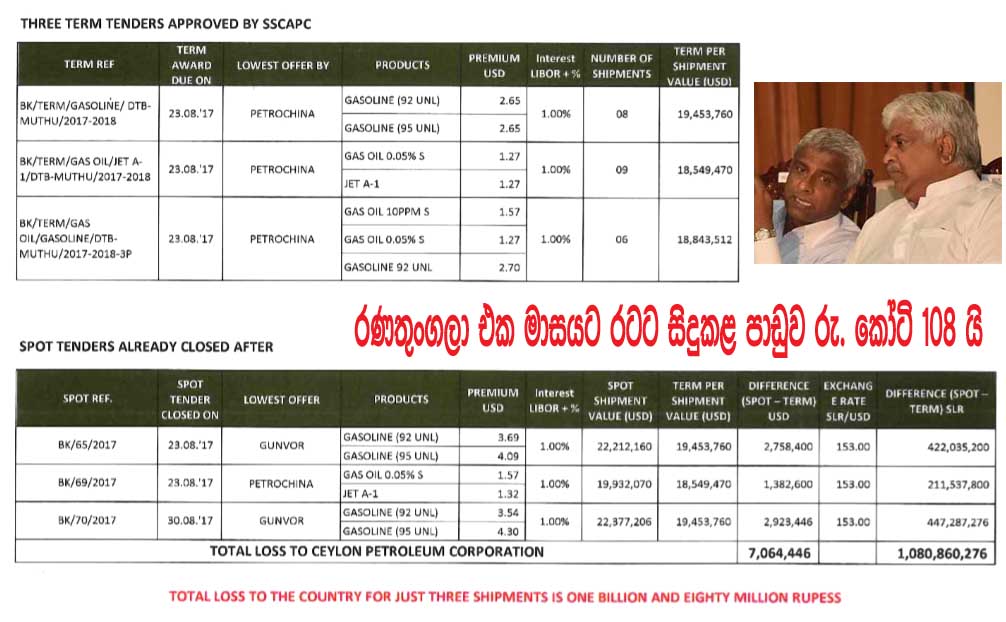 Leave a Reply