Lalith was warned sternly by Elections Commissioner long before ; Lalith isn't an infant crying for his soother (Video) !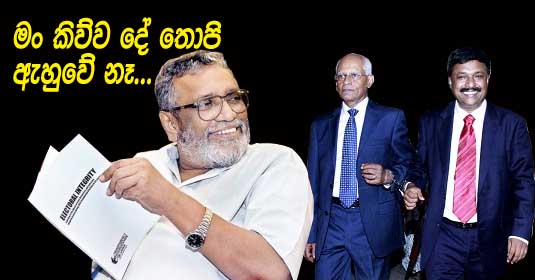 (Lanka-e-News- 11.Sep.2017, 10.30PM) When the court delivered the verdict and sentenced ex secretary of deposed people discarded president Mahinda Rajapakse to jail on grave charges of swindling colossal public funds which conferred illegal benefits on Machiavellian mendacious ex president and his presidential election campaign , the pro Rajapakse crooked groups without abiding by the laws and court verdict began distorting the actual picture and making false claims that those funds were spent on Sil cloth distribution , and this verdict of court was against Buddha dharma.
It is well to recall even before the presidential election in September 2014 , the Elections Commissioner had issued a dire warning against distribution of Sil cloths during the Uva provincial council elections. Herein is evidence which bears out that Lalith Weeratunge despite being a most responsible State officer behaved most irresponsibly and reprehensibly by not abiding by those instructions.
The secretary to the president being from the upper crust of the State administrative service is duty bound to obey those orders most strictly .Besides , it is to be noted the Elections Commissioner is not answerable to the president's secretary under any circumstances. He had therefore during the Uva PC elections in September 2014 clearly and emphatically explained in writing that Sil cloth distribution to gain political advantage is unlawful.
The distribution took place on 2014-09-08 on Binara full moon poya day .The letter of warning (copy produced herein ) was sent by Mahinda Deshapriya the Elections Commissioner at that time to the Alliance secretary Susil Premajayanth, Dallas Alahaperuma and present president Maitripala Sirisena who was at that time the secretary of the SLFP. The media too publicized this. The letter read thus…
'Distribution of dry rations as drought relief ; cash ; and food parcels constitute an abuse of state resources , and if Sil cloths are distributed out of state funds that too falls into the same category .Sil cloth distribution may be carried out via the private funds of an individual , but during the period of elections , if candidates or politicians come forward and distribute them displaying the name of the candidate or symbol , those are unlawful , and needs no reminding .'
Hence , the Elections Commissioner has thereby made it abundantly clear that Sil cloth distribution even out of private funds is unlawful . The Commissioner went on to further elaborate as follows :
'Distribution of Sil cloths during a full moon Poya day in temples with political motives is tantamount to insulting Buddhism . At the same time , candidates who were not Buddhists becoming 'Buddhists', and candidates who have never stepped into a temple also participating in it is a most hilarious joke . I am in possession of audio and video tapes pertaining to these events,' the Elections Commissioner highlighted.
In addition , he commented as follows :
'If any individual or Institution goes to court staking any claims , it will become necessary for me to present this evidence in court . As these activities are election law violations , if the candidates are found guilty , even if they have won at the elections there are chances for them to be unseated.' (The image of the full text of the letter of the Elections Commissioner is appended )
It is therefore very evident that it Is despite the Elections Commissioner pointing out extremely clearly in September 2014 that Sil robe distribution is unlawful and issuing a dire warning , 'Weeratunges' committed the same grave wrong at the presidential elections in 2015-01-08 recklessly and wantonly based on the foolish belief and hope that moribund Mahinda Rajapakses would win , and when that happens , whatever crimes Weeratunges committed will be suppressed , and he would escape punishment.
There is also another letter (copy published herein which can be read by magnifying the image ) that clearly substantiates the truth that Lalith Weeratunge authorized and encouraged corruption though he is trying to paint a picture he is an innocent soul , and is still an infant who knows only to cry over the soother taken out from his mouth , is in fact a scoundrel who deliberately committed wrongs ruthlessly , and which were absolutely detrimental to national interests.

Even when the Audit conducted an investigation into the funds of the BMICH that were siphoned off during the run up to the elections to conduct Dansalas in Temple trees , it was Lalith Weeratunge who ordered that letter of the Auditor General to the chairman of the BMICH , M.D.D.Peiris be immediately halted .
Therefore , all these exposures and evidence are clear pointers that Lalith Weeratunge is a downright crooked State officer who had wantonly and venomously allowed precious funds of the public to go down the drain though he is now pretending he was more sinned against than sinning.
The CaFFE organization, an election monitoring body during that time released photographs ( image appended ) which depicted not only Sil cloths but also clocks with Rajapakse's photos that were distributed by Weeratunges and Pelpitas defrauding colossal public funds.
Hereunder is also a video footage giving thundering answers given to Bandula Gunawardena, tearing into shreds the stupid arguments advanced by the latter after visiting the convicts in prison. Bandula spoke in support of convicts Lalith and Anusha who are now enjoying the best of comforts and luxuries while in prison hospital even after swindling public funds on a monumental scale. It is well to recall , it is this same Bandula Gunawardena the perfect epitome of a most abhorred imbecile who muddled up the education sphere and thereby devastated the future of the country's younger generation when he was the education minister
---------------------------
by (2017-09-11 17:08:08)
We are unable to continue LeN without your kind donation.
Leave a Reply