Diabetes and liver enlarged convicts Lalith and Anusha eat sumptuous Chinese food supplied from out !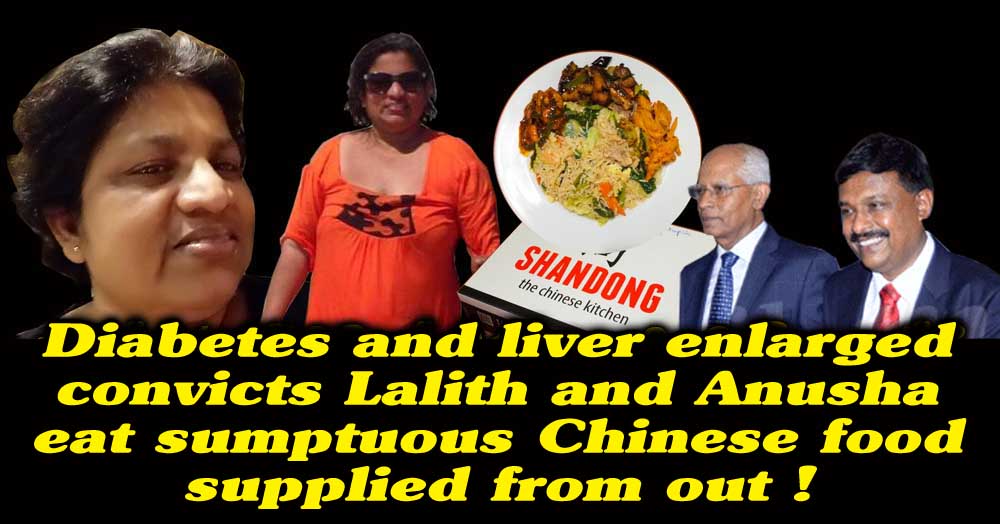 (Lanka-e-News -10.Sep.2017, 6.40PM) Lalith Weeratunge the ex secretary of deposed people discarded president Mahinda Rajapakse ,and Anusha Pelpita the ex Director General of SLT who were each sentenced to 3 years rigorous imprisonment and heavy fines on charges of defrauding public funds to the tune of a whopping Rs. 600 million in connection with the presidential election campaign of ex president Mahinda Rajapakse enjoyed sumptuous meals like 'Kings enjoying at banquets ' within the prison. Both of them on the 9 th ate lunch got down from a super luxury Chinese Restaurant 'Shendong' , Rajagiriya. These two convicts are now in prison hospital after being transferred from the prison cell on a false medical report.
The meals comprised Crystal rice , Chinese chopsuey and devilled chicken .The quantity of rice was enough to serve 18 persons. Mind you this food was got down for the gourmandizing pleasure of none other than two confirmed condemned criminals within prison supposedly suffering from Diabetes , based on the medical report provided by a venal prison doctor.

Sarana Gunawardena another remand prisoner who is enjoying all the luxuries within prison also has been given permission to get down meals from outside.He therefore gets his meals from Shendong Restaurant or from home. On the 09 th , 16 prisoners including Sarana in the same prison ward have shared the sumptuous meal at lunch.

Prisoners who have been sentenced on a court verdict but in remand prison or prison hospital in the interim cannot get down meals from outside . On the other hand prisoners in remand custody pending court verdict can get meals from outside on the recommendation of the prison hospital chief medical officer or with the permission of the prison officials, but in case too food sufficient for only that particular prisoner can be provided.

If a prisoner is to have all the luxurious comforts inside prison including sumptuous food from the super luxury Chinese hotels while also being in prison hospital throughout his term just because Nirmali Thenuwara and the lawyers informed court that the prisoner is suffering from diabetes and enlarged liver , what is the purpose of laws of a country against crimes , and the existence of prisons to punish a wrongdoer ?

No wonder political bigwigs and their henchmen are fearlessly and eagerly committing colossal frauds and robbing public funds with gay abandon because they know the monumental benefits they derive from their robberies outweigh the sufferings they may have to face in prisons following sentencing by court .( There are also many who enjoy complete impunity even after committing the heinous crimes) . They are fully aware their sufferings following sentencing are infinitesimal when compared with their infinitely large illicit gains made through their criminalities.
If any of you have a relative or friend in prison hospital Dr. Nirmali can be contacted at 077 3422250 (mobile phone) to get her permission to provide whatever their needs. Her modus operandi: special privileged group must pay monthly kickbacks while the ordinary class prisoner will have to pay on daily basis to obtain her permission. Except Nirmali all other doctors are prohibited from granting permission to supply food from outside at the moment.
On the 9 th , 34 permits to obtain lunch from outside were issued. Over 130 culprits in prison hospital ward benefited via those permits and enjoyed themselves to the hilt .
Innocent poverty stricken masses outside are struggling for one square meal a day after a hard day's honest labor whereas these rogues and rascals after committing daylight robbery on the public funds with impunity are living like 'Kings' inside prison. What a cruel irony of ironies !
---------------------------
by (2017-09-10 13:17:50)
We are unable to continue LeN without your kind donation.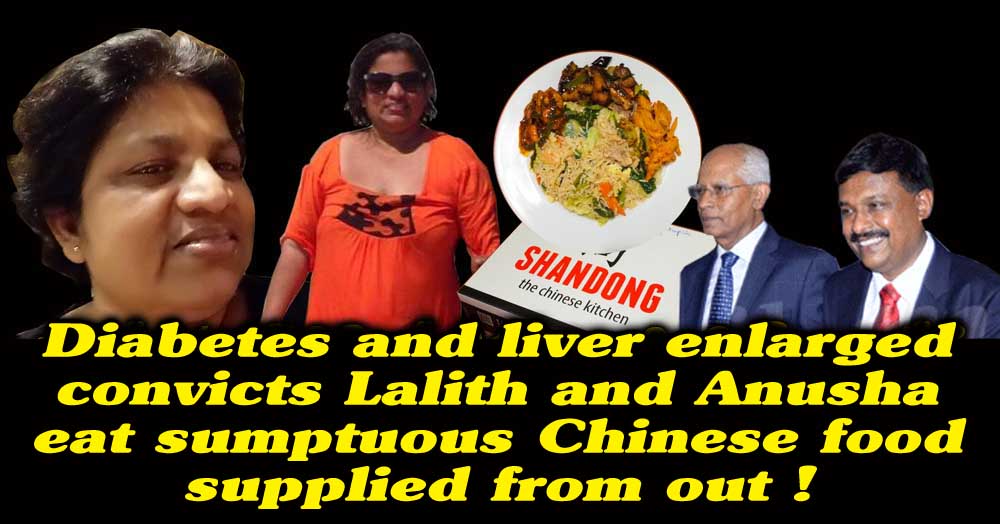 Leave a Reply