Shani SL's Sherlock Holmes appointed as Director CID defeating IGP Koloma's conspiracy !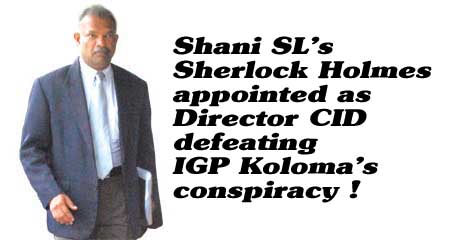 (Lanka-e-News - 07.Sep.2017, 10.45) A most reputed and respected police investigator SSP Shani Abeysekera of the CID dubbed Sherlock Holmes of Sri Lanka (SL) for his uncanny abilities as a detective was appointed as the Director , CID .
The post of Director fell vacant following the promotion of B.R.S.R. Nagahamulla the former director as a DIG. The attempts made by IGP Koloma to appoint Mevan Silva a henchman of his proved unsuccessful with the appointment of Shani Abeysekera a more efficient and suitable officer for the post by the Constitutional Council , which appointment was ratified by the Police Commission today.
It is significant to note it was Shani who led the investigation into every controversial and unsolved crime in SL's history. Unbelievably , every criminal who was at the center of those crimes was sentenced to death because of Shani's meticulous and methodical investigations. Murder of assist. Customs Authority Sujith Prasanna , murder of Royal Park youth, Angulana murder committed by the police , Shyam's murder committed by ex DIG Vaas Gunawardena and his son , Hasitha Madawala murder, attempted murder of former president Chandrika Bandaranaike at Town hall grounds by a suicide bomber , were some of the many heinous crimes which were investigated by Shani.
Shani who does not drink even a plain tea offered by an individual outside is so clean and uncorrupt that he is a model worthy of emulation by other Police officers.
Connected report
Torturer Poojitha marginalizes Shani the efficient honest CID Officer and prefers Mevan his stooge for CID Director post !
---------------------------
by (2017-09-07 17:25:20)
We are unable to continue LeN without your kind donation.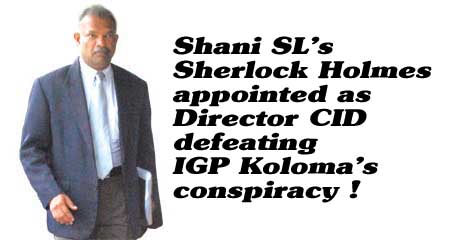 Leave a Reply