President against Wijedasa but latter will not resign honorably until given the sack ! -sterner action if he doesn't resign !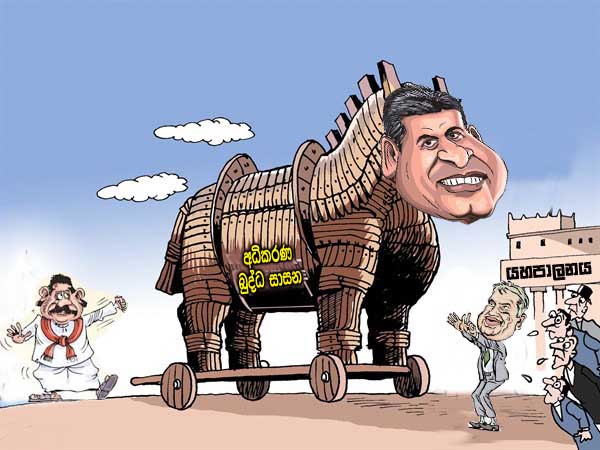 (Lanka-e-News- 21.Aug.2017, 10.00AM) Even if the UNP working committee , the UNP parliamentary group and the entire UNP opposes him , he is not prepared to resign his ministerial portfolio , Wijedasa Rajapakse has informed the UNP leadership.
Wijedasa who revealed he would resign after making a special statement in parliament on Monday (21) , has changed his mind on the advice of his true mentor cum destroyer the Medamulana Rajapakses , and therefore decided not to resign. The instruction of Medamulana Rajapakses to Wijedasa is not to resign , and stay put in the government as long as possible in order to sabotage and impede the activities of the government (in fact , that was what Wijedasa did all along while being in the government through his snake under the grass policies and shameless betrayals ).
According to the latest development , the UNP leadership is taking steps to dismiss him from the ministry of justice post while permitting him to retain the Buddha sasana affairs ministry . But because Wijedasa has been making statements criticizing the UNP leadership and its policies , it was decided by the leadership that Wijedasa shall ask for pardon from the party . If he doesn't , the leadership is to take sterner and stronger action against him , it is learnt.
In any event the president Maithripala Sirisena is averse to having him as the minister of Buddha sasana , it is reported . He had told his close associates that Wijedasa while being the Buddha sasana minister had been inciting and inflaming the Buddhist clergy against the government . Hence if he is to continue , 'we will not be able to run the government'
Last Saturday Wijedasa making a statement while criticizing the UNP leadership extolled the president , yet the latter hasn't shown any desire any time to have Wijedasa as a minister .At the cabinet meeting during amendment stage the president advised the prime minister (P.M.) that Wijedasa shall be dismissed from the ministerial posts. The P.M. had told, ' we shall do that later'
---------------------------
by (2017-08-21 04:27:24)
We are unable to continue LeN without your kind donation.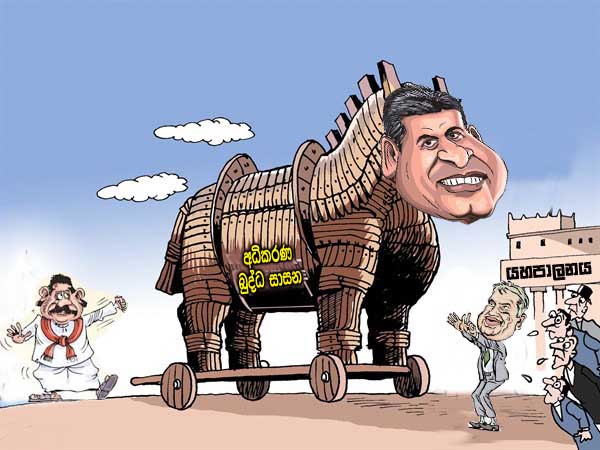 Leave a Reply