Police media spokesman trying to whitewash IGP 's egregious crimes founders on the rocks ! -Rajitha says IGP liable to charges of torture and cruelty! (Video)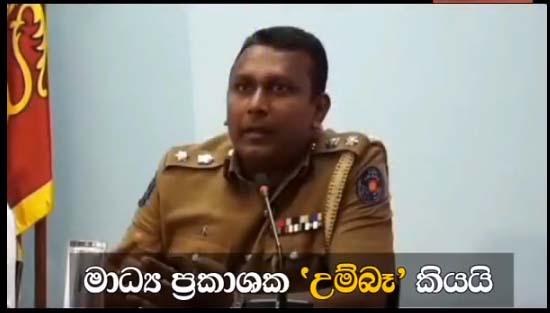 (Lanka-e-News - 17.Aug.2017, 7.30PM) The police media spokesman Ruwan Gunasekera who attempted to give answers before the journalists in connection with the Lanka e news 'I-G-P- Mee Ma' video footage foundered on the rocks like a sinking boat . The 'I. G .P. Mee Ma ' video exposed the torture and cruelty inflicted on the police staff by IGP Poojitha Jayasundara who insisted upon the staff that the unlawful rule he introduced in violation of the very basic and fundamental laws of the country shall be abided by.
It is very unfortunate , the Police media spokesman tripped and fell most humiliatingly when trying to give answers at yesterday's (16) cabinet media briefing.
The Police media spokesman in his eagerness to rescue the IGP outran his sureness . He lamented , the Lanka e news report and video footage had vilified the IGP and published falsehoods , and hence a defamatory case is to be filed. While Ruwan Gunasekera was desperately trying to gloss over the disgraceful conduct of the IGP alias Imbecile general of Police , the Cabinet media spokesman Rajitha Senaratne on the other hand , giving an answer in English to a question posed by a journalist disclosed , the IGP has indeed rendered himself liable to criminal charges for inflicting torture and cruelty on individuals.
Following the 16 th meeting , it is being doubted whether Ruwan Gunasekera who claims he is a lawyer is in fact a lawyer. This is because even a black coated shark in the ocean would know better law than black coated Ruwan Gunasekera in the court . He only betrayed his abysmal ignorance of the law by making irresponsible and utterly rash utterances .
In any event we are duty bound to give answers to Ruwan Gunasekera's allegations that Lanka e news is revealing untruths. He claims that the IGP did not say 'I shall rape you' to the woman Police officer. But the stark truth is, the IGP threatened her in Sinhalese language using the words 'Balaganing , mama thotath kelinawa' . When a man threatens a woman using the word 'kelinawa' in Sinhalese , it means , 'I shall rape you' and nothing else. Ruwan Gunasekera's ignorance of the Sinhala language and the law despite being a lawyer are his handicap , not anybody else's . Hence , there is nothing that we can do about it .
Next, he says Lanka e news has vilified the IGP via the video footage . But what were depicted in the video footage were the villainous and illegal activities of the IGP .If Gunasekera the lawyer is thinking because of such activities of the IGP his reputation is being enhanced among society , it is best if Gunasekera asks his own mother what is 'Guna' (virtue) of the Gunasekeras and corrects himself , in order to rid himself of his own vices.

There is a whole series of decisions delivered by the Supreme court (SC) during the last several decades which ensure no laws shall be enacted which are contradictory to the basic laws of the country . Therefore the laws relating to an Establishment shall also be introduced accordingly.
Under section 14 (c) of the constitution , every citizen of the country is guaranteed the freedom and right to practice his own religion . Hence Poojitha has no right or powers to give orders that all police personnel shall carry out meditation. Much worse , he has no right under any circumstances to assault or inflict torture on those who did not carry out that illegal order.
It is a pity Ruwan Gunasekera despite being a lawyer instead of explaining , underlining and pronouncing those sacrosanct laws , only demonstrated what a most abominable liar he is to the whole world by making despicable and desperate efforts to whitewash the gross misconduct and atrocities of the IGP .
Poor Ruwan Gunasekera therefore based on his silly and stupid utterances at the media briefing on the 16 th ,only proved beyond any trace of doubt he is not only stone blind but a 'bloody fool' when he denied the truth that the IGP assaulted the lift operator Banda after watching the video which clearly reveals the assault.
None is so blind as those who refuse to see. Hence Ruwan Gunasekera must be sent first to a school for the blind to cure his blindness and pretense. May be this bloke had seen the video in slow motion to serve his own purposes. In slow motion biting looks like kissing , barking like coughing, and scolding in filth like endearing romantic whispers .

Gunasekera while saying none of the victims had complained pointed out ,the video footage in the possession of Lanka e news was the one that was with the CID. Doesn't that revelation mean somebody has lodged a complaint with the CID , and the latter had thereafter gathered the evidence available on the CCTV cameras ? Gunasekera wittingly or unwittingly betrayed his own Institution thereby before the media. Irrespective of what Gunasekera blabbers to hide the facts , Lanka e news in any case did not obtain the video footage from the CID.
Police media spokesman by claiming nobody made a complaint and therefore no investigations were conducted has once again demonstrated what a stupid lawyer he is - not only blind but also pathetically ignorant of the basic laws – a complaint is not necessary to initiate investigations.
In conclusion might we emphatically state, nothing good can result to a most important Institution (Police) or the country simply by whitewashing the egregious wrongs committed by the highest in the hierarchy in the police . Even a dog in the house when it does a wrong has the 'decency' to walk out thrusting its tail between the legs in shame. It does not even bark or bite . Hence these scoundrels are worse than even dogs .These scoundrels haven't that 'dog decency' or sense of shame.
At least at this belated stage these villains and rascals will be well advised if they abandon their despicable and most deplorable habit of maligning others while they are drowned in the worst vices and sins themselves. They should instead learn first to acknowledge and accept their faults as well as try to rectify them . If not, please for god's sake leave and go, so that all patriotic citizens can heave a sigh of relief and say in one voice .. G R O B R –Good riddance of bad rubbish. Why not they try to spend the time and energy dissipated on filing meaningless contempt charges , on more worthy tasks instead.
Connected reports …
IGP who inflicted torture now slinks like a crook ! -People's Forum to complain to HRC
Is this IGP alias Imbecile General of Police worthy of his position ? Historic video footage exposes ….
Poojitha to be arrested on charges of inflicting cruelty and torture ?
World record ! Subordinates complain against IGP (Imbecile General of Police) – two charges leveled including sexual harassment !!
Watch video footage below
---------------------------
by (2017-08-17 14:20:26)
We are unable to continue LeN without your kind donation.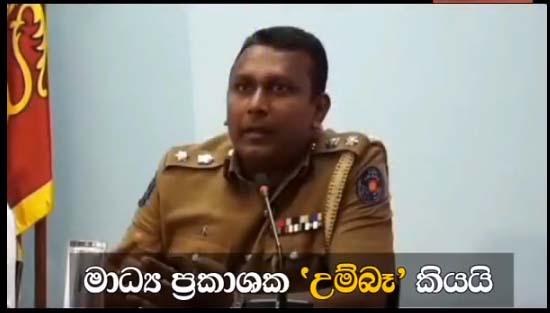 Leave a Reply