Ravi resigns ! A decision taken in the best interests of the party –Ravi - Party supporters want a UNP government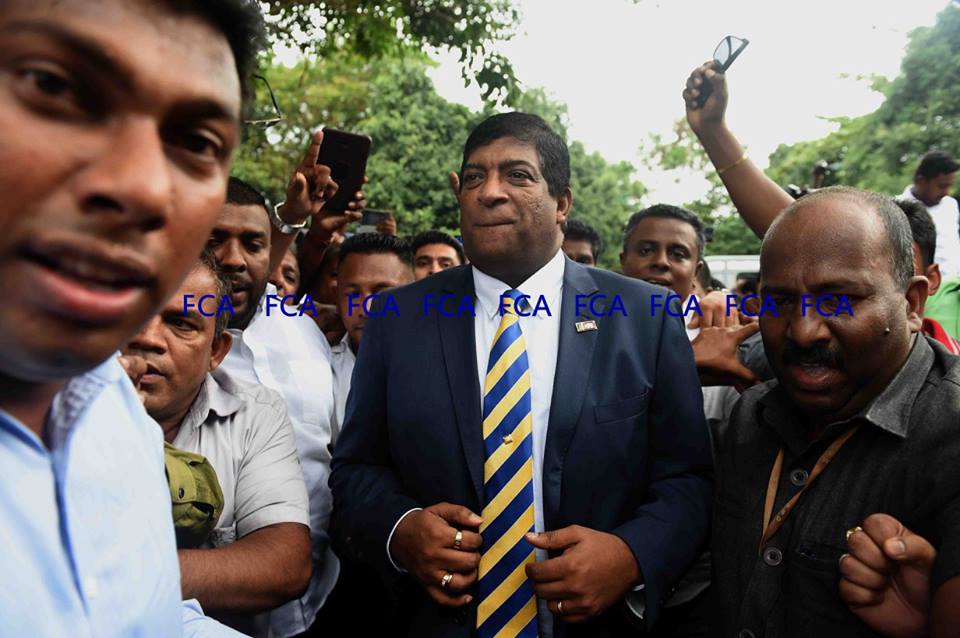 (Lanka-e-News - 11.Aug.2017, 12.55 PM) Foreign minister Ravi Karunanayake tendered his resignation yesterday (10) after making a special statement in parliament . 'There is a huge mudslinging campaign against the UNP party while targeting me based on the alleged bond scam. Hence I am resigning to safeguard the party ' he said. (Text of his full speech shall be published later)
There was a discussion between the president and Ravi Karunanayake on 9 th morning with the participation of Prime Minister ( P.M.) and minister Rajitha Senaratne. On the 10 th morning there was a further long discussion between the P.M. and Ravi Karunanayake.
The UNP party members are of the view it is based on a conspiracy targeting Ravi Kaunanayake , the media of the president and the presently people discarded Rajapakses worked together on a common agenda , and therefore the future of the consensual government is in jeopardy . Hence the UNP which is enjoying the majority support of the people's referendum of August 2015 should resign forthwith with a view to form a separate government of its own, the UNP party members insisted.
The SLFP group of Maithri say , the president requesting Ravi to resign is a step taken to clean the government of good governance.

Meanwhile a media briefing was held at the residence of Ravi Karunanayake in the vicinity of the parliament following his resignation . Huge crowds including supporters thronged the venue chanting slogans .
Ravi Karunanayake was the second minister to resign in the face of charges mounted against him after the good governance government came to power . The first minister who so resigned was Thilak Marapone the former minister of law and order .
---------------------------
by (2017-08-11 07:28:57)
We are unable to continue LeN without your kind donation.
Leave a Reply