Dealdasa the only two legged buffalo with two doctorates 'whip lashed' by Rajitha ! -Lawyer Minister Dealdasa doesn't know difference between lease and sale !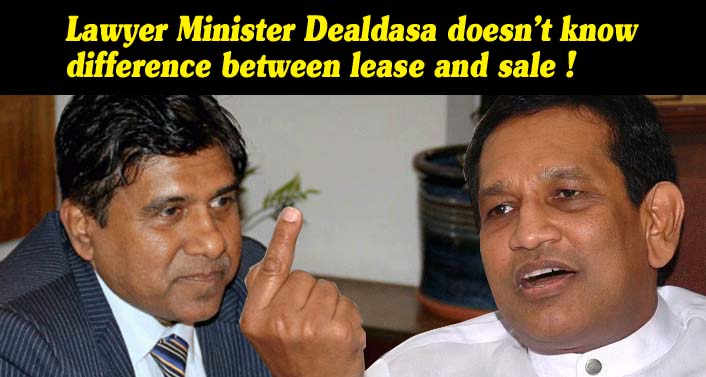 (Lanka-e-News - 10.Aug.2017, 11.30PM) The vacuous venomous announcement made on the 09 th by minister of justice Wijedasa alias Dealdasa the tie coat, turncoat cutthroat who is also by now well known as the Trojan horse within the government was well and thoroughly answered by cabinet spokesman, Minister Rajitha Senaratne. The latter gave this power punch and knocked out Dealdasa completely when responding to queries posed by journalists during the cabinet media briefing.
Infamous Wijedasa alias Dealdasa asserted on the 9th , since the Hambantota port belongs to the people , selling that to a Chinese Co. is absolutely wrong , and therefore every step will be taken to get it back , and until that is handed back to the people he would not look back.
Rajitha in his answer clarified , the Hambantota port was not sold , and it was only given on lease, and went on to ask , how come an individual who does not know the difference between a sale and a lease become a lawyer ? Hence without that elementary knowledge one talking about the rest of the agreement is most ludicrous, Rajitha pinpointed.
In any event notorious Dealdasa via this rash statement violated Cabinet traditions. After all those present took a decision in concord during the cabinet meeting ,the minister coming out and criticizing the decisions is to violate the cabinet norms , Rajitha regretted . Rajitha challenged Dealdasa the slimy scoundrel to reverse the agreement if possible by going there.
Rajitha recalling what Mao Tse Tung told regarding objections , said , 'if an enemy is appreciating one's efforts , it implies that one's efforts are wrongly directed. On the other hand if the enemy criticizes one's moves , it means one's moves are rightly directed.' It is not known whether Rajitha quoted this saying of Mao Tse Tung with reference to Dealdasa who is by now known not only in Sri Lanka but even world wide as an enemy of the very government he is supposed to serve, and a snake under the grass .
Dealdasa by yet another announcement made by him on the 9 th regarding the Hambantota Port confirmed beyond doubt he is not only a tie coat , turncoat , cut throat enemy of the government but also a bullock who should be kept tied to a bullock cart . He announced ,' after the Hambantota Port is developed , ships will not travel 400 nautical miles to arrive in Colombo Port . Consequently , the Chinese Co. will prosper and the Colombo port will transform into a swimming pool.'

This two legged bullock did not know that since this agreement was signed between the Chinese Co. and the SL Ports Authority, the profits will be shared by both parties. Besides he had forgotten there are actually 400 nautical miles from Colombo Port to Hambantota Port. The worst part is his not even knowing that the Hambantota port is already a 'swimming pool'. However because no questions were asked in that regard from Rajitha , he could not elaborate.
It is therefore a most pertinent question , how such a buffalo in human form who utters so much nonsense was awarded two doctorates and who awarded those? Could there have been a corrupt deal ? because Wijedasa's name is synonymous with frauds too. Such a two legged buffalo having two such dubious doctorates dreaming to become the future president of the country is indeed a joke of the century.

No matter what , it is perhaps only in Sri Lanka its people have been showered with a dark 'blessing' of a queer president who is seeking to rescue the government by chasing away honorable ministers like Ravi Karunanayake ; digging graves to bury the government ; aiding and abetting the enemies ,while safeguarding the ministry of Dealdasa the venomous , vicious villain who is flagrantly violating cabinet traditions and norms to the detriment of the entire country .
---------------------------
by (2017-08-10 22:23:03)
We are unable to continue LeN without your kind donation.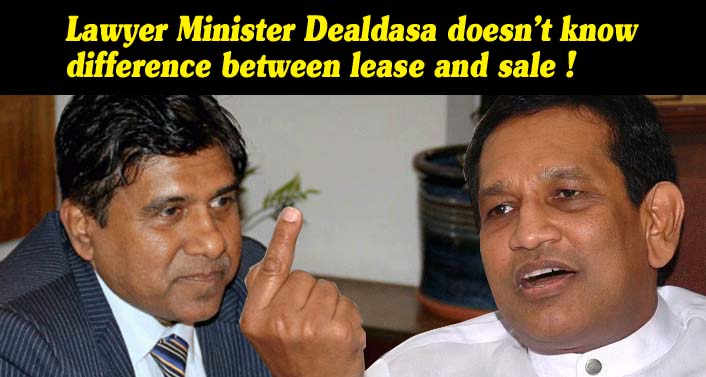 Leave a Reply