Cutthroat Dealdasa the slimy scoundrel ensnared at last..! No confidence motion against this Trojan horse.!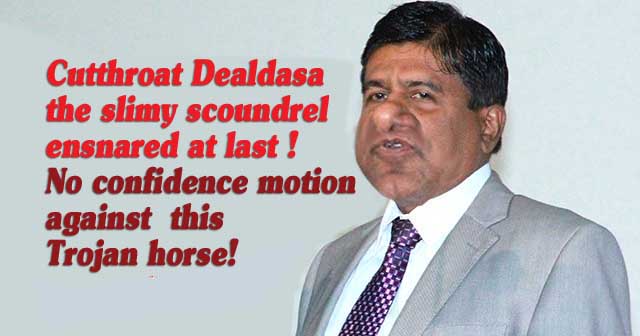 (Lanka-e-News - 10.Aug.2017, 11.30PM) While those who took measures to chase out the crooks are being maligned and mud is slung at them ; and no confidence motion is being brought against them by the crooks , the notorious minister of justice Dealdasa the tie coat, turncoat cutthroat too is delaying legal action against the rogues while also negotiating illicit deals with them , it is learnt that the pro true good governance parliamentarians , which includes those of the government and the opposition are readying to move for a no confidence motion against infamous Wijedasa alias Dealdasa , widely known as the Trojan horse , based on reports reaching Lanka e news.
It is an indisputable fact the masses that contributed to the victory of the rainbow revolution are disillusioned because the present government is not apprehending the culprits . Though the police and other Institutions have concluded their investigations , and have forwarded 874 files to the Attorney General's (AG) department , the latter has still not filed the cases. All these cases are in cold storage at the AG's department . Yet strangely the same department examined within two days the charges against Ravi Karunanayake contained in 8800 pages , despite the fact for the last two years the AG department had not been able to verify just the signature of culprit Gotabaya in the case in which the latter has siphoned off public funds illegally to build a mausoleum for his parents. What's more ! even the criminal cases against Rajapakses were postponed until as many as 8 to 9 months.

Now , it has come to light that it is none other than the infamous justice minister Wijedasa alias Dealdasa who is behind all these conspiratorial activities and procrastinations .The MP's and ministers of the government are now aware ,without any trace of doubt it is this tie coat- black coat who has turned into a turncoat -cutthroat . In addition , this slimy scoundrel is now even outrageously making irresponsible and rash statements violating cabinet norms and traditions.
Having come to know that it is this rascally Dealdasa who is behind all these anti government trickeries and treacheries while being within the government , and is a Trojan horse , a large group including government backbenchers, opposition MPs, and ministers have started taking signatures today to go ahead with a no confidence motion against Dealdasa . As good governance supporters we are reporting this with delight.
Based on those who are signing the no confidence motion against Dealdasa , it could be judged who are those truly against the rogues.
---------------------------
by (2017-08-10 22:16:37)
We are unable to continue LeN without your kind donation.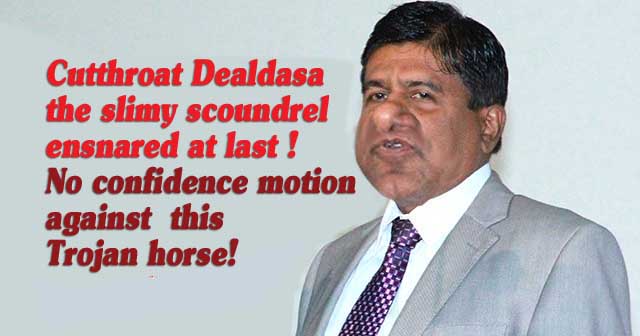 Leave a Reply