No drug charges against personal assistant of minister Mangala – communique of media sec. confirms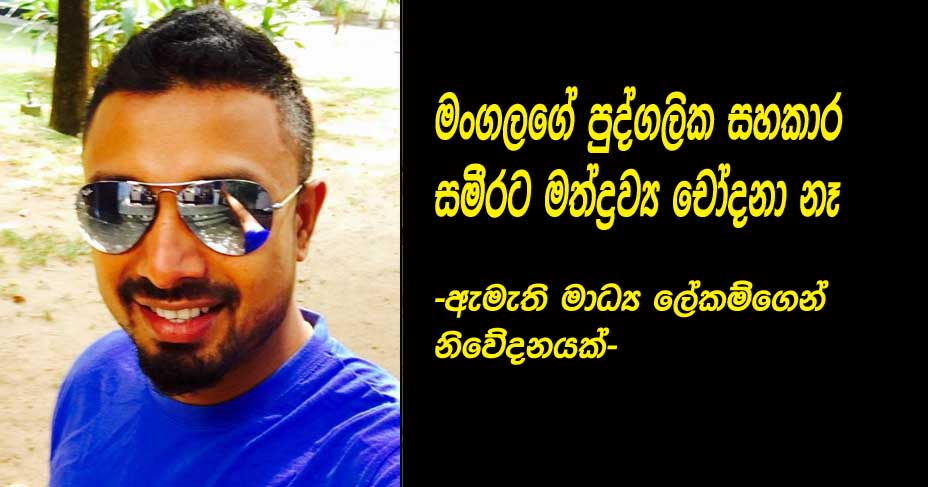 (Lanka-e-News -08.Aug.2017, 9.30AM) The media secretary Asitha Rajapakse of minster Mangala Samaraweera issued a media communique in connection with the arrest of the minister's public relations secretary . The full text of the communique is hereunder …
The media reports relating to the arrest of the private secretary of minister Mangala Samaraweera are absolutely baseless.
Based on the arrest of a member of the personal staff of minister Mangala Samaraweera , along with three others by the police STF on the 5 th (night) , and handing over the suspects to the Mt. Lavinia police , certain news websites have started a mudslinging campaign against the minister. It has therefore become necessary to issue an official communique to clear the cloud of doubts .
Sameera Manahara , the public relationship secretary of minister Mangala Samaraweera was arrested along with three friends of his by the police STF on 5 th night at about 8.45 at Mt. Lavinia when they were on their way to attend a party. They were arrested following a search conducted by the police on the jeep they were travelling . This jeep belonged to one of those in the group ,and drugs were detected during the search.
After one of the inmates admitted those contraband were his , the STF has visited the house of the suspect who admitted , and taken into custody 16 bottles of liquor , three cartons of cigarettes , a sword on display and a manna (knife) which was meant for domestic use . The suspects were subsequently entrusted to the custody of Mt . Lavinia court the following morning (06).
In the afternoon when all the four suspects were produced before the acting magistrate on the 6 th afternoon , the police submitting a B report informed that except the first suspect in whose possession the contraband were , there was nothing to prove that the other three accused had anything to do with it. The police also stated, others too were arrested because they were travelling in the same vehicle of the first accused.
The police inspector explained further to the magistrate , that except the first accused , no charges of possession of drugs or drug peddling have been filed against the other three accused , and hence they can be enlarged on bail. The magistrate who examined the facts and submissions decided to remand the first accused and release the other three accused including Sameera on bail.
In the circumstances , the allegations hurled against the public relations secretary of minister Mangala Samaraweera by the news websites are proved false and baseless.
Asitha Rajapakse
Media secretary to Hon. Minister Mangala Samaraweera
---------------------------
by (2017-08-08 03:56:00)
We are unable to continue LeN without your kind donation.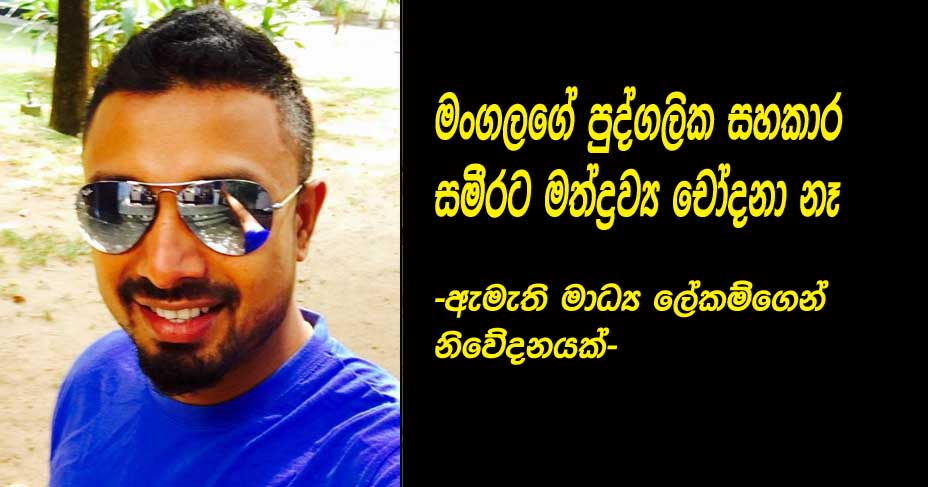 Leave a Reply