Mass murder of students : Members of Naval Force themselves testify to the crimes committed by Navy murder squad – B report herein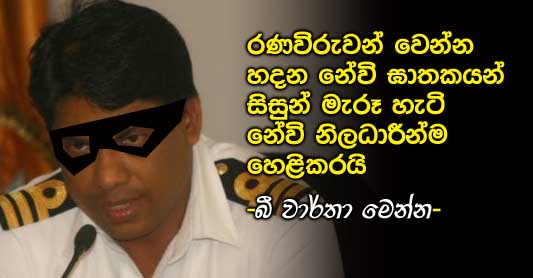 (Lanka-e-News - 22.July.2017, 11.30PM) While discarded pariahs like grade nine (dis)qualified moron pavement politician Weerawansa are trying to fasten the label 'war heroes' on the Navy murder squad that took advantage of the war at that time to abduct 11 Tamil , Sinhalese and Muslim students, who had qualified to enter Universities, and several others in the white Van with motive of extortion , and finally brutally killed them after collecting the extortion payments , Lanka e news is in receipt of a series of B reports which reveal, a group of the Naval force itself is giving evidence testifying to the crimes.
Based on the B report , this ghastly incident was intimated to court on 2009-06-06.
The B report against Commodore D.K.P, Dissanayake and Lieutenant Commodore Chandana Prasad Hettiarachi is hereunder. It can be read by clicking on the image herein , and magnifying it .
---------------------------
by (2017-07-23 00:34:31)
We are unable to continue LeN without your kind donation.
Leave a Reply