Weerawansa the bankrupt pavement politico says arrest of Navy criminal in mass killing of students is to victimize war heroes when Navy commander himself complains against murderers (video)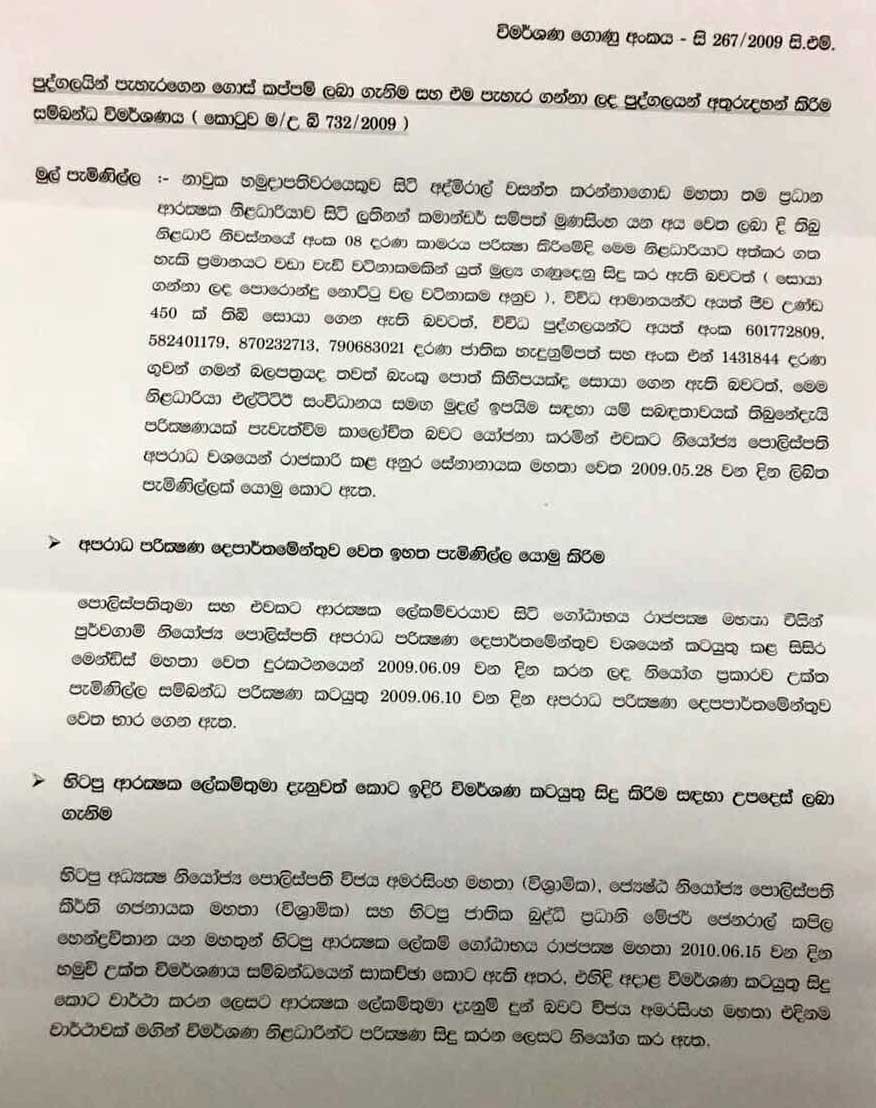 (Lanka-e-News - 18.July.2017, 11.30PM) Most notorious bankrupt corrupt politico Wimal Weerawansa the grade nine dis (qualified) moron convened a media briefing to publicize that the arrest of ex Navy spokesman D.K.P. Dassanayake in connection with the mass murder of Sinhala, Tamil and Muslim students is a victimization of war hero, and the students were LTTE cadres. These were students who were abducted with motive to collect extortion payments by a murder squad of the Navy . Thereafter the students were killed most brutally after collecting the extortion payments.
The parents of these victims who were naturally provoked by the announcement made by Weerawansa whose mouth stinks a mile even worse than a spittoon when opened , held a media briefing on the 17 th to reveal the truth . They said , and proved Weerawansa's announcemen is an absolute lie.
One of the parents who participated in this discussion is a former member of the forces while Sarojini Naganathan , mother of another victim is married to a Sinhalese. Sarojini revealed that a sum of Rs. 10 million was demanded from her if her child was to be released . When she reported this to ex Fisheries minister Felix Perera , the latter phoned ex Navy Commander and requested him to release the children, she added . She also handed over a letter to the media that was sent by Felix Perera addressed to the Navy commander at that time in this connection (letter is herein).
Another mother Jennifer Weerasinghe disclosed , even a case was filed in 2009. She therefore asked how can children who were not 'Tigers' then become 'Tigers' now ? She went on to point out , if her child is in fact a tiger she would withdraw her case .
Weerawansa the bankrupt crooked corrupt political imbecile , following the arrest of Dassanayake , reckons these murderers as war heroes , and the innocent children as Tigers , despite the fact that it was ex Navy Commander Karannagoda himself who made the first complaint against these ghastly murders. The B report B/732/2009 that was submitted to the Fort Magistrate in 2009 is evidence. (Copy of that report is herein) .

Karannagoda who made the first complaint had also stated in it to investigate whether his chief security personnel, Lieutenant Commander Sampath Munasinghe who abducted the children had links with the LTTE . In addition , Gotabaya Rajapakse the defense secretary at that time instructed the then DIG Sisira Mendis in charge of the CID to pursue the investigations. That was mentioned in the B report .
It is in this factual context when an impartial investigation is under way , the half baked imbecile Weerawansa the most infamous bankrupt politico who could not even pass grade nine blabbered , the war heroes are the accused , and all the Sinhalese , Tamil and Muslim students who were murdered in cold blood with extortion motives are Tigers.
The law abiding citizens who know that at least one lie drops each time this scoundrel opens his mouth and the stench it emanates , are wondering why this cursed spittoon of a mouth has not been struck by lightning yet, and whether lightning is fighting shy of getting close to the mouth that stinks a mile.
The video footage which is a collection of excerpts of media briefing of the parents , and that of Rajitha Senaratne the media spokesman are hereunder . Video footage – courtesy National television
---------------------------
by (2017-07-18 19:05:38)
We are unable to continue LeN without your kind donation.
Leave a Reply