Gota getting cold feet is justifiable! Commission report on Welikade cold blooded murders kept hidden by Wijedasa now with CID !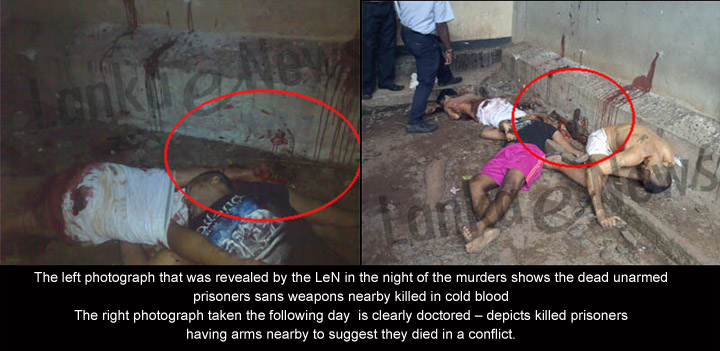 (Lanka-e-News - 17.July.2017, 11.30PM) Another fervent wish of law abiding citizens of the country over a long period is going to be fulfilled. The report of the commission which investigated the ruthless mass murder of inmates of Welikade prison was handed over to the CID last Friday in order that the laws shall be duly enforced.

It is significant to note this commission report was kept concealed by notorious tie coat , turncoat, cutthroat minister Wijedasa Rajapakse for a long time , necessitating the movement for just society ,Citizen's Force and Lawyers organization to hold a media discussion in front of the prison demanding that the commission report shall be revealed and legal action shall be filed against the culprits.
When the police issued a notification that the IGP on Thursday entrusted the investigation into the prison murders to the CID , Lanka e news reported thus :
'Until the time of our reporting the IGP has not issued such an order to the CID. In fact at that time itself as the CID has conducted an investigation into this , there is no need or purpose at all to issue another order. Hence all what ought to be done is, the report that was handed over to justice minister Wijadasa by the commission that was appointed after the advent of this government , be sent to the CID to file legal action against the accused. Such a thing has not been done yet. While Wijedasa Rajapakse is hiding the report , the IGP instructing the CID to conduct another investigation into it is a joke'
In any event, it is to be appreciated that the report was handed over to the CID the day following the LeN revelation. Gotabaya Rajapakse who gave orders to commit these crimes undoubtedly must be in panic . Toffee nosed Gota must be aware by now he cannot escape.
(The photograph herein is testimony that LeN was the first to publish the report with photo as evidence that these cruel murders committed in 2012 were based on a premeditated conspiracy )
---------------------------
by (2017-07-17 18:21:00)
We are unable to continue LeN without your kind donation.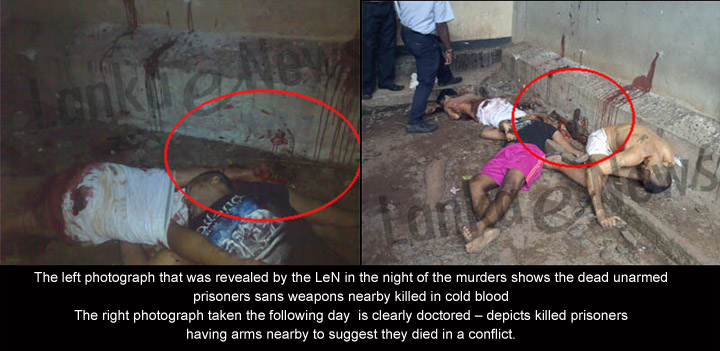 Leave a Reply