SL's Bulti Babas alias morons cashing in on rudderless SL ! Chairman chased out from Ports given double promotion !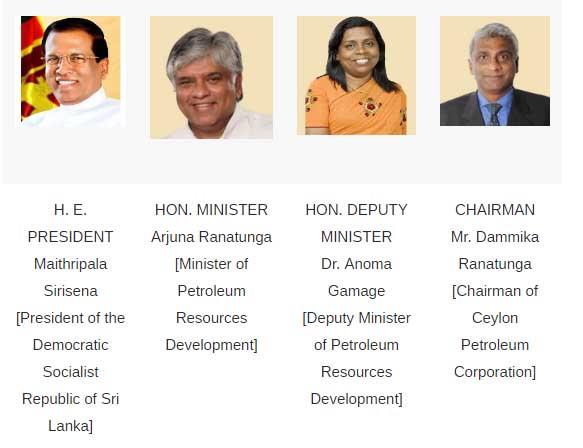 (Lanka-e-News - 16.June.2017, 10.15PM) Uneducated corrupt moron Dhammika Ranatunge who was chased out from the Ports authority as unfit has been appointed as the chairman of the Petroleum Corporation as well as its subsidiaries.
It is well to recall Ajuna Ranatunge was dismissed from the post of minister of Ports following the cabinet reshuffle solely because of outrageous nepotism - appointing his crooked kith and kin to various key positions including his notorious brother Dhammika Ranatunge as the chairman of Ports Authority , and thereby paving the way for monumental corruption in the Ports.
This has now come now to surface , when the corruption running into over a billion rupees involving the Ranatunge brothers came to light following the new minister of Ports ,its chairman and new administration assuming duties, which necessitated them to halt that corrupt transaction forthwith . Incidentally , Dr. Parakrama Dissanayake appointed as the new chairman of Ports by the new minister Mahinda Samarasinghe is an expert who has specialized knowledge in relation to the subject he is handling .
Arjuna Ranatunge who was thrown out from Ports , in a most rudely shocking move has appointed again infamous Dhammika Ranatunge his most corrupt moronic brother who has not even passed GCE O/ L exam as the new chairman of the Petroleum Corporation , the country's economic nucleus of which , Arjuna is the new minister. This has been done as though to deliberately spread the corruption virus to the new ministry too by Arjuna.
When making appointments to the high rungs of important Institutions of the country , those have to be approved by the parliamentary select committee concerning such appointments , and the appointment is finally made by the president.
Even when Dhammika was holding the post of chairman , Ports Authority , a number of petitions were received by this Select committee against him (Lanka e news in fact have published them) pointing out he is unsuitable to hold that post . Yet no decision on that was announced against Ranatunges , until they were chased out from the Ports ministry recently.
Now, corrupt crook Dhammika who was proved unfit for the post of chairman, Ports Authority has been appointed as chairman of not only Petroleum Corporation but also its subsidiaries. Mind you , that is with the approval of no less a parson than the president.
Previously , a separate chairman was appointed to the subsidiaries of the Petroleum Corporation , namely Ceylon Petroleum storage terminals(CPSTL) , Ceypetco Aviation , and Ceypetco Agrichemicals . Now notorious Dhammika has been appointed as chairman for all these as well as the Petroleum Corporation. Therefore , it is a crucial question why did the president dismiss Arjuna at all from the former ministry of Ports ? What is the difference that exists between the appointment of uneducated infamous Dhammika Ranatunge as chairman, Petroleum , and the appointment of uneducated brother of Shiranthi as chairman , Sri Lanka Air by then ex president Mahinda Rajapakse who was thrown out lock , stock and barrel by the masses for committing the same outrageous blunders and ruthless crimes ?
It is significant to note the Select committee was appointed supposedly with parliamentary powers with the aim and objective to avert the hitherto controversial appointment of political henchmen and stooges.
That committee comprises the speaker as its chairman by virtue of his official parliamentary post , MP's John Amaratunge, Nimal Siripala De Silva , Sarath Amunugama,Rauff Hakeem , Lakshman Kiriella , Wijedasa Rajapakse, Mano Ganeshan , Eran Wickremeratne , Dinesh Gunawardena, Vijitha Herath, Bimal Ratnayake , Mavai Senadhiraja ,Dharmalingam Sidharthan and Sumenthiran as its members.
Sadly if the good governance government is to go on functioning in this manner , a select committee to make top rung appointments is of no use and serves no purpose. It is better therefore if it is dismantled . Otherwise the 6.2 million people who voted the government into power (because they cannot be dismantled) should take off their clothes before the president .
---------------------------
by (2017-06-16 16:52:49)
We are unable to continue LeN without your kind donation.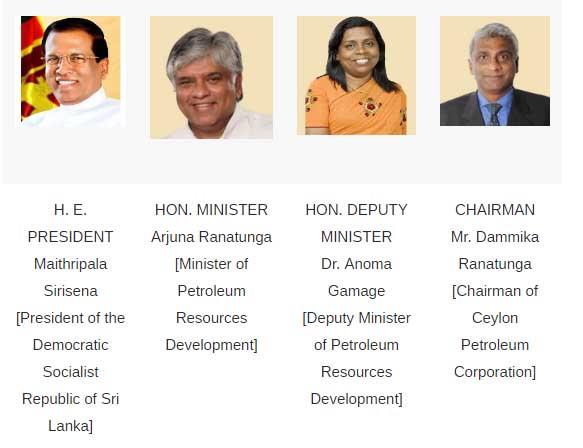 Leave a Reply