'Dealgala' outstrips 'Dealdasa' in betrayal ! Sagala the spineless stooping invertebrate in secret deal with criminal Gota !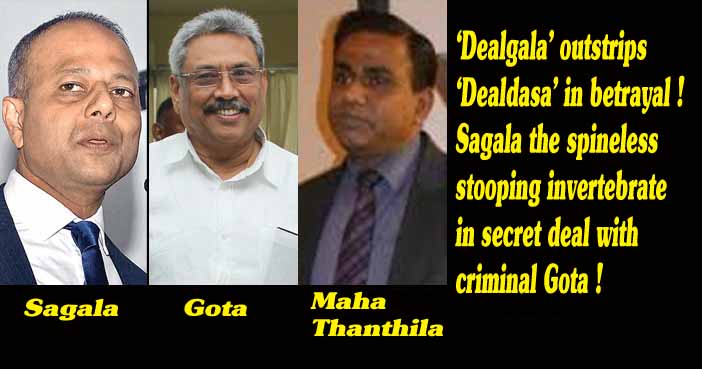 (Lanka-e-News - 09.June.2017, 2.45PM) Most shockingly after murderous Gotabaya Rajapakse of the deposed corrupt criminal Rajapakse regime presently discarded and disdained by the people , was summoned to the CID and grilled for the first time , it has now leaked out it is none other than the minister of law and order Sagala Ratnayake who has held prior secret discussions with Gota's lawyers and his close friends in this connection . All details of this unimaginable betrayal are now with Lanka e news inside information division.
It is with deep regret we have to reveal to the public , after the most infamous crook 'Dealdasa' of the good governance government , it is stooping 's-pook' Dealgala the latest among the betrayers who is indulging in vicious villainy and treachery to the detriment of the country . This shameless ever stooping invertebrate Sagala now dubbed Dealgala, fully abusing his official posts as the chief of staff of Prime minister' s office and as minister of law and order has been cruelly and most shamelessly betraying the trust and confidence the pro government masses reposed in him.
This is the first cogent evidence ( though there are very many) that brought to light to the public that Sagala whose favorite occupation is stooping is also the Dealgala of 'Okay Sir' on the phone IGP Poojitha the notorious eccentric.
It was shameless unscrupulous Sagala who revealed to Gota well ahead that preparations are being made to question him –the murderous notorious criminal . It is Sagala again who has one night some weeks ago met with Gota , his lawyers and close friends secretly prior to Gota's interrogation.

This discussion was held at the house of an 'Elephant' stature lawyer, with Gota and 8 others. This lawyer appears for and on behalf of Gota on his legal issues , and he holds a second prominent position in the Bar Association (BASL) . The facilities for the discussion and ensuring secrecy were looked after by Lieutenant Colonel Mahathanthila of the army intelligence division who is still in service . Though he did not participate in the discussion , he did all what he had to from outside.
About this Mahathantila of the army intelligence division , who is a clandestine agent of criminal Gota carrying out all his illicit and shady activities , Lanka e news as far back as 2015-10-10 revealed that in a report under the caption ' Gotabaya's 'broker ' Lieutenant Colonel Mahathanthila'. Sadly those who are responsible did not care two hoots about the warning, and shockingly.Now Sagala Ratnayake has stooped even lower than the level required to serve his own purposes- this time to serve Gotabaya , having walked into the snare of criminal murderous Gota.

Sagala like how he held secret discussions with Gota , has had discussions with Gamini Senarath who was the chief of staff of ex president Mahinda Rajapakse . Intriguingly , Senarath the culprit is still free without any investigation being conducted against him. Lanka e news inside information division is in possession of all these reports. The secret discussion to extricate this culprit was held at a leading hotel in Colombo , with the participation of 'Taxi Abey' a most corrupt scoundrel and stooge of the Rajapakses.
Needless to mention , Rajapakses got thrown out lock , stock and barrel because of their egregious wrongs , corruption and crimes.
Sagala who lost elections in 2010 , just managed to get elected polling 85772 votes at the last elections. It is best if Sagala bears in mind lest he has forgotten , those 85 772 votes were cast to him not to put through deals with the Rajapakses or because of his innate incurable stooping habits , rather to ensure punishment is duly meted out to the crooks and corrupt criminals of the Rajapakse era acting like an honorable man ( Hon. Minister aren't you?) casting aside his betraying , effeminate and stooping inborn traits at least temporarily for country's sake .

It is high time the voters of Matara took measures to teach this spineless stooping political invertebrate that aiding and abetting a criminal is a much worse crime before teaching him a lesson of his lifetime which is sure in the pipeline.
---------------------------
by (2017-06-09 09:43:37)
We are unable to continue LeN without your kind donation.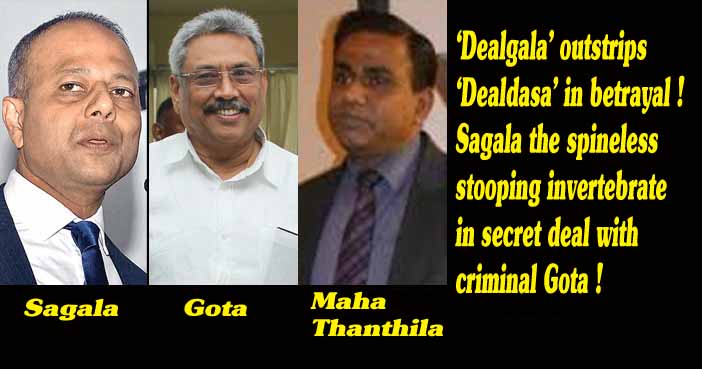 Leave a Reply