Toffee nosed Gota grilled for as many as 4 1 /2 hours by CID..! Deflated and even discarded by his corrupt cronies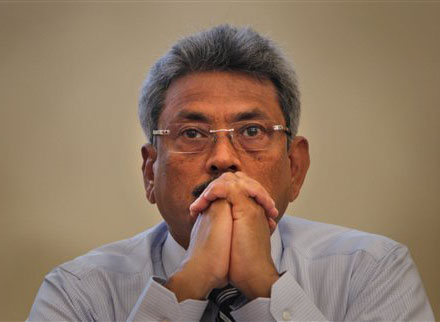 (Lanka-e-News -08.June.2017, 10.45AM) The notorious murderous Gotabaya Rajapakse who was responsible for giving illegal orders to commit secretive illegal murders during the nefarious corrupt Rajapakse era was summoned to the CID on the 5 th , and grilled for as many as four and half hours for the first time !
It is well to recall when criminal Gota was summoned to the Bribery and Corruption commission to record a statement soon after the Rajapakse regime was thrown out lock , stock and barrel , the scoundrel monks and corrupt joint opposition politicos wreaked havoc engaging in hooligan activities and blocked roads. However , when Gota came to the CID to be grilled on Monday (05) , none of the crooked and corrupt joint opposition M.P.s were there to boost toffee nosed Gota.
Gotabaya who is noted for organizing unscrupulous media coolies to go to places to record the 'voice cuts' of the other crooks and the corrupt of the Rajapakse regime when they arrive for questioning by the police, on the contrary appeared at the CID most secretly without anybody's knowledge ,and without any media coolie in his company.
Gotabaya who tried to throw his weight about at the initial stage during interrogation in a short while became a deflated balloon having lost all his characteristic airs and graces. After starting to call for drinking water to quench his thirst following his panic stricken and guilt ridden state , began trekking to the latrine every now and then as though somebody has given him a laxative.. Toffee nosed arrogant Gota of the past remained like a meek mouse when answering the questions.
We shall not reveal the questions that were posed except those pertaining to the attack on journalist Keith Noyahr on which he was manly questioned at first.
It is a universal law crimes never pay. Every criminal who commits well planned and plotted crimes thinks at the beginning he will never be trapped any day , yet some day he will have to meet the Waterloo .

On the same day Gota was interrogated , retired senior DIG Anura Senanayake a close henchman of Gota and a murderer himself who was in remand custody for over a year in connection with the ghastly murder of Thajudeen , was released on bail under stringent bail conditions.
Earlier on Senanayake making a statement charged in open court , while the actual murderers behind the crime are free , he was incarcerated. When he was going home after his release on bail , all what he told the media was ' many thanks.'
---------------------------
by (2017-06-08 05:23:12)
We are unable to continue LeN without your kind donation.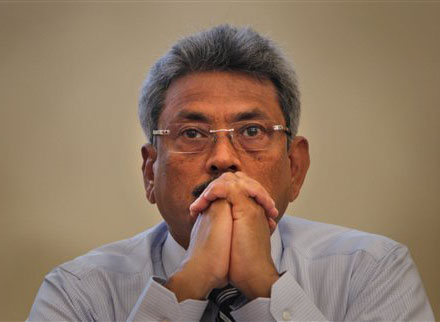 Leave a Reply