Terrorist monk Gnanassara evades court again ; IGP and minister Sagala aiding and abetting the terrorist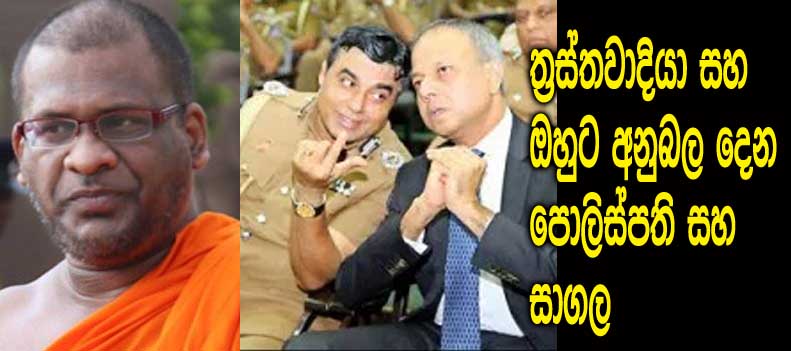 (Lanka-e-News - 02.June.2017, 8.15AM) The terrorist hooligan monk Gnanassara who has by now without any sense of shame become notorious despite wearing the saffron robe as the scourge of the Buddhist country despite being a so called Buddhist monk ,again evaded courts day before yesterday (31 st May) .
It is significant to note that it is no less a person than a former magistrate of Homagama court who filed the petition in the appeal court against this demented hooligan monk Gnanassara based on charges of forcibly entering the Homagama court and obstructing the magistrate , as well as insulting a woman who had come to court .
On the first occasion when he kept away from courts citing the grounds he was sick , the case was postponed to 31 st May . Gnanassara yesterday too evaded courts after forwarding a medical certificate. Consequently the case was postponed by judge Kumudini Wickrmesinghe again until the 12 th June. Lawyer Manohara De Silva appeared on behalf of Gnanasssara .
Gnanassara has not only gained notoriety for his demented and sacrilegious behavior, but now with his keeping away from courts regularly he has proved he has the ability despite his insanity to fool the courts too . We say he fooled the courts because though he claimed he was sick , in a live interview with a newspaper at the place where he was hiding , he never spoke about his sickness . Instead , only bragged like an underworld criminal let loose that , if he wishes he can plunge the country into anarchy within an hour thereby openly threatening to cause a breach of the peace creating murder and mayhem among the peace loving people of the country.
Meanwhile it is none other than IGP poojitha Jayasundara who averted the arrest of Gnanassara recently when the STF team was in the ready to take him into custody.
The actions of the IGP and minister Sagala which are aiding and abetting a criminal like Gnanassara to circumvent the laws and avoid courts are most rudely shocking and reprehensible.
Gnanassara who is trapped well and truly for committing contempt of court is certainly bound to get punished. Gnanassara who is therefore in mortal fear exclaimed 'if he is going to jail , he will drag along with him others too - seven or eight of them.'
Now the latest ploy of Gnanassara is , there are several criminals in jail trying to kill him, and create religious unrest and tension . Citing this ground he has through his sidekick Dilantha Vitharnage lodged a complaint with the IGP.
The IGP who averted the arrest of Gnanassara the scourge of the country and the century when he was in Kurunegala , has treated this spurious complaint seriously , and instructed to conduct an investigation through the organized crimes prevention division .
This IGP best known for his worst eccentricity and rackets, who did not entrust the investigation of the Narcotics division involved murder to the CID or the STF , has however ordered an immediate probe into the bogus complaint of this terrorist monk Gnanassara who is openly claiming he can unleash anarchy in the country within an hour. This action of the IGP (Imbecile General of Police) is in keeping with his own dementia , and most ludicrous.
The Prevention of organized crimes division had forwarded a B report to the Colombo chief magistrate yesterday .
The minister Sagala Ratnayake too remaining deaf and dumb amidst the villainy and treachery of the IGP while a terrorist (Gnanassara) is dangerously inciting and stoking extremism across the country openly , has certainly completely undermined the faith and confidence reposed in him by the good governance masses .
It is a pity the minister seems to be ignorant of his prime and paramount duties – that is, he is appointed to protect the rule of law , and maintain law and order in the country, and not to protect scoundrels and rascals like terrorist Gnanassara who are unleashing violence and stoking religious hatred across the country openly.
Even the M.P.'s lodged complaints that Gnanassara is directly responsible for these attacks and violence .Yet the minister in charge of law and order, and the chief of law enforcement – the IGP instead of safeguarding the laws of the country and protecting the citizens , are wasting time on investigating the bogus complaint of Gnanassara , meaning that in this country law abiding citizens are not given adequate legal protection. In other words the very so called law enforcement authorities are encouraging the victims to take the law into their hands by aiding and abetting terrorist Gnanassara in his horrendous aims and ambitions to plunge the country into anarchy.
The list of religious places , properties and business places owned by Muslims that were attacked following the terror and violence unleashed by mad monk Gnanassara from 16 th April to 24 th May 2017 is given below …(this includes instances of intimidation)
16th April, 2017 Petrol Bombs thrown at Four shops owned by Muslims in Godapitiya, Pooruva. Even after a month, the police have still not apprehended the perpetrators.
17.04.2017 The fences/walls of the Sheik Salih Waliyulla Shrine, in Galle Fort near the naval base were broken by unidentified persons.
20.04.2017 Two and a half acre land in Mayakkalli, Irakkamam, Ampara was forcefully acquired by a group led by Buddhist monks and construction of a Buddhist vihara commenced which lead to tension in the area.
25.04.2017 Bodu Bala Sena (BBS) General Secretary Galagodaatte Gnanasara Thera visited the above area and he verbally abused Muslims in the presence of GA.
08.05.2017 GnanasaraThero requested government to deport all the 'Rohingya Muslims' arrested off Sri Lankan coast, while attempting to flee Myanmar, stating that these refugees are not welcome in Sri Lanka.
10.05.2017 Buddhist religious activities conducted on Vesak Day at Mayakkalli, Irakkamam with Police Protection
14.05.2017 BBS delegation including GnanasaraThero threatened Muslims, damaged their cow sheds and used derogatory and abusive language against Allah during their visit to Onegama in Polonnaruwa. Hiru TV publicized this incident.
15.05.2017 Unidentified persons attacked a mosque in Panadura old bazaar area with petrol bombs around 3.00 am. Interior of the mosques was damaged in the attack. No suspects have been arrested.
16.05.2017 Al Ibraheemiya Jummah mosque in Kohilawatta, Wellampitiya, Colombo was attacked by a group of 8 persons around 1.45am. Mosque was damaged. No suspects arrested.
16. 05. 2017 Around 200 persons attacked 16 houses in Neenakkani, Thoppur and a large number of people left the area.
16. 05. 2017 At a press conference at BBS HQ, GnanasaraThero once again used hate language against Muslims and insulted Allah.
17. 05. 2017 In Oluvil, Panadura a bakery and a communication centre that belonged to a Muslim were petrol bombed
18. 05. 2017 Last Chance electrical shop in Chilaw was attacked at around 2 a.m.
21. 05. 2017 Jumma Mosque in Mallawapitiya was petrol bombed. However Police have not arrested anyone.
21. 05. 2017 Lovers Bug, a shop in Elpitiya, Galle was destroyed. Police has not arrested anyone so far.
22. 05. 2017 A carpet shop owned by a Muslim, in Wijerama, Maharagama was set fire to.
23. 05. 2017 A Muslim owned shop in Kahawatte, Ratnapura was set fire to.
24. 05. 2017 Harcourts Pharmacy in Navinna was attacked.
---------------------------
by (2017-06-02 02:54:47)
We are unable to continue LeN without your kind donation.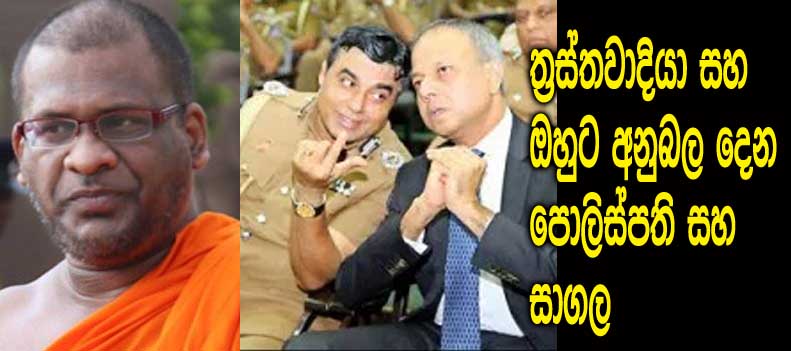 Leave a Reply