Helicopter engaged in flood relief operations meets with disaster ! Passengers and pilot escape! (photo)
President congratulates pilot on his valor and skill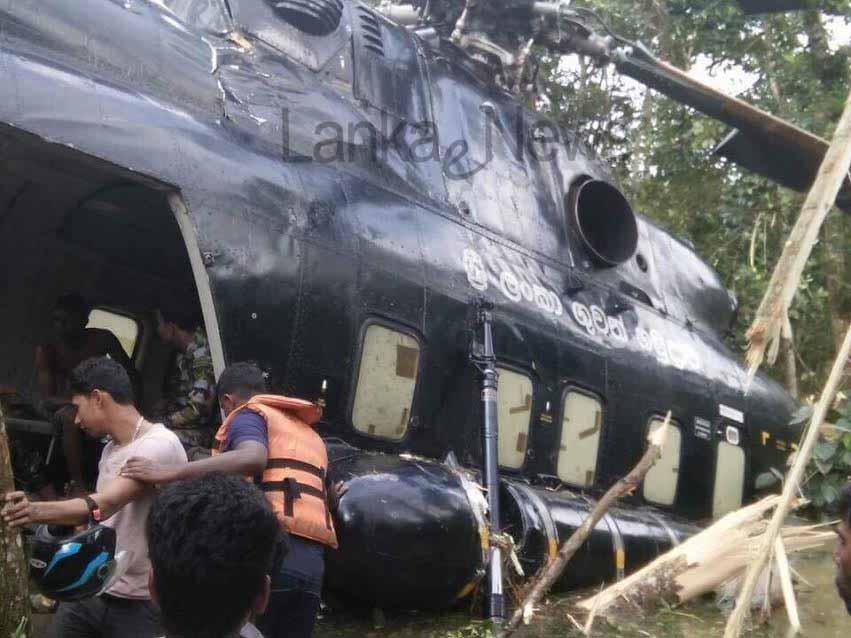 (Lanka-e-News -30.May.2017, 9.00AM) An Air Force helicopter MI 17 that was engaged in relief operations to the victims of floods met with an accident when trying to descend suddenly following a mechanical defect. Owing to the skills of the pilot however there were no casualties. There were six passengers in the helicopter at the time of the incident.
The crash landing was made at Dekanna , Inimankade , Baddegama
This clever pilot scodren leader Banuka Delgahagoda had managed to save a house while landing. Though the helicopter suffered damage , but because Banuka managed to save the lives of the passengers , the president who is the chief of the commanding forces phoned the pilot and congratulated him.

The three forces are doing a yeoman service towards rescuing the victims of floods and landslides and this helicopter had been operating without any break.

M.S . Yaparatne an Air force soldier who went to rescue a group of women who were trapped in an estate hostel belonging to a tea factory at Duliella, Kosmulla, Neluwa on the 26 th died when the cable snapped , and he fell down. The speaker Karu Jaysuriya visited the house of the soldier yesterday to convey his condolences.( photograph herein)
While it is an indisputable well and widely known fact that the three forces are risking even their lives while being engaged in rescue operations, the Sirasa , Hiru and Derana unscrupulous media competing with each other , and trying to appropriate that credit due to the forces wrongly and falsely is most reprehensible , shameful and repulsive.
---------------------------
by (2017-05-30 05:42:53)
We are unable to continue LeN without your kind donation.
Leave a Reply