Documentary 'Demons in paradise' of a Sri Lankan Tamil film maker secures a place for the first time in Cannes Film festival ! (video)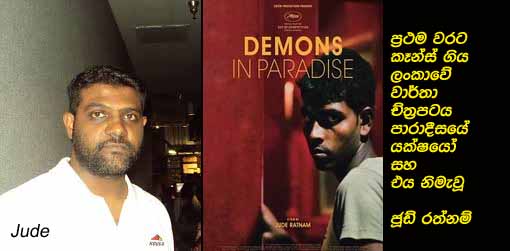 (Lanka-e-News -26.May.2017, 4.35 AM) The World famous international Cannes cinema festival is being held in France these days. For the first time at a special screening of documentary films not competing in the festival , a documentary film of a Sri Lankan directed by a Tamil youth was screened on the 24 th. The name of the documentary is 'Demons in paradise'.
This is a documentary based on the 30 years ethnic war in Sri Lanka . The film maker has taken 10 years to complete this film.
'Jude Rutnam' was one who faced the black July riots in 1983 as a 6 years old child. When the racists set fire to and destroyed the home at Punchi Borella of Jude Rutnam a 6 years old child then ,the members of his family in order to save their lives fled to Jaffna by train. His father was an Anglican priest.
Rutnam had a splendid uncle . He was also one who managed to save his life during the Black July . At that time , his uncle who was in Kandy was safeguarded and saved by a Sinhalese family. This uncle later fled to Jaffna and from there to India where he obtained arms training . He returned to Sri Lanka (SL) to fight against the murderous operations of Sinhala forces in Jaffna . But what he noticed was , not only the cruelty of the forces but also of the Tamil rebels.
He therefore abandoned his original plan to engage in combat , and came to Colombo to work as a journalist. He was none other than Manoranjan . He was conversant in English , Sinhala and Tamil languages. Finally he left for Canada to take up residence. Based on the experiences of Rutnam and his heroic uncle , this documentary film 'Demons in paradise' has been made. This film is different from other Tamil documentaries.
The Director questions , how did this which arose as a justifiable issue of the Tamils escalate into a cruel fascist war ? During the final phase of the war , he hoped that the Tamils' struggle will be defeated , and therefore was dubbed a 'villain' vis a vis the popular notion of the Tamil people of a 'hero' , he expounds.
The trailer of 'Demons in paradise ' can be viewed by clicking hereunder ..
http://www.cineuropa.org/vd.aspx?t=video&l=en&rdID=327046&f=t
In this documentary , there is a photograph (the famous photograph) which depicts a Tamil national who was murdered after stripping him nude at Borella junction . The photographer counts that as what he personally saw. In that film is a scene in which Jude's uncle – Manoranjan the journalist after 35 years goes to meet the Sinhalese family that saved his life during Black July in 1983 .These scenes which are true factual pictorial representations are full of pathos. Hereunder are some of the clip relating to Demons in paradise
---------------------------
by (2017-05-25 23:43:18)
We are unable to continue LeN without your kind donation.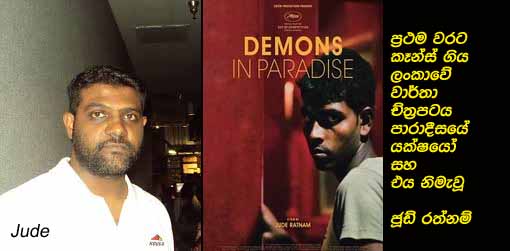 Leave a Reply