Cricket Association is finished ! High Tech headquarters too plundered ! Whither SL cricket ?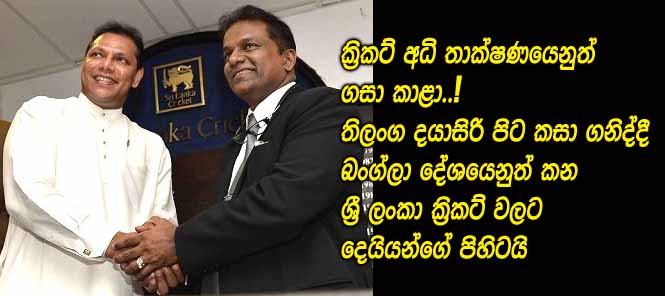 (Lanka-e-News - 21.May.2017, 6.30PM) There are a number of lapses and shortcomings in the high tech cricket headquarters that was inaugurated recently at Pallekelle playground spending a sum of about Rs. 40 million , apart from the additional sum of many hundreds of thousands of rupees which was spent (wasted) for its inauguration ceremony , based on reports .
This indoor stadium has no high roof and has only a concrete floor , which is very low. Because there are no fans or exhaust fans on either sides the inside is extremely hot. If the players undergo training for just an hour they are exhausted to near death. The nets have been fixed at close quarters , and the equipment installed for the benefit of physical health are of the cheap inferior quality .The cameras installed to watch the movements of the trainees too are of inferior quality. Besides they are installed at the wrong places. Obviously , these lapses and shortcomings are the outcome of robberies and rackets committed during the construction .
Unsurprisingly ,it is Sujeewa Godaliayaddha , a close crony and sidekick of Thilanga who has been entrusted with the entire construction work .He is the chief executive of Thilanga's Lakbima newspaper , as well as holds an advisor post in SL cricket association drawing a monthly salary of Rs. 150.000.00 . He also uses two official vehicles along with fuel supplied daily at Association's expense. What's more ! he is given a driver for his exclusive use. The driver is also paid overtime to attend to Sujeewa's household work.
Sujeewa who was down and out during the period when Thilanga was not holding the present post unhesitatingly tells everyone , he is recovering all the lost arrears too which he was deprived of when he was out of job. Moreover ,Sujeewa is carrying out most of the contracts of the Association without abiding by proper tender procedures.
Some time ago when the Maggona playground was being refurbished for the under 19 Asian cup tournament , it was Sujeewa who removed the chairs at the Dambulla stadium , and committed huge frauds gobbling up large sums of money after fixing those chairs at the stadium that was refurbished. Aruna De Silva , another lackey of Thilanga is also another crook like Sujeewa, and Thilanga is providing all the assistance to Sujeewa in his perfidies.
While there is already a media unit of the Association for inflating the deflated image of Thilanga , a sum of Rs. 150.000.00 is being paid monthly to SHIFT publicity agency, in addition to allocation of millions of rupees for events. The illicit commissions collected from these are shared between Raveen Wickremeratne and Ray Raymond. Because of the rifts stemming from the commission sharing they are presently having disputes.

All the lackeys and assistants of Thilanga who are plundering and pillaging are today at each other's neck while the SL cricket team's proud motto is 'One team one nation' despite the fact there is no 'one team' within the Association. Though Jayantha Dharmadasa and K. Mathivanan are Vice presidents of the Association , their subordinates too are not in good terms with the subordinates of Thilanga.
Aravinda De Silva who was an advisor to the cricket Association too resigned his post recently .
Thilanga and Dayasiri pool their loot , tournaments apart.
Preparations are under way to attend the Champions cup tournament to be held in England. As usual hordes of the association's hangers on and sidekicks are assembling eagerly already to make the tour . Every executive member is be given a bonus payment of Rs. 200.000.00 . Six journalists have been chosen in order to minimize media criticism .The notorious crook Bandula Saman Waturegama who runs a web radio channel too has been sponsored by the Cricket association for this tour .
When Waturegama was earlier at the Broadcasting Corporation , while going as a cricket news critic was most skilled only in the business of buying over people though he was unskilled in his legitimate profession, on this occasion too is in the ready to repeat it. In fact New Zealand blacklisted SLBC because of the disgraceful and despicable activities of his.
Sports minister Dayasiri Dayasekera who is enjoying all the benefits including foreign tours , state helicopter jaunts , and receiving cricket aid for Kuilyapitiya district , is therefore selfishly keeping his eyes and ears shut while being fully aware of all the malpractices , rackets and swindles raging right before his nose . This is most reprehensible , repulsive and shameful .
Earlier on it was the villainous crooked duo Mahindananda Aluthgamage and Nishantha Ranatunge who made hay while sun shone. But now Dayasiri and Thilanga have taken their places . Each is happily scratching the other's back which are infected with eczema developed following their incurable filthy lucre itch.
Many millions of rupees are to be received by the SL cricket association through the ICC and the prospective Indian cricket team tour of Sri Lanka (SL) .Thilanga and his clan must be harboring the view (misconception ) that these are profits earned owing to the present administration of the Association. Therefore already all plans have been made by them well ahead to plunder those earnings for which they have a unique capacity.
The Prime Minister (P.M.) once focused his attention on this illicit 'Treasure hunt' of the cricket association , but now that has ebbed away. Talking about president Maithripala's concern for the SL cricket and the raging plunders and rackets within is worthless for , it is he who 'resurrected' Thilanga who was defeated ,discarded , packed and sent home by the people . Now , God alone can save SL cricket that is tasting defeat even at the hands of Bangla Desh.
-By a special LeN correspondent-
---------------------------
by (2017-05-21 13:10:54)
We are unable to continue LeN without your kind donation.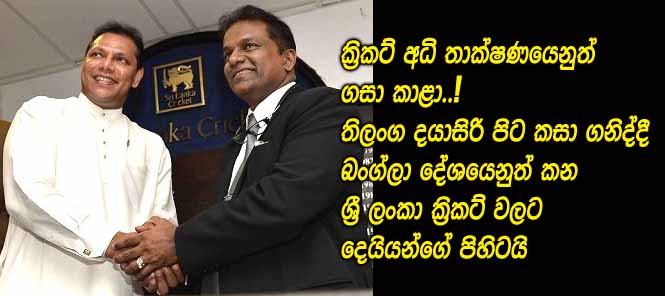 Leave a Reply