If country is subordinated to party, and you are becoming a fiend, we have insecticides for it – 51 UNP backbenchers warn president ! (video)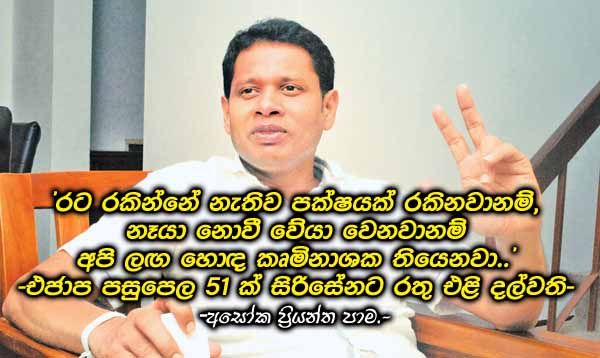 (Lanka-e-News- 19.May.2017, 7.45AM) If the president is kowtowing to the defeated politicians ,and heeding their words subordinating the country , while also neglecting the UNP, and building his party , it is best the 51 UNP backbenchers instead of being with him , leave him , and stand erect , Puttalam UNP M.P. Asoka Priyantha said issuing a red alert signal to Maithripala Sirisena .
Asoka Priyantha made this revelation at a media briefing held at the Estate laborers auditorium, Rajagiriya on the 17 th. Commenting further he elaborated thus :
The defeated political leaders are seeking after they are discarded , to curry favor with the government , infiltrate into it and capture power , we cannot allow that to happen. We the 51 UNP backbenchers are there to rescue the government . To us , first the country ,secondly the party , thirdly the individual .Whereas the president and the defeated MPs reckon the country which should be primary and paramount as second , and have put the party before it . If that is their view and are seeking to rescue the party , we as a group of M.P.s shall stand erect .
We are prepared to go on the journey with anybody who was not with us on 2015-01-08 and 2015 -08 -17 and be friends and relatives , but when they become foes and fiends , we have super quality insecticides for it.
What we are expecting is to maintain the respect and dignity of the UNP party which worked with commitment to propel the good governance government to victory. On the other hand if the president is heeding and listening to the defeated politicos without taking that into account , we are bound to take a decision.
At this juncture what is paramount is not a cabinet re shuffle , rather fulfilling the pledges made to the masses , as well as introducing a new constitution, Asoka Priyantha M.P. exhorted .
Hereunder is the video footage of Asoka Priyantha's full speech
---------------------------
by (2017-05-19 02:22:48)
We are unable to continue LeN without your kind donation.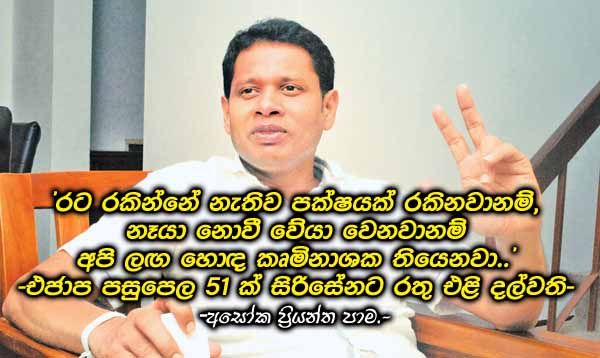 Leave a Reply