Intriguing..! Court delivers biased verdict but Geetha thanks Mahinda – video hereunder ..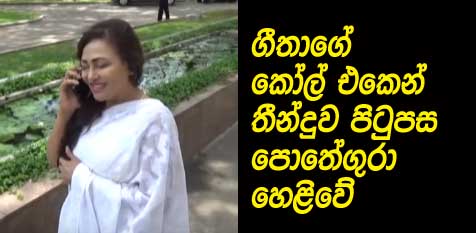 (Lanka-e-News -17.May.2017, 11.30PM) The appeal filed by Geetha Kumarasinghe M.P. in the supreme court (SC) challenging the verdict delivered by the appeal court which rescinded her parliamentary representation thereby unseating her , was taken up for hearing on the 15th .The panel of three judges who heard the appeal decided (with one judge dissenting) to suspend the appeal court verdict unseating her ,until the SC trial was concluded .
The two judges who were in favor were Upali Abeyratne and Eva Wanasundara . May we recall it was Eva who some time ago told the newspapers how she was invited to be given the appointment as SC judge by Mahinda after reminding her of the love affair circulated linking him with her during their days at Law College.
(She related thus …He told 'Eva … here …. here' , twice or thrice , and said 'I am putting you on the SC bench.' You are happy about it , aren't you ?' At that moment my heart told me , Eva , you always wanted to be a judge , now somebody is in front of you who is telling you to become a judge.' I was wondering , whether I should tell 'yes' or 'no' .Then I thought a dream of mine is going to turn into reality .When anybody else asks a question from me , I say, I shall first speak with my husband , before giving an answer , and give the reply only the following day. In fact I thought on that same line at that moment . But again I thought the question is being asked by a country's leader , and besides he is my friend. He is asking such a question because he has some reason. So , I replied ' Yes Sir' , I consent. During that period we were very close friends. Even today those close ties exist – 'Deshaya' newspaper page 5 first article dated 2014-07-06.)
When the case was commenced yesterday Eva said , she did not have time to study the case . Yet she announced her decision.
The lawyers for Geetha presented most stupid arguments . Their contention was ,Geetha secured her citizenship in Switzerland because she married a Switzerland national , hence it was automatically granted, and she did not ask for it . By that alone her Switzerland citizenship was confirmed by them , and moreover ,whether she secured Switzerland citizenship with or without her consent is irrelevant from the standpoint of election laws.
Eva acknowledging such a stupid contention alone clearly bears testimony that the judgment is not impartial.
The SC which heard the appeal on the 15 th the very next day following its filing ,and was in an unholy haste to issue the restraining order against the appeal court verdict, even before the Gazette notification was issued , however did not show that haste when fixing the next court date -decided to postpone the next hearing until as late as 25 th September. Sadly this action of SC erodes the faith and confidence the public have in the SC.
In any event the dissenting judge Anil Gunaratne on the 15 th objected to the suspension of the appeal court verdict delivered against Geetha .
The SC decision in Geetha's case notwithstanding , it has now become very clear who is behind the scene based on an intriguing dialogue recorded by the cameras during the last court session .
After the verdict was delivered by the SC , it was none other than Mahinda Rajapakse who was thanked . As Geetha was coming out of court , a lackey of Mahinda who was in the vicinity received a call , and he gave his phone to Geetha . The latter answering the call said ' Thank you ' whereby confirming clearly who is behind these manipulations.
Connected reports: